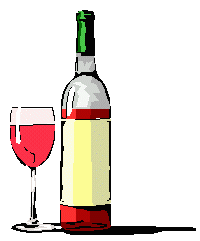 "New Marilyn Wine Shows Playboy Photo on the label"
.. By The Editor's Vineyard
Marilyn Monroe posed for the first issue of Playboy Magazine in 1953 and it was the start of a career that made her one of the best known women of the 20th Century.
Nova Wines of Napa introduced the Marilyn Wines label to instant success and the 2004 Velvet Collection once again uses this original photograph from 1953 as the label.
The wine is a blend of 54 per cent Napa Valley Cabernet Sauvignon and 46 per cent Napa Valley Merlot. The wine is available in 3 and 1.5 liter bottles as well as the 750ml. For more information call 866 MMwines or www.Marilyn Wines.com.
Organic
Bonterra Vineyards enjoys the distinction of being the first fully organic wine made in California. Since then others have followed but Bonterra still enjoys a unique place both in the U.S. and in Europe.
A Bonterra wine that became a hit overseas is Zinfandel. So much so that a 2005 Bonterra Zinfandel has now been released for the U.S market. It is from vineyards in both Mendocino and Almador counties. We tried this immediately since we do like this varietal. We found the wine flavorful and with satisfying textures. Nice at $15. Also from Bonterra a 2006 Sauvignon Blanc. Lake County is famous for this varietal and this is from Adobe Creek located there. Long gone is the grassiness that once appeared in sauvignon blanc. Crisp fruit shows here in both nose and palate. It is also Bonterra's first screw top wine. Can't miss at $13.
Ah Summer
Summer is the time for white wines and here in Southern California it practically lasts till Thanksgiving. For us it has been a time for some memorable outings. One such was to the Carrizo Plain, located between Bakersfield and the Coast. The Valley, with its salt lake, resembles nothing so much as the African Veldt.
It is also the place where the Pacific and the North American tectonic plates meet in constant argument. We picnicked there trying to decide which plate to ride. With us was a bottle of 2005 Montpellier Viognier. So Winemaker Ed Moody can take some of the credit for our enjoyable day. Pleasant, fruity and perfect for a picnic, and easy on the pocketbook as well.
Another day we lounged atop Mount Pacifico in the San Gabriel range overlooking a whole sweep of the Antelope Valley far below. Here we sipped Winemaker Robert Stashak's 2005 Harlow Ridge Pinot Grigio. This wine from Lodi appellation offered a crisp floral aroma and flavors.
On a fishing trip to the Rose Valley above Ojai it was still another picnic at the Falls campground. This day our wine was 2005 Estrella Sauvignon Blanc. Winemaker Sergio Gonzalez used stainless steel for this wine with the result that the fruit came through wonderfully leaving the palate smooth and satisfied. The bad news was we did not catch any fish.
Back to Table of Contents..

Last Update:9/1/07
&copy 2007 Joe Hilbers All Rights Reserved.
Graphic Design by Impact Graphics