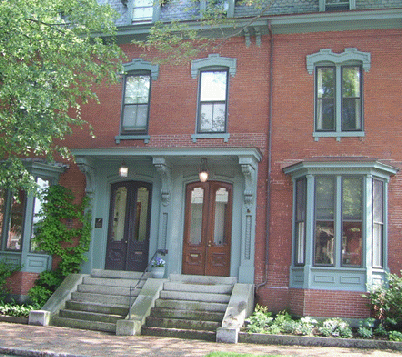 "Portland, Maine--Classic Inns and exciting dining marked our Portland visit"
By The Editor

It did not take us long to find some exciting dining experiences in Portland, Maine. This after checking into the historic West End Inn. This bed and breakfast is an elegant residence located close to the center of the City.
Innkeeper Sara Stempien showed us to our comfortable room. The house was built in 1871 and is situated in a neighborhood with many of these elegant homes on quiet tree lined streets and still with the original red brick sidewalks.
Then with a map of the City supplied by Sara we set out to do some motor touring. We drove the length of Commercial Street boarding the waterfront and discovered DiMillo's Floating Restaurant and Marina. This restaurant built on a ferry boat is spacious offering views of the bay and the many fishing boats and pleasure craft moored there. Then a look at the menu showed us we had found the right place for a leisurely luncheon. Our waitress Brandy was most helpful with suggestions. My dining partner spotted a lobster stew on the menu and we each ordered a cup which arrived as a soup with large pieces of lobster claw. This we learned is a specialty of Chef Melissa.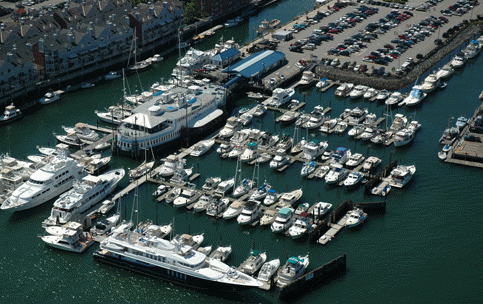 My entree was a freshly caught haddock fried in a beer batter and accompanied by a red potato salad. Fresh haddock is hard to find on the west coast so we were most content with our choice. After lunch my dining partner, another writer on our press tour, had to stop at the well appointed gift shop.
That evening we had dinner at the Five Fifty Five Restaurant located on Congress Street in the heart of the City. We soon came to the conclusion that this was a four star dining house. The restaurant was once a fire station and now offered patrons a choice of dining on two levels. We were seated upstairs with a table which offered an excellent views of a very busy open kitchen below.
And we discovered we were not so far from home as we thought. Owners of Five Fifty Five are Stephen and Michelle Corry with Stephen as executive chef. We learned that both Stephen and Michelle had worked in San Francisco and then in Napa Valley, he as chef at Domaine Chandon and she at the French Laundry. This explained the excellent well chosen wine list. Our waiter, Ezra Provost told us that he also had spent a few years in San Francisco at the well known Aqua Restaurant.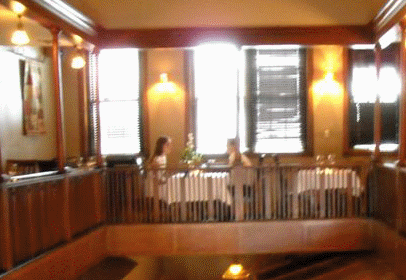 Five Fifty Five has been a seven year success story for the Corrys. In 2007 Stephen was named Chef of the Year by Wine and Dine Magazine. The menu is contemporary with the Chef's personal skills apparent in both appetizers and entrees. We tasted a wonderful asparagus soup and Mac cheese and lobster appetizers. Our entree was the rack of lamb which arrived as four cutlets, pink in the middle as ordered. When we left Five Fifty Five there was not an empty table in the restaurant. Included is an intimate lounge and full bar on the street level.. Five Fifty Five is at 555 Congress Street in downtown Portland and open for dinner seven days a week with brunch offered on Sunday. Call 207 761-0555 for reservations. Our visit to Portland was all too brief leaving us no time to explore its train trips or museums. Well maybe some other time.
Back to Table of Contents..
Last Update:6/29/10
&copy 2010 Joe Hilbers All Rights Reserved.
Graphic Design by Impact Graphics