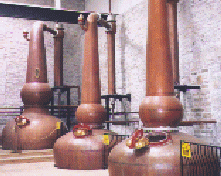 Kentucky Bourbon--see how its made at L & G Distillery
By The Editor
When we went to Louisville there were some things high on our list to see and do. One was to take a cruise on the Ohio River, another was to see the countryside where those wonderful thoroughbred horses are raised and trained and the third was to visit a distillery where that famous Kentucky straight bourbon whiskey is made.
It was a memorable day when we journeyed east from Louisville to visit the L & G Distillery recently restored wonderfully by Brown Forman Distillers.
Established in 1812 by Elijah Pepper it was the first distillery to produce whiskey on a truly business scale and thanks to another pioneer, Dr. James Crow, brought quality controls and scientific methods to a new industry.
Over the years the distillery had several owners including Brown Forman which sold the property only to buy it back two years ago to produce a hand crafted bourbon.
Once upon a time Kentucky Bourbon was king in America and was the leading spirit in popularity. Vodka and rum and specialty drinks changed that with consumers looking for more variety in alcoholic beverages.
But now there is a trend, both in the U.S and worldwide, for ultra premium bourbons produced with special care and designed to be enjoyed like fine cognacs and single malt scotches.
As it did in its early beginnings Labrot & Graham is once again breaking new ground with a facility that will make one spirit--a hand crafted bourbon using copper pot stills to distill a classic Kentucky sour mash. Presently called Woodford Reserve the whiskey actually being produced at L & G must be aged for several more years before it will reach the marketplace.
Presently Woodford Reserve is produced from selected barrels of aged Kentucky whiskey from other of Brown Forman stocks. It was introduced in California in May as a super premium bourbon.
A trip to L & G takes one through some of that famous thoroughbred horse country and those vivid green manicured pastures with the horses and often their foals is a sight long to be remembered, certainly one you will wish to record with a camera.
The $10 million restoration of L & G has left the decor and atmosphere untouched but there is a new Visitor Center, museum and gift shop as well as a Conference Center equipped for special groups.
In the museum the displays trace the development of Kentucky whiskey and show how it is made. There is also a short film showing the distillery in its early years from old prints, illustrations and photos. Last year 23,000 people visited the distillery and some 35,000 are expected this year. The tours are presented Tuesday through Saturday five times a day.
At one time after Repeal there were 60 distilleries in Kentucky while today there are ten. And L & G is the only one using the classic pot still method of distilling to produce a hand crafted bourbon.
We should add here that Kentucky straight bourbon whiskey is produced under strict conditions with the mash consisting of at least 50 per corn, and the whiskey itself must be aged in new charred white oak barrels for at least three years.
Situated on 42 acres alongside scenic Glenn Creek visitors have the opportunity to take a step back in time while viewing first hand just how bourbon was made in the past and today as well.
Tour guides, some who have parents or grandparents who actually worked at L & G will take you through the facility and share their knowledge with you.
If you are really interested in bourbon, besides drinking it that is, then plan on attending the Bourbon Festival held each year in Bardstown starting September 18.
Back to Table of Contents..
Last Update:10/5/98
&copy 1998 Joe Hilbers All Rights Reserved.
Graphic Design by Impact Graphics