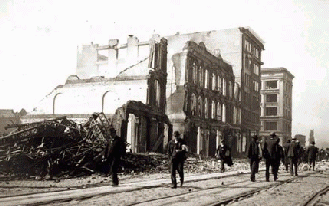 "San Francisco--Plans are made to mark the Centennial of the 1906 earthquake and fire"..
.. By Joe Hilbers, Editor
To mark the 100th anniversary of the devastating earthquake and fire that struck San Francisco at 5:12 a.m. on April 18th, 1906 the 1906 Centennial Alliance has been formed that will coordinate many activities to mark the event in that City. The Alliance also plans to use the Centennial to spread education on earthquakes and what can be done to survive them.
The many scheduled activities include cultural events and special showings at several museums. To find out more about the Alliance and the planned activities to mark the Centennial check their website at 1906centennial.org.
A recent book by Simon Winchester entitled "The Crack at the Edge of the World" is a well told story of both the San Francisco 1906 earthquake and why the San Andreas Fault acts as it sometimes does.
This Writer was born and reared in San Francisco and since my Grandparents, Mother and Aunts had survived the quake there were many stories to be told of the event by family and friends.
My Mother was six years old when the family had to climb aboard my Grandfather's horse drawn wagon and flee their home, never to return, for the safety of open space westward in the City. So this then is my Family's history of that eventful day.
For my Grandparents Wednesday, April 18th, 1906 would have started like any other work day. My Grandfather was in the produce business which meant that his day started in the very early hours of each day, a practice that continues in that business to the present. My Grandmother's day also started at that early hour since she always prepared a hearty breakfast for her husband. Still asleep would be their three daughters, Antoinette, Josephine and Mary. Later they would be up and made ready to attend a grammer school in the area.
Meanwhile my grandfather, Salvatore would have hitched up his horse and wagon and on his way to the produce market located at the foot of Sacramento Street and from where he lived it was not a great distance.
They lived in North Beach, an Italian district in San Francisco, and as immigrants were just starting on a road that would lead to economic security and the American dream, for them later in life and their children and future generations as well.
At 5:12 that morning the world changed for them and almost every other person residing in San Francisco. An earthquake struck which shook the brick and wood built city to its foundations. Trained observers later said the shaking lasted a full two and one-half minutes. When it stopped a magnificent city lay in ruins.
This account was written by my Uncle John as told to him by his Father. "My Dad was going down Market Street toward the waterfront when the earthquake struck. He actually saw the City Hall dome collapse, which in those days was located near Second and Market Street. The horse reared up on his hind legs as the streets were opening up.
"Dad turned around and drove home to North Beach where they lived. He told me the horse had a hard time trying to find solid ground to walk on. Already fires were gaining especially with wooden cottages.
My Father gathered up my Mother, who was five months pregnant with me, and my three sisters. With the fires traveling very fast all they saved was one trunk, leaving all their furniture and clothing behind.
"While he watched a fireman using a fire hose had the water stop coming from the hose. Many of the City's water mains were underground and had burst in the shaking.".
That day the horse and wagon proved most useful as my Grandfather took the family west toward Golden Gate Park which offered at least temporary sanctuary and escape from immediate peril.
With thousands of other San Franciscans Golden Gate Park was their refuge and home, an Army tent, for the next several months. While living in Golden Gate Park Maria, on August 3, 1906, delivered their first son, John.
The most wonderful thing about this story, which is perhaps no different from what thousands of other San Franciscans experienced in 1906, is that my Uncle John, that boy born in Golden Gate Park, is now ninety nine years old, still in reasonably good health and with everyone in the family looking forward to the celebration of his 100th birthday in August.
The above quoted account was written for this newsletter by my Uncle John by his own hand.
From Golden Gate Park, and at last removed from the status of refugees, my Grandparents settled in a home located in the outer Mission District. The Mission district proved to be home for several members of the family for decades including this Writer as a very small boy and again later with a new bride.
Like most families there have been both good events and bad. Antoinette, the oldest daughter died in the flu epidemic in 1918. Another daughter, Rosalind, died a tragic death from food poisoning. Of the six children, John and his younger brother, Joseph, are still alive to relate the family history.
For the most part the family and their offspring have prospered and enjoyed the American life that Salvatore and Maria dreamed, planned and prepared for them. All of us a part of one hundred years of San Francisco life, 1906-2006.
Back to Table of Contents..

Last Update:12/10/05
&copy 2005 Joe Hilbers All Rights Reserved.
Graphic Design by Impact Graphics