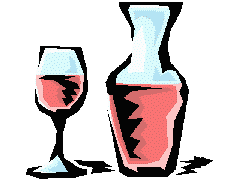 California wines keep getting better and better
The Editor's Vineyard

Like wow, the quality of our California wines just keeps getting better and better. Just back from the Napa and Sonoma wine country we had the opportunity of tasting some truly outstanding wines.
We admired the blending ability of Dry Creek Winemaker Larry Levin in some new releases. The just released 1994 Cabernet Sauvignon includes 6% Cabernet Franc and 6% Petit Verdot and had has 14 months in American oak. Here is a wine that will enjoy a long life, enjoyable now but wait awhile.
We also tasted the newly released 1994 Merlot and again the Winemaker has showed his skill in finishing the wine with 13% Cabernet Sauvignon and 7% Petit Verdot. This vintage's quality is far above that of many of the Merlots being released today.
Another Dry Creek vintage destined for a long life is the 1994 Zinfandel, from old vines and with 19% Petite Sirah that adds a complex variety of flavors to a wine with a silky finish. We should add that Dry Creek is celebrating a 25th anniversary this year.
We recall a conversation we had with a French winemaker almost two decades ago. He stated American winemakers were great on technology but they had not yet learned how to finish wines.
That might have been true then but it certainly is not true today.
So far we haven't seen very many Meritage white wines but Geyser Peak under their new premium Venezia label has one called Bianco Nuovo Mondo. This wine is 56% Sauvignon Blanc and 44% Semillon with the Sauvignon Blanc coming from several different vineyards for added diversity in flavor. The vintage enjoyed lees ageing for six months in both French and American oak. The result a very superior dinner wine for that special occasion.
Despite all the talk of higher prices for California wines there are still some great buys in the marketplace. We recently tasted several vintages from Geyser Peak including two under that label which are priced under $10. They are a 1996 Johannisberg Riesling and a 1996 Sonoma Sauvignon Blanc.
We enjoy lower alcohol Riesling like the German originals and this wine with 9.7% alcohol is just right with its fruity flavors and soft finish for lunches, picnics and light dining. We found it perfect with lunch and snacking on a fishing trip.
The Sauvignon Blanc is very typical to the varietal with lots of fruit flavors while being crisp and just right to go with a variety of foods.
Still under $10 under the Canyon Road label Winemakers Daryl Groom and Mick Schroeter are using grapes from a large number of California vineyards along with selective blending to produce very drinkable wines. The 1995 Canyon Road Cabernet Sauvignon has a nice style and character and with a soft finish ideal for everyday wine drinking.
Again with the 1996 Chardonnay blending with some Chenin Blanc and French Colombard has produced a vintage that is the full bodied style of the varietal. Pretentious it isn't but we found it most enjoyable for either sipping or as a dinner wine.
From Monterey County Winemaker Rick Boyer of Jekel Vineyards is showing a new style in a newly released 1995 Chardonnay. Thanks to the cooler climate and summer fogs this vintage can best be liken to some French chardonnays.
This is a designated Vineyard wine called Gravelstone from the gravelly, riverbed soil where the vines are grown. Barrel fermented in French and American oak it offers a wonderful complexity and a long lasting finish to the palate.
Back to Table of Contents..
Last Update:5/15/97
&copy 1997 Joe Hilbers All Rights Reserved.
Graphic Design by Impact Graphics