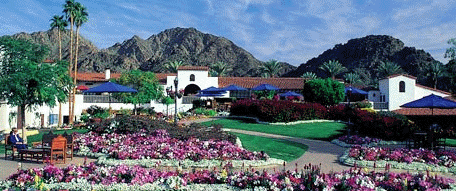 "Palm Desert and La Quinta--Following in the path of the rich and famous"
.
When visiting the California desert resorts Highway 111 is the pathway that leads to all the famous names, Palm Springs, Palm Desert, Rancho Mirage, La Quinta, and Indian Wells to name a few. They are all associated in most people's minds with Hollywood stars, celebrities and the rich and famous from just about everywhere in America.
One place that stands out as hosting all of the above for three quarters of a century is the La Quinta Resort & Club. So we thought it was about time to experience this desert legend personally. Think luxury here with 800 rooms and suites, five championship golf courses to chose from, tennis, a sumptuous spa and three exciting restaurants.
The Resort is huge so our bell man led the way in a golf cart to our room which included lots of space, a fireplace and outdoor patio. Over the years Hollywood stars favored La Quinta Resort as a hideaway and it is a good fit since the rooms are widely spaced with a early Spanish decor and ambiance.
La Quinta Resort & Club is located at 49-499 Eisenhower Drive in La Quinta. Call 760 564-4111 or www.laquintaresort.com.
For us it was not a hideaway but the starting point for some of our usual exploring and dining experiences. One morning we met Nancy Anthony who was our guide for a tour of Palm Desert's Art Walk. Palm Desert, one of the eight cities stretched along Highway 111, decided some years ago to create one area as an art center, and they have succeeded in this very well indeed. It is located on El Paseo Drive and stretches for over a mile.
Sculptures by well known artists are placed on the mediam strip that divides traffic on El Paseo Drive, spaced a short distance apart. These remain in place for one year and then are returned to the artist for sale. Shops, art galleries, boutiques and famous name department stores line the boulevard for the entire distance. There are also beautiful designed courtyards branching from the street with more boutiques, businesses and restaurants, all in a secluded serene settings. A stroll along El Paseo is a delightful experience. There are sure to be shops and boutiques that will appeal to your particular interests. Since we took up oil painting a few years ago ours was the art galleries. We paint, using the term loosely, landscapes and as we wandered through art galleries we could only wonder at the beauty of the desert landscapes on display and the talent of the artists.
The City has done everything possible to make it a special sight-seeing adventure to the point of having free shuttle carts with knowledgeable drivers to return you to the starting point on your walking tour. Since the Art Walk stretches for a full mile most people walk one way and return on one of the constantly available shuttles. We walked both ways, crossing the street on our return to view a whole new series of galleries, restaurants and businesses. We did this on a incredibly bright winter day with the surrounding mountains standing out in vivid outline with snow capped Mount San Jacinto dominating all.
Next stop was the Marriott Resort & Spa, also located in Palm Desert. We toured the newly completed Spa leaving with the feeling that, "gee, how good can it get.". And this feeling was retained by our luncheon at the Lakeside Restaurant in the hotel hosted by Maurice Constantin, hotel food and beverage manager. As it turned out we knew Maurice slightly from his days at the Beverly Hills Hotel and later with his own award winning restaurant named Chardonnay located on Melrose Avenue.
The Culinary staff consisting of Everton Clarke, executive sous chef; Shaun Crymble, Lakeview Restaurant Chef; Adam Hayes, Lakewood sous chef and Marcos Gonzales, executive chef, were all personally on hand to prepare our luncheon and then explain how it was made and even giving recipes when requested. Our group included travel and food writers representing many parts of the country, New York, Florida, parts of the south west and even a few of us Californians.
First course was three petite appetizers; scallops, crab cake served uniquely on a bun, and an asparagus wrap. Next to arrive was a cheese plate with California blue and goat cheeses and a Wisconsin sheep and goat mix. Everyone raved about our pasta dish, called Pappardelle, which was an extra wide noodle garnished with a slow roasted shredded beef and sun ripen tomatoes and a sandwich of grilled Mozzarella, smoked turkey and tomato.
Our wines were from California's central coast and our dessert a plate including rice pudding served in a cocktail glass as well as creame brulee and a Tiramisu.
Marriott Resort & Spa is located at 74855 Country Club Drive in Palm Desert, www.desertspringsresort.com.
Another day we were back in Palm Springs for a luncheon at the Purple Palm Restaurant located in the Colony Palms Hotel. In an earlier era this property was the Howard Manor, famed for its link to a Chicago Mob figure and the site of a Speakeasy during Prohibition.
The Colony Palms Hotel, located at 572 N. Indian Canyon Drive in Palm Springs, has just enjoyed a $17 million rebirth themed in a Mediterranean Moroccan decor and ambiance. The Purple Palm Restaurant opened last August to immediate rave reviews for its innovative cuisine under executive chef Jim Shiebler. Phil Amstrong, food and beverage director, shuttles between Palm Springs and Boulder, Colorado where he owns and operates a restaurant as well.
Chef Shiebler shows a menu mixed with Pacific Rim and Med Moroccan. Here we had the Chinese style baby back ribs with scallion and anise. Another at our table the salmon carpaccio with asian micro greens and cucumber in virgin oil. Other noteworthy items include a Moroccan style lamb osso bucco or tandoori styled guinea or a duo of arctic char and sea scallops.
The Purple Palm has an enviable location, back from the street and facing the pool and the newly recreated gardens and patio. It offers both indoor and patio dining and as the hotel dining room is open for breakfast, lunch and dinner.
Call 760 969-1818 or on the web at www.colonypalmshotel.com.
Back to Table of Contents..
Last Update:6/15/08
&copy 2008 Joe Hilbers All Rights Reserved.
Graphic Design by Impact Graphics