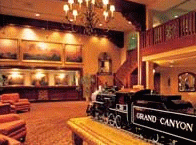 .. By Joe Hilbers
The Grand Canyon Railway Hotel is the starting point for day train excursions to the South Rim of the Grand Canyon. It also offers guests a wonderful central location for exploring Williams and the surrounding Kaibab National Forest. In style and decor it has a contemporary southwest ambiance with both the lobby and the rooms decorated with Grand Canyon landscapes.
Despite all its modern luxuries it has maintained a truly western downhome casual atmosphere and the guests respond in kind. There is the indoor pool, exercise room and game room for the kids and the lobby is an ideal place with its huge dominating fireplace for either catching up on reading or for planning future adventures in Northern Arizona.
At Max & Thelma's three meals a day dining offers the same casual atmosphere combined with well prepared and served American cuisine. At Max & Thelma's you can order off the menu or select the buffet which seemingly has been designed for hungry cowhands. And this is true for breakfast, lunch and dinner. There are also stations for salads and desserts. Service is prompt and friendly.
And friendly is something one notes immediately on arrival in Williams and the Hotel. If from Southern California being hailed with a smile and a hardy greeting by just about everyone you meet is a new experience. We fitted in with this appreciatively but also realized that this kind of behavior would be greeted with suspicion, as often as not, at home.
We experienced unusually cool weather on our visit in the first days of Fall. This made the hearty lunch fare at Max's very welcome. We stepped up to the buffet for BBQed chicken skewers, sliced port tenderloin in gravy with mashed potatoes and a taste of cowboy beans. One builds an appetite out on the range. We also stopped by the dessert station for some ginger cake to go with our Earl Gray tea.
Normally very light eaters at the first meal of the day, at Max's we again went to the buffet for breakfast. Here we selected the French toast with bacon and sausage passing on such old time favorites as biscuits and gravy.
Menu items included Eggs Benedict or Pullman Omelets like Denver or Santa Fe. Max & Thelma's is a large restaurant with seating for over 300 with adjacent gift shop. Its open beam western style ambiance includes picture windows looking out to the train platform and patio seating. Walls are covered with western art
Somehow we always seem to evolve to a bar and cocktail lounge wherever we are and found a home at Spencer's, the lounge and bistro in the Hotel. We chatted with Kim Wade, lounge manager, and mixologist Mardetta Vigil. Dominating all is the beautiful hand carved back bar that dates back to 1887 and originally in an English Pub called "The Lion's Den". A master cabinet maker by the name of George O. Spenser was commissioned to construct the bar. The solid oak masterpiece took four months to build. It was acquired by Max & Thelma Biegert, hotel owners, in New Orleans for $35,000.
Spencer's has a long bar and the lounge with tables and chairs ideal for conversation. Executive Chef Darren Kirkpatrick, who we met on the Sunset Limited Train, is also responsible for the food served at Spencer's. The menu shows appetizers like Stuffed Spud, Quesadilla and Nachos Grande, among others. There is also a daily soup and sandwich combo as well as custom pizzas with a long list of toppings and a turkey avocado croissant. Spencer's, just off the lobby, is open daily from 4 to 10 p.m.
The evening we had dinner at Max & Thelma's we skipped the buffet to try one of the Railroad dinners listed on the menu. From the entrees which included two different size cuts of prime rib, teriyaki salmon or trout amandine we selected the St. Louis style BBQ pork ribs, always one of our favorites. These entrees also included soup and salad as well as choice of potatoes in several styles or rice
We did peek at the buffet and that evening offerings included dill salmon, fried chicken and carved to order Baron of beef. Our dessert was another of our favorites, bread pudding, adding a scoop of vanilla ice cream for good measure.
We thought the prices at Max & Thelma's and Spencer's very reasonable. Every entree on the dinner menu was under $20. What with good service and a casual atmosphere and decor we just wished that Max's was closer than 500 miles from home.
All the train trips start from the Grand Canyon Railway Hotel located in the center of Williams, Arizona. The daily train to the Grand Canyon South Rim uses modern Diesel engines and deluxe coaches and parlor cars. It offers six different classes and services ranging in price from $65 to $170 per person. It operates every day of the year except December 24 and 25.
The Sunset Limited operates only during the summer months and generally is limited to weekend trips. Once at the Grand Canyon motor coach rim tours are available for train passengers and can be purchased as part of a package. Also several packages that include both rooms at the Hotel and the Train trip are available. For more information call 1 800 the Train 1 800843-8724 or there is an outstanding website complete with photos and descriptions at TheTrain.com. Children are of course welcome on the daily train and it is an exciting experience for them.
Back to Table of Contents..

Last Update:3/1/08
&copy 2008 Joe Hilbers All Rights Reserved.
Graphic Design by Impact Graphics