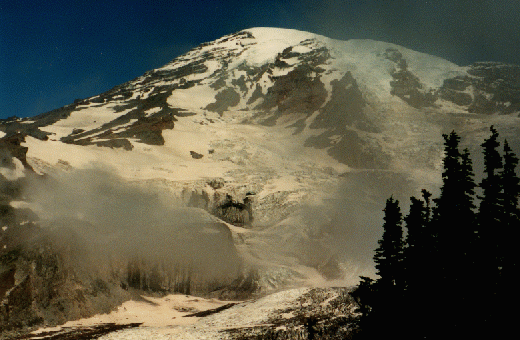 "Mt. Rainier---Spectacular at any Season of the Year"
By The Editor
"We left our Ohanapecosh Camp Site with mist hanging on the trees. It had rained in the night. Our goal was Sunrise and hopes of seeing Mt. Rainier in its entirety closeup. We found a trailhead to Frozen Lake, a two and one half mile loop trail that traversed Sourdough Ridge.
"On this day we had it all to ourselvers. Weather was overcast with mist below and above us. While traversing Sourdough Ridge the mist suddenly parted and there was the whole astonishing Mountain with fresh snow and glaciers standing out in sharp relief. There was time for a quick few photographs and then the Mountain having given us that magnificant view was once again shrouded in mist"
The above is a direct quote from the writer's Journal written on an initial visit to Mt. Rainier National Park.
Our visit started at Ohanapecosh Campground, beautifully maintained by the Park Service. Also at the Camp is a Visitor Center where maps and information can be obtained.
It is the right place to start when plotting adventures in the Park if you plan on camping with tent, trailer or RV. Access is from Washington Highway 12.
If you are not camping Packwood, Washington has all services and it is still close enough to Mt. Rainier Park for any day trips one plans. You really need private transportation to truly see and appreciate the wonders of the Park. From Ohanapecosh where we camped it was a lovely 30 mile drive to Sunrise which at 6,400 Feet is the highest point in the Park that is reached by road. En route to Sunrise you will pass through high mountain meadows that as often as not are covered with wildflowers. On a clear day a photo stop at Sunrise Lake is a must for views of the Mountain and Emmons Glacier, the largest on Rainier.
Another day we drove to Paradise on the other side of the Mountain. Again our Journal describes the day.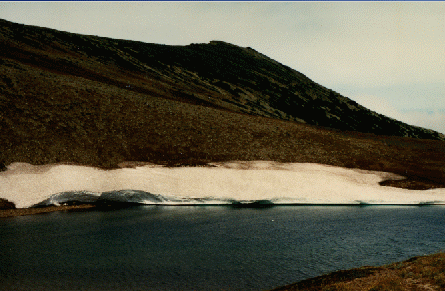 "Wanting to see the other side of the mountain, we drove to Paradise which has an elegant old lodge, new Visitor's Center and many trails, paved and wide, with granite "stairs" where necessary. We took the Glacier view trail through fields of lush alpine flowers, got a good look at Nisqually glacier and were sitting at the viewpoint eating our lunch when the "Mountain" appeared above the mist. It gradually appeared completely before the mists started covering corners of it.
"Quite of few people on the trails including a large group of backpackers, climbers, and just folk ranging from oldsters to little kids. We saw a few deer, some fuzzy baby chucks, and some big furry chucks we thought must be wolverines because of their size."
Our visit to the Park was in late August and we did have some rain every day. One rainy day we stayed at our Ohanapecosh Camp, donned our Goretex parkas and on advice from a Ranger at the Visitor Center took a two mile loop trail to Silver Falls on Ohanapecosh River. This hike gave us a good view of the deep forests that surround the Mountain.
Back to Table of Contents..
Last Update:4/15/01
&copy 2001 Joe Hilbers All Rights Reserved.
Graphic Design by Impact Graphics