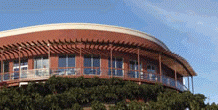 Temecula--Pinnacle Restaurant shows best of wine country"
.. By The Editor
What a great way to close out a day of touring Temecula Wine Country. That was our thought while admiring the views and enjoying the cuisine at the Pinnacle Restaurant which opened last Fall as part of Falkner Winery. Dining with Owner Ray Falkner we could only say that he had indeed done everything right.
Situated atop a hill with a commanding view of surrounding vineyards and countryside Pinnacle offers enticing views while featuring an excellent Mediterranean styled cuisine orchestrated by Executive Chef Dennis Van Rumund. Pinnacle offers a spacious dining room with seating for over 100 with tables topped with red linen. For those wishing to get even closer to the vineyards there is patio seating for another 24.
After a day of touring wineries we were of good appetite and our table of four started with two appetizers. They included a Pecan crusted baked Brie with raspberry sauce and served with sliced apples and crackers. Also the Fried Calamari in a cherry pepper sauce. We particularly liked the way Chef Van Rumund has matched many items on the menu with recommended wines. For the Brie the matching wine was 2004 Falkner Viognier and for the Calamari a 2002 Falkner Syrah.
While this was for lunch the entrees were indeed full portions. Two of us ordered the Lime Mahi-Mahi which arrived with a lobster and potato melange. My dining partner enjoyed the 2003 Falkner Reserve Chardonnay with this dish. Others ordered the Mediterranean Shrimp and Penne with garlic, sun dried tomatoes, and black olives and the Chicken Crepe, chicken breast with mushrooms, asparagus, and sun dried tomatoes in a lemon herb crepe. The recommended wines a 2002 Falkner Amante, a super-Tuscan styled Sangiovese blended with other red varietals or the Chardonnay.
The talents of the Executive Chef were very obvious here. Dennis Van Rumund is a graduate of the Culinary Institute of New York and has enjoyed a distinguished career in Southern California. The Pinnacle has an excellent wine list that is not limited to Falkner wines. Also found on the list are vintages from other California regions as well as Italy and New Zealand. Of interest is that most of the wines are available either by the glass or bottle and the Falkner wines can be purchased by the bottle for carry out.
We all had to shake our heads when the dessert menu arrived featuring Julian style apple pie with whipped cream or Caramel fudge Brownie cheesecake.
Pinnacle Restaurant is on two levels with a barrel room and cellar styled dining room downstairs for special parties and events. The restaurant is open for luncheon daily from 11:30 a.m. to 2;30 p.m. and dinner for parties and special events by appointment.
Falkner Winery and Pinnacle Restaurant is located five miles east of I-15 off Rancho California Road to Calle Contento. For more information or reservations call 951 676-8231 or on the web at www falknerwinery.com. Back to Table of Contents..

Last Update:3/1/07
&copy 2007 Joe Hilbers All Rights Reserved.
Graphic Design by Impact Graphics