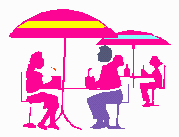 "Redding--We found some interesting restaurants and chefs in Redding"

by the Editor
Our headquarters in Redding was the Great Western Hilltop Inn located just off Interstate 5. Among the many amenities offered at the Hotel is C. R. Gibbs American Grille. With a full cocktail lounge, restaurant, patio and live entertainment it is popular with visitors and locals alike. We had a long conversation with Joe Tonna, executive chef and food and beverage director at the Hilltop.
Joe grew up in the Bay Area and then attended the California Culinary Institute. For three years he was executive chef at Copper Mountain Ski Resort in Colorado a dream job if we ever heard of one. This naturally led to a long conversation that only two skiers could enjoy. An ardent fisherman and outdoor enthusiast Joe Tonna also had to relate a few good 'fish stories'.
C. R. Gibbs shows a menu with appetizers like a Bubblin crock of Onion Soup or Beef Fajita Eggrolls along with some standards like Asian chicken wings. Then there are eight pizzas from the brick oven. Living up to its reputation as an American Grille the menu offers a variety of steaks as well as Southern style pork spare ribs, beer battered prawns and grilled Caribbean chicken.
The wine list is all Californian but what we noticed was the most reasonable pricing on all the vintages with almost everything listed also available by the glass.
The Inn and C. R. Gibbs are located at 2300 Hilltop Drive in Redding, telephone 530 221-2335. As restaurant for Hilltop Inn it is open for breakfast, lunch and dinner daily.
One evening we had dinner at what is a true landmark in Redding. Buz's Crab is a legend that has now been around for 35 years and people have never stopped beating a path to its door. Buz's Crab has built its considerable reputation by featuring only fresh fish and shell fish. That famous delicacy Dungeness crab is featured almost every month of the year and always fresh.
Owner George Santilena shows a menu that features seafood in just about every combination possible. There are seafood baskets featuring every kind of seafood from oyster and chips to salmon chunks and chips. Charbroiled entrees cooked over mesquite wood and arriving with chips, baked potato or rice and sloe slaw or dinner salad. Then there is a selection entitled 'Captain's Choice' including items like Prawn Fettucini in white sauce, crab cioppino, Buz's Scampi over rice to mention a few.
The night we were at Buz's the featured special was Copper River Salmon and many of our group ordered it. This Writer was pleased with his Prawn Fettucini. Also at our table was a Shrimp Quesadilla and a Crab Louie which comes either as a half or full order.
Buz's is casual and not fine dining but hard to beat when it comes to top quality and moderate prices. You order at the counter and then a waitress brings your food to the table. George Santilena and this Writer found we had a lot to talk about. We discovered both of us were from families who had immigrated from Sicily. Also George told how early on he developed a personal relationship with many of the Commercial Fishermen in Eureka assuring a steady supply for fresh seafood which established the reputation of the restaurant.
Buz's Crab is located at 2159 East Street, Redding and is open daily from 11 a.m. to 9 p.m. Telephone 530 243-2120.
With our Redding dining it was something old and something new. New and very popular is Cheesecakes Unlimited Restaurant which opened within the past year. Our group had lunch there one day and discovered an interesting totally contemporary menu with some intriguing sounding dishes.
We had the smoked turkey sandwich and a half order was ample. Another of our group ordered a very well presented Oriental chicken salad. The menu also has a selection of pastas and entrees with daily fresh seafood selections. We also noted a very well ordered California wine list with some local vintages represented.
Cheescakes Unlimited Restaurant is located at 1080 East Cypress Avenue and is open for lunch daily 11 a.m. to 4 p.m. and dinner 5 p.m. to 9 p.m. Telephone 530 224-1775.
When visiting Sundial Bridge and Turtle Bay Exploration Park consider having lunch there as well. There is both inside air conditioned seating and a beautiful patio which overlooks the foliage of the Park as well as the Bridge itself with its awesome steel pylon.
We lunched there one day and found both the service and food excellent. We ordered the featured BBQ beef sandwich which was so ample that we were not able to finish all. A full list of sandwiches and salads are on the menu. For more information as to hours call 530-242-3175.
Back to Table of Contents..
Last Update:9/15/04
&copy 2004 Joe Hilbers All Rights Reserved.
Graphic Design by Impact Graphics