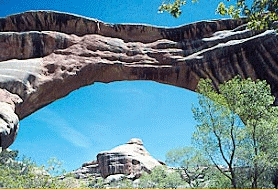 "Utah Parks--Adventure Awaites in the Red Rock Country"
.
By The Editor
Another in Vittles series on our National Parks
A good many changes have taken place in outdoor activities over the last half century not the least of which is the ever increasing interest Americans have in their country's natural wonders.
Some of this writer's most interesting outdoor experiences could not happen in the 21th Century. This was brought to mind when writing about Canyon Lands and Capitol Reef National Parks as well as Hovenweep and Natural Bridges National Monuments.
One episode, remembered for years ,was our exploration of Hite's Ferry on the Colorado River. I had my brother-in-law, who is also an enthusiastic outdoorsman, to thank for the adventure.
Hite's Ferry was a barge powered by a truck engine and transmission which was pulled across the river by a cable. The whole rig was a jerry built home made affair and a one man operation.
My new Ford and especially the occupants were most happy to see the River but we soon learned that the Ferry was temporarily out of service. The axle of the truck wheel that powered the cable had snapped. When we arrived the operator was trying to free the broken part of the axle so a new one, which was fortunately on hand, could be installed.
This proved to be a frustrating and long endeavor in which I cheerfully gave such assistance as I could. It was certainly in my interest to get the Ferry repaired since I had no desire to traverse that road in the opposite direction.
At last the new axle was snugly in place. However time had been slipping by and it was now 6 p.m. The Ferry had one other customer besides us, two young men in a car with New York plates. The Ferry had a capacity of just two automobiles. So without a test run which I thought might be appropriate, the two cars were driven onto the Ferry and across the River we went.
On the other side was another unimproved dirt road and nothing else. The road led to Blanding some 88 miles distant. The New Yorkers took off in a cloud of dust and were seen no more. In fact it was the only car we encountered during that long day. We took our time despite the lateness of the day to enjoy the picturesque red rock country but night fell long before we got to Blanding. At one point the road climbed over a 9,000 foot pass entitled the "Bear's Ears" and going through the "Bear's Ears" on that lonely road was a subject of family comment for many years to come.
We had started the day from our camp high in the La Sal National Forest but it was past 9 p.m. when we finally arrived at Blanding so decided on a motel for the night.
With the building of Glen Canyon Dam and the creation of Lake Powell Hite Ferry is now under water and a bridge crosses the spot on Utah Highway 95, now nicely paved and entitled the bicentennial highway. Hite is a Utah community with campground, marina, stores, resorts and much else.
We marveled at all of this change many years later as we retraced our steps of that memorable first trip and to explore Hovenweep National Monument as well as Natural Bridges National Monument, which is between Hite and Blanding on Hwy 95.
Hovenweep offers the opportunity to view prehistoric Puebloan era village sites. The remaining five towers display the skill of those early builders.
Our trusty Journal tells the story: "We arrived at Hovenweep early enough to settle in at the Campground adjacent to the Visitor Center. We then toured the Square Tower ruins and returned to enjoy Chicken Sec for supper. Then for our early evening hike went to Stronghold House and peeked into Hackberry and Horseshoe Canyons and the Tower Point ruin. We got back to the Camper just at dark. A truly wondrous thunderstorm took place in the night with a downpour that made the roof leak in our supposedly snug trailer. Lightning display was the big show."
Next stop was the Natural Bridges Monument which protects and offers for viewing three natural bridges formed by streams over many centuries.
Our Journal continues:
"On a fresh clear morning after the big rain we left Hovenweep for Natural Bridges National Monument over a road of red clay that was very much on the slick side after last night's storm. We lunched at Sipapu picnic spot and then hiked down an interesting trail to Sipapu Bridge. Mary and Brian tried to continue on the trail to Kachina Bridge but there was too much water flowing at the bottom of White Canyon. Later we all took the short hike to Owachomo Bridge as well. We then took Highway 95 to Hite. The Campground at Hite was a big disappointment so we decided to move on to Capitol Reef which meant another 60 miles of travel. Arrived at Capitol Reef at 7:30 and found nice camp at Park Headquarters. Cold beer and ham for supper.
"Lazy group in the morning and we got a late start, 10:30 a.m., for hike on Cohab trail leaving from Campground. However we were at Hickman Bridge by noon with a side trip to the Nature Trail as well. Fortunately the Nature Trail solved Mary's mystery tree problem. A single leaf ash caused all the excitement. Ate lunch at Frying Pan Canyon trail junction. Brian peeled off for camp but Mary and I went on to Frying Pan Canyon and found a natural rock tank filled with rain water. Water was pleasantly warm from sun so we both took a refreshing dip. We were back to Camp at 4:30 p.m. for beer, watermelon and other goodies. A full Camp in evening."
In the past decade Canyonlands National Park has become a very popular destination expecially with mountain bikers and off-roaders.. For information check out the website at http://www.nps.gov/cany/index.htm.
Back to Table of Contents..
Last Update:9/15/03
&copy 2003 Joe Hilbers All Rights Reserved.
Graphic Design by Impact Graphics