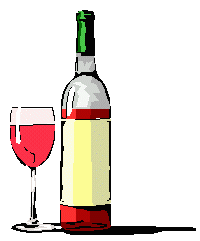 "Napa-Sonoma--Some red wines that will warm a winter evening"
.. By Editor's Vineyard
We have just tasted some great California red wines that will lighten up those long winter evenings. The quality of some of the red varietals that are coming from Napa and Sonoma valleys these days is truly awesome. Maybe things aren't getting any better generally worldwide but when it comes to California premium wines the improvement is constant.
Atlas Peak has been a leader in producing great Italian varietals in the Napa Valley on their hillside vineyards. The 1995 Atlas Peak Cabernet Sauvignon includes 12 per cent Sangiovese and the result is a wonderful vintage full of flavors, aromas and surprising softness. Enjoy now but this wine is also a real keeper.
If you enjoy Merlot you will love the 1996 Atlas Peak Reserve Sangiovese. From 100 per cent estate grown Sangiovese this vintage can only enhance this winery's reputation for producing fine Italian style varietals. Soft but full of varietal flavors this wine will brighten the cuisine of almost any cook or chef.
We look forward to each release of Geyser Peak Reserve Cabernet Sauvignon. The 1995 Reserve Cabernet Sauvignon from the Alexander Valley certainly lives up to the standards set in earlier releases. Big, rich are words that define this complex vintage which includes two per cent Merlot. It has already won gold and silver medals in wine competitions.
Unfettered by some of the government regulations that plague many European winemakers, here in California their counterparts can design wines from more than one varietal. The newly released Venezia 1996 Sangiovese Nuovo Mondo is a case of point. This wine is 81 per cent Sangiovese, famed in its native Tuscany for its softness, and 19 per cent Shiraz. The result is an elegant wine ready now for enjoyment with many kinds of cuisine.
Venezia is a premium label of Geyser Peak while Canyon Road is their brand which competes in the under $10 category and competes very well. Certainly this is true with their 1997 Merlot which is a very good everyday dinner wine with nicely balanced flavors and the softness that has made this varietal so popular in this decade.
William Hill has for the past two decades produced many outstanding vintages of Napa cabernet sauvignon. Recently we opened a bottle of the 1991 Reserve wine which awed both this writer and two associates who also have long backgrounds in the wine business.
The newly released 1995 Reserve cabernet sauvignon should certainly carry on this tradition. The blend includes 6 per cent Merlot and 2 per cent Petit Verdot and grapes from three Napa viticultural regions. We enjoyed this vintage and just hope we can be around to open another bottle 10 years from now for it should enjoy a long life.
Save this wine for that special gourmet dinner or important guests.
Back to Table of Contents..

Last Update:1/1/99
&copy 1999 Joe Hilbers All Rights Reserved.
Graphic Design by Impact Graphics