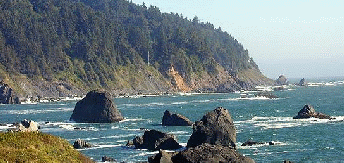 ---
"Redwood National and State Parks--A jewel 0f immense forests and lonely beaches By Joe Hilbers
"It is like walking in a grand Cathedral, the immense quiet, the feeling of loftiness reaching toward the sky, the occasional shaft of sunlight displaying the grand scene, all on a carpet of softness made of countless layers of leaves."
This is how an Eastern travel writer viewing the mighty Coastal Redwoods for the first time described her experience. We were a group of travel writers on a Press trip to Eureka and the surrounding scenic northwestern corner of California and one of our activites was a walk through the giant Redwoods of Humboldt State Park.
For this Writer, who has experienced this wonderful region of California for most of a lifetime, her wonder and excitement presented fresh insight and a new appreciation for what is now known as Redwood National and State Parks.
The State Parks, created almost 75 years ago, were first to protect the 2000 year old and 300 foot tall Coastal redwoods. It was not until 1968, when 90 per cent of the old growth forest had been logged, that Redwood National Park was created with 58,000 acres.
Then in 1978 an additional 48,000 acres were added to the Park. In 1994 it was decided that the National Park Service and California State Parks would jointly administrate the Parks. The Parks also include 37 miles of undeveloped California coast line bordering the Pacific Ocean.
As our Journal attests this Writer knows the area well with camping, hiking, fishing and general exploration of much of the region the Parks encompass.
"Rain continued as we drove the final miles of the Oregon coast but as we crossed into California the rain stopped to be replaced by low clouds, fog and traces of sunshine. We went into Del Norte State Park and found a nice camp in the Redwoods at Mill Creek Campground. We decided to use the State reservation system to ensure we could enjoy our camp site over the next weekend as well.
This done we entered Redwood National Park and found a trailhead that led to Last chance Trail and beach, only a half mile trip. A few folk were at beach but this Writer was the only fisherman. Had a few bites and lost one fish at shore. Back at Camp we showered and had baked chicken and potatoes for dinner. It was very foggy at the Beach but quite balmy and some weak sun at Camp.
"The sun returned after yesterday's rain which ruined our fishing day at Wilson Beach. So with the promise of better things to come we once again went to Wilson Beach. At the Beach we were greeted with a low fog that blanketed the ocean but a weak watery sun could be made out above. Of fishing there were none but my life long partner saved the day with her crab net getting one rock crab and two red crabs. The crabs were of legal size and Mary put back several other, that were not, to grow up. The fog never did burn off but it was balmy and windless. We had our lunch at the Beach and then quit for the day. At camp we enjoyed a huge driftwood fire and Mary cooked a great crab chioppino for supper with pasta of course. The Campground stayed sunny but damp all day.
"This was our day to use trails leading from Mill Creek Camp and we had a rare cloudless morning for it. We took the trail to Trestle which put us to a junction with the Saddler Skyline Trail which led us to Hobbs Wall trail where old stands of Redwoods were most impressive. Our return to our campsite was on Saddler trail, then to Mill Creek trail. Here we sighted a forked horn buck who gave us a good look and vise versa. Also marveled at the Banana slugs, a regular resident of this forest.
"Another day we drove to Crescent Beach and took a nice leisurely walk south until we reached some rock cliffs. Morning overcast gave way to sun on our walk which was on hard packed sand. We then broke camp and moved south to Patrick Point State Park where we found an open sunny campsite with a fine view of the Ocean. Through field glasses we could watch seals cavorting on rocky islets off shore. After supper we took a walk to Mussel Rocks."
All three of the State Parks offer excellent camping facilities. On another trip we explored Gold Bluff Beach, a part of Prairie Creek State Park, which has interesting campsites on a scenic ocean shore filled with picturesque drift wood.
The Journal tells the story: "A rainy morning but it finally stopped and we had some sun in the middle of the day. We took a walk to Fern Canyon and saw elk as well as the ferns. The Male Elk was with all his ladies and keeping their distance a couple of 'sore losers'. Soft sand made for a tough four miles hiking. We tried fishing with no success and then it was cocktails and fried chicken for supper. We enjoyed the evening with a roaring driftwood campfire. There was a high overcast and a raging surf that made for a serene, if not quiet, scene."
Highway 101 is access to Redwood National and State Parks and indeed for some miles runs through the heart of the Park. Besides the beauties of the Redwood forest and the Parks there is much to see and do in this region which has historically been isolated from much of the State. Nowhere in California has the past been preserved so well as in Humboldt County with scenic places like Ferndale and old Town Eureka as well as Arcata. These places present the visitor with a very good perspective of a most colorful past.
In Eureka, home to the rich and famous since 1922, is the Eureka Inn. Equally famous , on Highway 101 just south of Garberville, is the Benbow Inn, long a favorite hideaway for Hollywood's famous stars as well as political personalities. It opened in 1926 adjacent to the south fork of the Eel River and has been spoiling guests ever since.
This Writer has been fortunate to experience the hospitality of both these historic inns. Yes, sometimes we do leave our sleeping bag and backpack at home.
Unlike the rest of California one can encounter rain almost every month of the year especially along the coast. Our Journal attests to this on every trip we took to this region. So if planning a trip include some raingear.
With so much to see and do, advance information will really make a visit to the area more enjoyable and it is readilly available. On the web for park information www.nps.gov/redw/. For Eureka and Humboldt County www.redwoodvisitor.org. If camping is not your thing deluxe accommodations at www.Eurekainn, com or www.benbowinn.com.
---

Back to Table of Contents..
Last Update:3/10/04
&copy 2004 Joe Hilbers All Rights Reserved.
Graphic Design by Impact Graphics