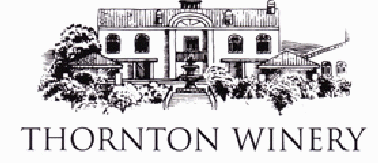 ---
"Temecula--A toast with Thornton's Blanc de Noir started the 2007 Crush' By The Editor's Vineyard
It was 10 a.m. on an August morning with promise of being a hot day. However our group was situated alongside a grape crusher at Thornton Winery in Temecula to observe, in some style, the first grape harvesting of the season. To this end we all held a glass of Thornton Blanc de Noir champagne as Winemaker Don Reha made the toast and the perfectly formed bunches of Pinot Noir grapes went into the crusher.
For Don Reha it was the beginning of his 23rd harvest and the 20th anniversary harvest for Thornton Winery.
The grapes flowed a light pink juice that was the beginning of a process that would become Thornton Blanc de Noir Methode Champenoise sparkling wine almost three years later.
Two truisms of winemakers were present that day. 1. It takes quality grapes to make good wine and 2. Making a good vintage takes time and cannot be hurried.
The seven tons of grapes we saw had been picked just 24 hours earlier from a vineyard only a few miles from the winery. We tasted the small pinot noir berries. They were fully ripe, sweet on the tongue and when squeezed showed a pink color not much different from the champagne in our glass.
We asked Don Reha what the processes following today's crush would be. The juice would go to stainless steel tanks for primary fermentation. Some of the juice would later be placed in barrels. Six months later all would be blended and then bottled methode champenoise, the traditional French process, for a period of from 18 months to two years.
That morning we were surrounded by a maze of equipment much of it in gleaming, spotless stainless steel. Yes, the equipment has evolved, the techniques have advanced but the simple process of extracting juice from grapes to make a satisfying beverage has not and indeed is some 7,000 years old.
New Look
Forest Glen has been upgraded both with grape source and a new label. Winemaker Ed Moody has released some wines to show off this 'reforestation'.
First a 2004 Forest Glen Cabernet Sauvignon. Moody holds the alcohol to 12.9 per cent on this wine with the result that fruits show through nicely and the palate is rewarded with a smooth finish. Also a Forest Glen 2006 Pinot Noir. Age in American oak offers smooth textures to the wine and it is very true to this increasingly popular varietal.
The 2005 Forest Glen Sauvignon Blanc offers the fruit flavors present in this varietal and enough body to serve either as a cocktail wine or for dining, expecially with seafood.
Winemaker Moody, for his Forest Glen 2005 Chardonnay, had the sur lies aged for seven months and the result is a wine with the classic creamy texture of the grape and a pleasant mix of fruit flavors and aroma. All these wines retail for $11.

Back to Table of Contents..
Last Update:11/10/07
&copy 2007 Joe Hilbers All Rights Reserved.
Graphic Design by Impact Graphics