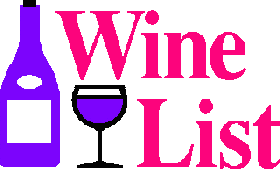 "Reserve Wines Show Skills of State's Vintners"
by The Editor's Vineyard
The 1996 Fetzer Reserve Napa Valley Cabernet Sauvignon represents a milestone for this vintner which until recently produced vintages with mass appeal. This wine has been carefully produced for people seeking a superior cabernet, one carefully made from selected vineyards and aged 28 months in French oak.
This is a vintage that will age gracefully for many years in the cellar. It is a special occasion wine and has been priced accordingly.
Fetzer has also released a 1998 Reserve Pinot Noir produced from single vineyard grapes in Santa Barbara County. This vintage was made in the classic Burgundian style, fermented in open top French oak barrels and then enjoyed one year of French oak aging. More and more of California's best pinot noir is now coming from the Central Coast and this vintage is one of them. Definitely a special occasion wine, to be enjoyed now or cellared for another five years or so.
Exciting is the word for two new Reserve releases from Geyser Peak Winery. The 1997 Reserve Shiraz is a showplace wine made from grapes from Dry Creek and Alexander Valleys in Sonoma County. Eight per cent Petite Sirah was added for complexity. The result is a bottling that shows that California Shiraz is definitely here. With 17 months in French and American oak it is definitely a cellar wine that can only get better in years to come.
The Geyser Peak Reserve 1997 Cabernet Sauvignon has been made from individual batches of grapes from hillside Alexander Valley vineyards. It has been in American Oak barrels for 18 months and was not fined or filtered before bottling. The result is a truly rich wine that explodes on the palate. To be enjoyed now but just wait a few years.
All the above wines are priced as super premium vintages and are well worth the money for that special occasion or dinner party.
And again for those who love to cellar fine wines and enjoy them in years to come these four vintages truly should not, with proper care, disappoint.
Back to Table of Contents..
Last Update:9/1/00
&copy 2000 Joe Hilbers All Rights Reserved.
Graphic Design by Impact Graphics