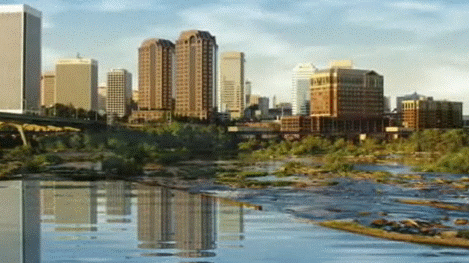 Richmond, Virginia--This City offers a blend of both old and new
.. By Joe Hilbers
On our Trip to Richmond, Virginia we discovered that four centuries of history are everywhere to be experienced and enjoyed. In a modern city with great transportation and all the amenities of the 21th Century yet evidence of the past is all around one.
After all of the first five presidents of the new nation four were from Virginia. The hallmark of Thomas Jefferson, that man of all ages, is to be seen in the design of the State Capitol as well as the concept and founding of the Library of Virginia
Drive S Boulevard and see the statues of Robert E. Lee, Stonewall Jackson, Jeb Stuart and Arthur Ash, the latter not for his powers as a tennis player but for his contributions in programs to improve the education of Richmond's young people. The City has done an excellent job in keeping the James River, so important in the centuries old development of Richmond, a place for recreation and outdoor enjoyment.
Carytown gives Richmond an area of trendy shops, galleries, a theater with art deco intact as well as restaurants and cafes for every taste.
With Virginia Commonwealth University it is also a college town of some 30,000 students studying for degrees including doctorates in many fields. Its Medical school enjoys a national reputation.
Used to the frenzy of Southern California freeways and traffic we envied the life-style of Virginians which from our point of view was at a far more leisurely and sane pace. We admired the planning of the City to maintain its historic image by keeping its buildings of earlier eras for future generations to enjoy and appreciate. Iron was widely used on the stores and home as handsomely fashioned art and this is still here to be admired. In fact only New Orleans leads Richmond in the amount of decorative ironwork.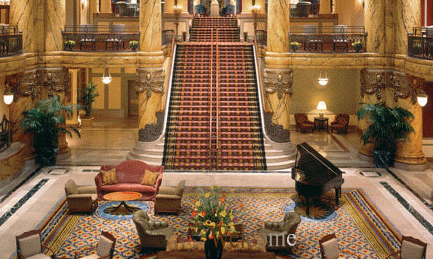 To say we lived well during our stay in Richmond is an understatement. Our lodging at the five star Jefferson Hotel emphasized this point. The Hotel was built in 1895 by one of those larger than life figures that have always distinguished Richmond throughout its centuries. His name was Lewis Ginter. During his life time he won and lost several fortunes and in building the hotel he spared no expense.
The Palm Court with its magnificent staircase, the statue of Thomas Jefferson and the Rotunda are just three of its many unique attractions. In our stay we joined eleven U.S. President who lodged at the hotel on one time or another. For us it was the perfect starting point for tours into the City and State's historic past.
We went to St. Paul's, Richmond's first church and cemetery. As the City' largest building it was the meeting place for Virginia's first political assemblies. It was here, at St. Paul's where Patrick Henry gave his speech with the unforgettable words "Give me liberty or give me death". Our group enjoyed a private tour of St. Paul's as well as a wonderful narration by Jerry Hedges attired in the clothes of the period.
We visited the State Capitol and could admire once again Thomas Jefferson's genius in architecture for he designed and modeled it after a Roman Temple. When constructed in the early 1800s it was the largest structure created by European settlers in the New World.
At the Virginia State Library we were privileged to view some of America's history in dramatic fashion. Our host was Thomas Camden, Director of the Library's Special Collections and his office center where the Library's most precious books and documents are kept. Wearing white gloves he showed us a Book of Psalms, still beautifully bound in leather, that had arrived in the New World aboard the Mayflower.
Once our ohs and ahas had settled down he next showed us two law books whose original owner was Patrick Henry. As he passed one of these books to us, sure enough on the inside front cover was the signature of this famous Patriot. Then a French volume belonging to Thomas Jefferson. Jefferson marked his books in curious ways mostly just his initials, TJ, somewhere well inside the book and this Tom showed us as well.
Most dramatic was when we were shown actual letters in George Washington's own handwriting and signature. The letters reveal a fine script and flowing style of handwriting, alas not often seen in today's world. Needless to say we were most reluctant to leave Tom's sanctum of treasures.
"Hark the Raven nevermore", somehow these words came back to us as we arrived at the Edgar Allan Poe Museum in Richmond. As it happened 2009 is Poe's Bicentennial and the event has been celebrated in several ways in Richmond. Poe spent his early life the City and was living there at the time of his death. We toured the Poe museum which is located in a complex of historic building surrounding a courtyard. Poe was the first American author to make his living as a writer. For us it took us back two thirds of a lifetime when we first read "The Gold Bug" and "A Cask of Amontillado" Poe's early life as an orphan is told at the museum as well as copies of his work in newspapers and periodicals. You can find out more about Poe's Bicentennial at www.poe200th.com.
Our stay in Richmond was divided with two hotels, The Jefferson, and the historic Linden Row Inn. This hostelry enjoys the distinction of being included in the National Registry of Historic Places. Sections of the Inn date back to 1847 and here Edgar Allan Poe once resided. During the Civil War it was a girls school. In 1950 eight of the houses in what was known as Linden Square were saved from destruction by the efforts of one woman, Mary Wingfield Scott. Lindow Row was restored and became a full service Inn in 1988.
Almost all the rooms, including mine, have authentic antique furnishings from the middle and late 1800s. Once we looked out the window to see if our horse was being properly attended to by the groom. For more information on Linden Row Inn call 1 804 783-700 on the web at www.lindenrowinn.com.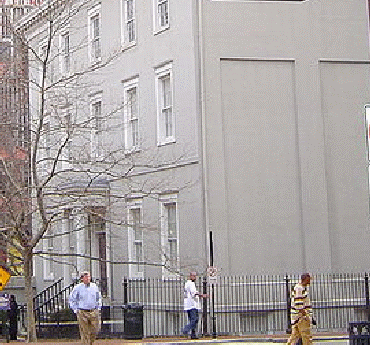 One of the places that was 'must see' for this Writer was the Confederate White House, home of the Jefferson Davis family during the Civil War. Located in the heart of historic downtown Richmond guided tours are offered daily. Our guide was an articulate knowledgeable college student. It was with much contemplation to think we were looking at rooms and furnishings that had been the scene of conferences with President Davis and Generals Robert E. Lee and Stonewall Jackson. And that as Grant's forces moved into Richmond President Abraham Lincoln had also visited this house.
Adjacent to the Davis home is the Museum of the Confederacy. Here we were able to connect names of famous Confederate generals with their portraits and as our short visit allowed to mull over exhibits, each depicting events of famous battles. The Museum is located at 1201 East Clay Street, telephone 804 649-1861, www.moc.org.
Richmond is a city whose fame preceeds a visit. And that was certainly true for this Writer. With 400 years of history repeat visits are a necessity. Proving this point is the fact that fifty percent of visitors to the City return for a second look the same year. For more information contact the Richmond Metro Convention & Visitors Bureau at 804 783-7411, web www.visitrichmondva.com.
Back to Table of Contents..

Last Update:12/10/09
&copy 2009 Joe Hilbers All Rights Reserved.
Graphic Design by Impact Graphics