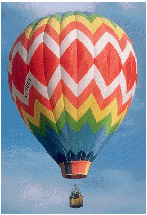 To see the wine country try ballooning..
.. By Joe Hilbers
Whether in Champagne in France or in the Napa Valley of California or for those of us that call Southern California home with our very own Temecula Valley wine country, ballooning has more and more become the way to view the vineyards.
Your ballooning adventure generally begins long before the event with many "should I or maybe nots". Those l0 story tall hot air balloons with what seems a very small wicker basket beneath can be intimidating to those most comfortable with two feet squarely on the ground.
One thing to remember about ballooning is that an early start somehow seems to be required . This means getting out of bed much too early and as dawn gradually arrives having yet more second or even third thoughts about what lies ahead.
However there is a certain excitement as the balloon crew goes about their early morning tasks with a great deal of efficiency and at least the appearance of knowing exactly what they are doing. The worse part for the first time balloon rider is watching all this activity while you are totally idle, and with far too much time to think what is about to happen.
Once aloft however all the early trepidations magically disappear in the sheer grandeur of the views and the feeling of total freedom from those earthlings below.
We can think of no better place for that first time balloon ride than the Temecula Valley. Our flight was with Pat Murphy as captain and his on-going commentary on the mechanics and techniques of hot air ballooning were both encouraging and enlightening.
Pat Murphy with Prism Hot Air Balloon Flights can be reached at (6l9) 431-7320.
Back to Table of Contents..

Last Update:10/10/97
&copy 1997 Joe Hilbers All Rights Reserved.
Graphic Design by Impact Graphics