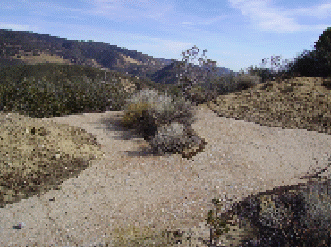 "It was the season for 'have wine, will travel'" The Editor's Vineyard
.
Taking advantage of a Fall and early Winter that offered cloudless skies and mellow temperatures we enjoyed some most interesting day excursions and, of course, always accompanied by a bountifully supplied picnic basket. One day we drove to the Devil's Punchbowl nestled on the eastern slope of the San Gabriel Valley. The Punchbowl has been shaped by all the forces of nature--earthquake faults and erosion. It offers interesting nature walks since the Bowl is in the foothills of the Range and offers both a pinon pine woodland as well as the desert chaparral.
Since it was a rather nippy day our wine was a 2008 Forest Glen Cabernet Sauvignon. We liked Winemaker Ed Moody's style with this wine which was at a classic 13.03 per cent alcohol and offered a nice bouquet of fruit which showed on the palate as well. When we returned home there was just enough left in the bottle to add to a pasta sauce we prepared. Priced at $11.
Another day we wore our history research hat and explored the original highway that connected Los Angeles with the San Joaquin Valley. Called the Ridge Route it was completed in 1915 and hailed as an engineering triumph of the early 20th century. Today only a small portion of the road is still open for viewing since the Forest Service has closed much of it because of washouts and slides. However we did traverse the eight miles that is still open, starting at Quail Lake just south of Gorman, and going as far as the original roadside restaurant and hotel called The Tumble Inn.
Of the Inn only some well made stone walls still stand. Here we enjoyed a lunch with commanding views of the surrounding country while sipping a 2007 Napa Ridge Napa Valley Petite Sirah. This was a pretty big wine for our picnic since it offered aggressive flavors and hearty tannins. While Winemaker Robert Stashak kept the wine at 12.5 per cent alcohol the vintage lacked nothing in showing the true qualities of this varietal. Considering its appellation, quality and $12 price tag we thought it offered exceptional value. As for the Ridge Route we had it all to ourselves meeting not a single car on this highway of long ago.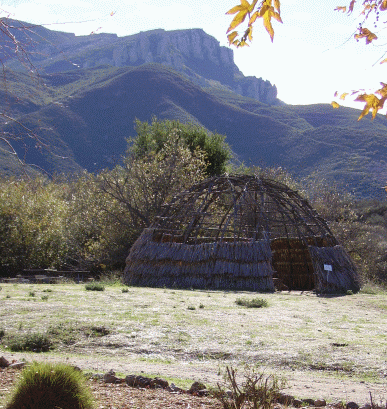 Another day trip took us to Rancho Sierra Vista and the Satwiwa Native American Indian Culture Center located above Newbury Park. The property is now under the direction of the National Park Service. Here we hiked under Boney Mountain to the Big Sycamore Canyon trail which leads eight miles to Point Mugu State Park where it meets the Pacific Ocean. We took this trail only to the State Park boundry and then used the Satwiwa Loop Trail that took us to the Indian cultural center where we used one of the convenient picnic tables for our lunch. With lunch we enjoyed a Cycles Gladiator 2008 Central Coast Syrah. Winemaker is Paul Clifton and Cycles Gladiator is the brand Hahn Family Wines uses to feature the products of its Central Coast vineyards. For this Syrah Paul Clifton used 87 per cent syrah and 13 per cent Petite Sirah. The wine was rich in color and with pleasant subdued flavors and a remarkable smoothness on the palate. At $10 we thought it a bargain.

Back to Table of Contents..
Last Update:3/1/10
&copy 2010 Joe Hilbers All Rights Reserved.
Graphic Design by Impact Graphics