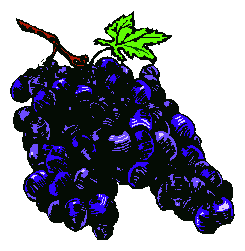 ---
"German rieslings--They prove their longevity in 20th anniversary tasting' By The Editor's Vineyard
A recent seminar conducted by the German Wine Information Bureau showed rather dramatically the longevity enjoyed by its Rieslings.
Entitled a "20th Anniversary Celebration" we tasted 1983,1993 and 2003 rieslings from three German vintners, each from a different wine district. From the Rheingau we tasted the three Spatlese vintages of Schloss Johannisberger with Christian Witte of the winery discussing each wine. All three riesling Spatese were still excellent but our favorite was the 1993 which showed an elegant nose and full flavors.
The Rheinhessen district was represented by Markus Ahr of Heyl Zu Herrnsheim whose three vintages were Riesling Auslese. The 1983 showed less sugar but still offered a fine nose. Again we chose the 1993 vintage which offered classic riesling aromas and rich flavors.
Mrs. Annegret Reh Gartner of Reichsgraf Von Kesselstatt took us to the Riesling Auslese of Mosel-Saar-Ruwer. The 1993 Josephshofer Riesling Auslese still offered lovely flavors with a modest nose and drier finish. Of interest was the 2003 vintage which has a touch of botrytis that added to its sweetness. The 1993 offered explosive flavors on the palate.
Christian Witte added some history and romance about German wines by pointing out that Spatlese was first made in 1775 by accident and that its fame spread so rapidly that by 1778 Thomas Jefferson, a true wine buff, had tasted Spatlese and was so impressed that he advised friends who were in Europe to go to the Rheingau to experience the wines.
Following the seminar a tasting of the 2003 classic rieslings was conducted at the Golden Gate Club in San Francisco's Presido. The San Francisco event was part of a German wine tour reaching cities around the world.
Single vineyard wines have long had a place in almost all of Europe. Now they are showing up more and more in California as winemakers recognize a unique terrior in certain areas. Geyser Peak has been a leader in producing single vineyard vintages which they call their "Block Collection". Two new releases demonstrate the success of this program. A Geyser Peak 2002 block Collection Zinfandel is from the Sandy Lane Vineyard in Contra Costa County, which has old clones of the varietal. Aged 16 months in a combination of French and American Oak four per cent Alicante Bouchet was added for complexity. This is an excellent wine, dark, rich and a long finish. Definitely for the Zin lover.
The Geyser Peak 2000 Block Collection Merlot is from the Shorenstein vineyard in Sonoma, and then grapes from just part of that vineyard. It was aged 16 months in French oak and its mellow flavors follow a rich aroma with ever so soft tannins. Certainly worth its $26 price tag.
Hacienda Wine Cellars is another brand of Bronco and follows its marketing policy of pricing for everyday use. Winemaker Stephens Moody has released a 2003 Hacienda Wine Cellars Johannisberg Riesling which is perfect for picnics and snacks. Light in alcohol as rieslings should be it has a flowery nose and a sweet finish typical of the grape.
With his Hacienda 2002 Merlot Moody blended in some shiraz, petite sirah and zinfandel. Unusual full flavors mark this wine to go with its deep purple color and fruity nose. Both wines sell for $6.99 a bottle. We used one cup for our beef stew and enjoyed the rest with the hearty dish at table.
Another vintner who selects single vineyards for wines is Dynamite Vineyards of Napa. The Snows Lake vineyard of Lake County is the source for Dynamite's 2002 Cabernet Sauvignon. The vineyard is at over 2,000 feet in elevation. Winemaker Malcom Seibly has made this almost a meritage blend with 22% merlot, 1% petit verdot and 1% cabernet franc added to the cabernet sauvignon.
The result is a rich wine with concentrated flavors that first show in a blossoming aroma. Can be enjoyed now but should be better yet with some time in the cellar. Very fairly priced at $17.
One of the exciting things about wine is that it never stops being a learning experience. Our review here on 2003 Echelon Pinot Noir notes that Winemaker Tom Westberg included 1.9% alicante bouschet, 1.9% teroldego and l.2% petite sirah. We confess to having to do a little research on teroldego. The grape is a native of Trentino, the northernmost region of Italy and is known as the red wine grape of that appellation.
The 2003 Echelon Pinot Noir is from grapes grown in the Santa Lucia highlands on benches above the Salinas Valley and shows a new label. Westberg used American oak for this wine which has intensity in both color and flavors and a finish that lasts. At $10 a very good buy for this varietal.
Folie a Deux is a highly regarded Napa Valley winery at St. Helena since 1981. It has been purchased by Trinchero Family Estates who plans to continue producing top quality wines under the label with more attention to national marketing.
The 2000 Private Reserve Estate Cabernet Sauivignon is a knockout. Lush, rich in every way the wine has enjoyed two years in French oak making for soft tannins and even a hint of vanilla is its multiply flavors. The wine is priced at $46 which places it as a vintage for special guests and occasions and indeed it will impress.
Folie a Deux has vineyards both on the floor of the Napa Valley and on the slopes as well. All are planted in cabernet sauvignon. The 2000 Napa Valley cabernet sauvignon is from six different vineyards in the appellation. Again it has two years in French oak and is 100 per cent of the varietal. It is a vintage which upholds the reputation of Napa cabernet sauvignons. Toasty, rich and complex it is priced at $26 and worth it.
---

Back to Table of Contents..
Last Update:12/19/04
&copy 2004 Joe Hilbers All Rights Reserved.
Graphic Design by Impact Graphics