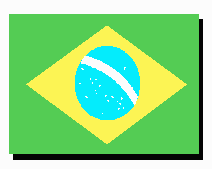 "Rio De Janeiro Still Dazzles The Visitor..
..By Joe Hilbers, Editor.
Los Angeles and Rio De Janeiro have a lot in common. Both have been the victim of a "bad rap" in recent years because of crime and in both cities in a few instances deservedly so. It is interesting to note that when stories about crime occur in a locality or city it is the foreign visitor who stays away. When crime in Florida hit the headlines it was the foreign visitors who changed their itineraries not Americans.
And this has pretty much been the case with the tourist business in Rio De Janeiro which has suffered declines primarily by American tourists staying away in large numbers. Which is too bad because when listing the most beautiful cities in the world Rio De Janeiro is very high on the list.
To bring American tourists back to Brazil and Rio both the Government and Hospitality industry groups have united in efforts on several fronts. we were among a group of Travel Writers who visited Rio De Janeiro to see and experience the wonders and delights of the City and were able to judge first hand if the City was a safe place for visitors.
And this writer experienced nothing that would indicate that Rio De Janeiro is unsafe for tourists. There are don'ts when visiting Rio just as there are in any American city whether it be New York, Los Angeles , Atlanta or Detroit.
The pluses for visiting Rio are everywhere but we will start with the outstanding hotels on the Beach both at Copacabana and at Ipanema. Hotels like the Rio Othon Palace, Le Meridien and Copacabana Palace in Copacabana and the Caesar Park Hotel at Ipanema rate with the best hotels anywhere.
Which is the best place to stay, Copacabana or Ipanema? Ipanema is considered to be more chic and the business district behind the beach very upscale but for the beaches and fronting hotels there is little difference between the two. And as to distance between the two you have a half hour walk or a l0 minute taxi ride.
Some places are musts for the first time visitor to Rio. One , of course, is the cogwheel railroad that takes one to the Christ The Redeemer statue atop Corcovado. From here most of the City is at one's feet. A camera is a must. Besides the railroad Corcovado can be reached by taxi or bus.
Equally famous is Sugar Loaf reached only by cable car. Sugar Loaf provides a completely different view and perspective than Corcovado. Actually there are two cable cars, one goes to a restaurant and night club the other to the Peak with its wonderful views as well as forested pathways.
Two places that stood out for us were 1. Jockey Club Brasileiro located in the heart of the City on the shores of Rodrigo de Freitas Lagoon (our horses named Red Pony and Hard Steel finished out of the money) and 2. Villa Riso, a colonial plantation house built in l700, which has been carefully restored and with much of the original furniture and all of its original grandeur.
All of our dining experiences in Brazil were happy ones . In Rio we experienced outstanding Italian cuisine at a restaurant called Enotria and Portuguese cuisine at a restaurant named Adega do Valentim. Brazil has its own vineyards and wineries and we tasted some interesting wines mostly traditional varietals like Merlot and Chardonnay and Cabernet Sauvignon.
A highlight was a luncheon at Candido's located in a seaside fishing village some 100 kilometers south of Rio. Here was seafood at its best most prepared in classic Portuguese style.
A trip to Brazil requires a good deal of planning. For first time American visitors we recommend a guided tour especially in Rio De Janeiro, a tour with English speaking guides and transportation provided. Don't even consider driving a car in Rio. One thing to remember is that Brazil is huge in size. It has more land area that the 48 lower states of the U.S.A. and actually takes up half of South America and it borders on all but two of all the countries of South America. This means that if you want to visit the Amazon or tour the wine country in the south of Brazil you need time and you will want to fly to your other destinations.
One whole week is the least amount of time you want to stay in Rio. And a second week is needed for almost any other destinations. For example the Brazilian wine country is in the state of Rio Grande do Sul and this is 950 miles from Rio requiring a flight from Rio to Porto Alegre.
We flew American Air Lines from Los Angeles to Miami and then a second flight to Rio. We were quite happy with our choice of airline.
Varig, United and Delta also fly to Brazil. If you plan to fly between Brazilian destinations it is wise to make arrangements with Varig before leaving the States
.

Back to Table of Contents..

Last Update:9/10/96
&copy 1996 Joe Hilbers All Rights Reserved.
Graphic Design by Impact Graphics