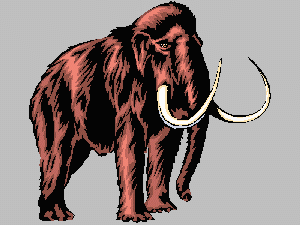 Riverside--The Municipal Museum shows a long history of the region"
By The Editor
Our visit to the Riverside Municipal Museum proved to be a most rewarding experience. Exhibits here extend from the earliest geology of the region with a collection of fossils of the ice age mammals that roamed Southern California over one million years ago. Interesting is the fact that many of these fossils of mammoths and saber toothed tigers were Here also are exhibits portraying the life of the Native Americans who settled the area about 200 A.D.
The first Europeans were the Spanish explorers and then as colonists with the first Rancho in Riverside county built in 1839.
The building housing the museum itself is on the Register of Historic Places. Built in 1912 as the Riverside Post Office, later it became a Police station and then in 1948 became home for the present museum.
There were two special exhibits at the time of our visit. One was a special collection of Hopi Indian art. These Native Americans now make their home in New Mexico and Arizona.
The Riverside Museum collection shows ceramics, baskets, sashes and Kachina dolls, all traditional with the Hopi. The second was a showing called The Chicano Collection of Art. Here were works by 26 prominent contemporary Chicano artists from all over the Southwest.
We particularly enjoyed the exhibits of animals and birds of the region. Stuffed life size animals included a black bear, big horn sheep and a mountain lion all depicted in their natural surroundings. The animals were all acquired after being killed in accidents.
We spent some time talking with Victoria Vosso who is one of those in charge of the Nature Lab. Here there is a live collection of reptiles and plants, most found around the Riverside area.
Another exhibit tells of the life and work of a local naturalist, Edmund Jaeger, who lived from 1887 to 1953 and contributed much knowledge about the flora and fauna of the region. He achieved lasting fame for discovering the first known hibernating bird in 1946--the Desert Poorwill.
The Riverside Metropolitan Museum is located at 3580 Mission Inn Avenue in downtown Riverside. Admission is free but donations are encouraged to help support the collections. The Museum is open every day except Monday and major holidays. For more information call 951 826-5273 or on the web at www.riversideca.gov/museum.
Back to Table of Contents..
Last Update:4/15/06
&copy 2006 Joe Hilbers All Rights Reserved.
Graphic Design by Impact Graphics