---
Maine Offers the Tourist a Great Many Choices by Joe Hilbers
Our recent trip to Maine was a learning experience with a winery tour, a look at one of the best Brew Pubs in the State, as well as exploring the wide range of accommodations available to tourists plus some truly outstanding restaurants.
We long ago lost count of the number of wineries we have visited but we did achieve a first on this trip by touring our very first apple and fruit winery.
This took place at the Parsons Family Winery, up country from the seacoast, as they say in Maine, at York. The Parsons family farm is over 200 years old but the tasting room and winery are sparkling new, the third winery in the state.
My hosts were a brother team of Joe and John Parsons and I learned that apple wine can be a varietal just like a grape wine. At Parsons they are making four varietal apple wines including two varieties of apples that are practically native to Maine, the Baldwin and Cortland. Another native New England apple is Northern Spy which Joe Parson called a "good keeper". The fourth apple used is the McIntosh.
The three fruit wines being produced include Peach, Blueberry and Raspberry. Making hard cider has been a tradition in Maine for hundreds of years and the current Parsons' grandfather was famous for his hard cider. So Parsons is also producing a hard cider.
We had the opportunity of tasting the four varietals of apple wine noting that the Baldwin best fit our taste buds as being dryer while the Cortland was a bit sweeter. And we noted that while their grandfather's cider was famous the current generation was making a pretty fine product as well.
Currently there are four generations of Parsons on the Farm and their tasting room is open almost every day tended by some member of the family. Signs from Highway one at Kittery will direct you to the Winery but you might want to call first at 207 363-3332.
While in the Kittery-York area of southern Maine we spent one enjoyable afternoon and night at the Stage Neck Inn located at York Harbor. Many of the rooms have their own private balcony for watching the Lobster boats head out to sea, which is exactly what we did one early morning.. It is also a full service resort offering a pool , tennis and golf at a nearby private country club. Call 1-800-222-32-38.
Also close by is the Hurricane Restaurant at Perkins Cove, Igunquit and we dined at this very scenic and top quality seafood dining house. Owned by Brooks and Luanne MacDonald and managed by Paul Breck the restaurant is open for lunch and dinner every day of the year. Our dinner included deviled Maine lobster cakes and fresh Atlantic salmon tartare for starters and then the fire-roasted Haddock that came with a fresh Maine lobster salsa.
Hurricane has a full service bar and lounge and the dining fittingly casual being right at the water's edge. We were most certainly impressed with the wine list which was quite extensive with both California and foreign vintages. The restaurant has been a landmark at Perkins Cove for 11 years. For reservations call 207 646-6348.
Seafood Restaurant
Another restaurant we enjoyed in the York county area was the Weathervane Seafood Restaurant in Kittery on Route 1. You might say that if it comes from the sea you will find it on the Weathervane menu. On our visit we had a sea combo of fried whole clams and scallops. Besides the food which is excellent we thoroughly enjoyed watching a staff which was remarkable both for efficiently but for friendliness.
Besides the restaurant Weathervane has its own distribution center for seafood and it is located in Kittery. We received a personal tour of this Center and saw how fresh caught seafood in loaded directly from the fishing boats to the Center and also admired the huge holding tanks with constant fresh seawater for the lobsters.
Presently Weathervane operates 15 restaurants in four northeastern states. The adjoining seafood markets offer a huge variety of seafoods and will ship anywhere in the U.S. We used Weathervane market to bring four pound and a quarter size lobsters back with us to California. We brought them back nicely packed in ice in a foam container inside a cardboard carrying box.
It was amazing the number of people at the airports and on the plane that offered to carry or take care of this package for us.
Our next stop from York was to nearby Freeport with its 105 retail stores. We had a busy time here touring L.L. Bean's operation, then enjoying some local steamed clams at Gritty's Brew Pub on Main Street and tasting some of the brews as well.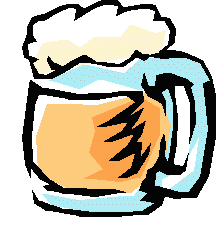 Brew Pubs have enjoyed a wave of popularity in Maine and Gritty's has locations in both Portland and Freeport and when the Portland Pub opened in 1988 it was the State's first Brew Pub since Prohibition.
While eating some freshly caught and steamed local clams we talked to Publican Jon Soule who explained to us that brew a Stout, a Bitters and three Ales on a regular basis and also brew seasonals like Halloween Ale, Old Porter and Oatmeal Stout.
Besides being sold in the two locations Gritty McDuff's Brews are bottled and marketed in retail outlets in eight states. In Freeport besides the Brews, Gritty McDuff's has a full service bar and a pretty complete menu of soups, chili, salads, sandwiches and burgers.
Freeport has many Bed And Breakfast establishments and we were fortunate in our choice, The James Place Inn, at 11 Holbrook Street, and within walking distance of just about everything in Freeport. The Innkeepers are a delightful young couple, Darcy and Bill James, who spent the first six months of last year creating their charming hostelry. We enjoyed every minute of our short stay with them. Number to call is 207 865-4486.
Fine Dining
One evening we had dinner at the Main Dining Room of the Harraseeket Inn, one of southern Maine's showplace Inns with its 54 rooms and suites. We had dinner that evening with the Owner, Nancy Gray, who operates the Inn with several members of her family, and we must say that the service and cuisine as well as the wine list rank it with the best dining establishments in California.
Actually Harraseeket has two restaurants, the second being a much more casual but very charming Broad Arrow Tavern. Also a fixture at the Inn is High Tea served every afternoon at 4 p.m. The Inn is located at 162 Main Street, Freeport, 1-800-342-6423.
It had been a hard traveling day for us and we ordered lightly but were very good at tasting Mrs. Gray's order which included Foie Gras, black pepper Brioche, roasted pears, and pear coulis as a starter. Our entree was Maine lobster shelled with lobster mushrooms and champagne risotto and clive oil. Mrs. Gray ordered the freshly taken Maine scallops which were presented in a light white wine sauce as a special of the evening and again we had to do some tasting. The dessert menu like everything else was enticing but we really had to say no. The Inn, which serves breakfast, lunch and dinner , has three bakery and pastry chefs and also serves freshly made breads daily.
One of the most surprising things to us on our junket through Southern Maine was the number of truly outstanding restaurants we found away from what we would call population centers.
The superb dining room at Harraseeket was just one of three outstanding restaurants we found on our trip. In Eustis we were enthralled with The Porter House Restaurant on Route 27. Here is a 1908 country farmhouse with a pot-belled wood burning stove in the corner, you will find a menu with items like Ducktrap smoked salmon or a house made pate for starters, menu items like steak Roquefort in a creamy blue cheese sauce or lobster Brittany casserole with mushrooms and sherry.
We had to try the house specialty--roast duckling with a choice of several sauces, we chose the blueberry. One thing we appreciated was that the duckling is served in either 1/4 or 1/2 portions, and the same was true for the roast duckling dinners.
Owners are Chef Jeff and Beth Hinman and besides their outstanding country decor and cuisine, the restaurant has an outstanding wine list. Here again we were surprised at just how good the wine selections were in the Maine restaurants we visited. Our wine that night was a California Pinot blanc. Reservations call 207 246-7932.
This writer has been for two decades a member of the Southern California Restaurant Writers and as a non-profit organization awards are presented each year to the best restaurants. The top award is called the 'Golden Sceptre' and for all of Southern California only 12 restaurants earned that high honor last year.
But in Maine we dined at a restaurant which would surely have made the list. It is the dining room at the White Barn Inn at Kennebunkport. Owned by Laurie Bongiorno, the small intimate restaurant was perfection itself in service, attention to detail as well as a most imaginative cuisine which we would call contemporary New England. Call 207 967-2321.
Chef is Jonathan Cartwright and he shows a pre-fixed menu each evening with changes made weekly. Starters included items like lobster spring roll with carrot, daikon radish, snowpeas, cilantro and a spicy sweet sauce, or boneless Maine quail roasted with a plum and hazelnut filling on a bed of tart cranberries finished with maple syrup.
Entrees included pan seared veal and venison saddle on bacon roasted butternut squash and mix fruits with fondant potatoes and coriander sauce, which was our choice, as well as grilled halibut in a champagne, saffron and fennel broth garnished with scallop ravioli, local clams and a herb sour cream.
At this restaurant the diner had a choice eight appetizers, 8 entrees and six desserts, our choice a chocolate filled champagne poached pear in a wafer basket with almond scented white chocolate sauce and praline ice cream.
We will add here that we are not the first to note the excellence of this restaurant. The Inn consistently earns a five diamond award from the Hotel Association. Again there was a full service bar and lounge, background live piano music and a comprehensive wine list.
As with most such trips time was in short supply. We stayed at the Radisson Eastland Hotel in Portland, a classic hotel with a Rooftop Lounge that views the entire City and surrounding area and wished we could have stayed longer.
At Sugarloaf/USA we stayed at the Sugarloaf Inn, admirably suited for the skier and our regret was that we did not have time to dine at their premiere restaurant called The Seasons and offering a grand view of the whole skiing mountain.
In Kennebunkport we stayed at a memorable Bed and Breakfast Inn called Bufflehead Cove. This is a hidden oasis. a Dutch Colonial style house built in the last century and one that Owners Harriet and Jim Gott have made into one of the best such Inns in our experience. The guest rooms are unusual, not only for their furnishings and decor, but the complete privacy offered the guests. For us it was a serene conclusion for a very busy and fast moving press trip. Call 207 967-3879.
---

Back to Table of Contents..
Last Update:3/10/97
&copy 1997 Joe Hilbers All Rights Reserved.
Graphic Design by Impact Graphics