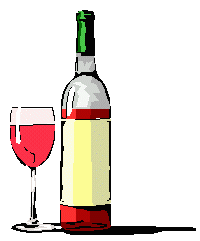 "Temecula--Add Frangipani Winery to Temecula's new wine road" By The Editor's Vineyard
.
Some time back we wrote about Temecula's growing wine presence and pointed out that this popular wine touring region now had a second wine touring route on DePortola road. Besides the well traveled Rancho California road DePortola now has five wineries strung out along its length.
The newest is Frangipani Estate Winery which opened the first part of this year. Owners are Don and JoAnn Frangipani who are long time residents of the Valley. For some years Don was winemaker at the pioneer Cilurzo winery and most recently a stint at Keyway.
Now at 39750 DePortola Road there is a new tasting room and picnic area which is open daily for visitors from 10 a.m. to 5 p.m.
Don Frangipani is making a full range of wines both white and red. The whites, from vines in the Valley, include Chardonnay, Viognier/Chenin Blanc blend, Sauvignon Blanc, Grenache Rose, Riesling and Muscat Canelli. Among the reds Don has created a Bordeaux style blend which he calls Claret, the traditional name. It includes Cabernet Sauvignon, Cabernet Franc, Merlot, Petite Verdot and Malbec. Other red wines include Merlot, Cabernet Franc Estate, Cabernet Sauvignon, Sangiovese, Zinfandel and Petite Syrah.
Prices for the white wines are under $15 and for the reds up to $24. For more information about the wines or visiting Frangipani Winery call 951 699-8845 or on the web at www.frangipaniwinery.com.
Rose Wines
We are happy to see that Rose wines are once again becoming popular. One has only to spend some time in Provence to learn how enjoyable these wines can be. But now its a world wide market and so a new Rose has been introduced from Australia. The wine is from the Angove family of South Australia which was first established in Adelaide in 1886. Called Angove's Nine Vines the wine is a blend of Grenache and Shiraz. Last issue we reviewed Red Belly Black another vintage from Angove. This vintage is a full bodied Rose offering several fruit flavors with a dry finish. It will go well with many foods. The blend is 70 per cent Grenache and 30 per cent Shiraz. Angove is imported to the U.S. by Trinchero and the Nine Vine Rose is priced at $10.
While Rose wines are becoming more popular Americans have not lost their love affair with White Zinfandel. It remains popular both with foods and as a cocktail wine. Forest Glen 2005 White Zinfandel offers all the flavors that make this wine such a favorite. There is a crispness on the palate and a slightly sweet clean finish. Winemaker Ed Moody has kept the alcohol at 10.9 per cent on this wine. Priced at $10. Moving to a white wine there is Forest Glen 2005 Pinot Grigio. Here is another varietal that is rapidly increasing in popularity. Dry, crisp with a nice fruit aroma this is a good vintage of this varietal. Also priced at $10.
Back to Table of Contents

Last Update:12/1/06
&copy 2006 Joe Hilbers All Rights Reserved.
Graphic Design by Impact Graphics