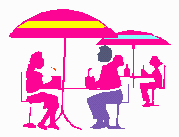 "Studio City--La Salsa Grill chain presents new generation of Mexican entrees"
.
This Writer found a lot to talk about in a conversation with Executive Chef Jeff Clark of La Salsa Fresh Mexican Grill. He now heads the culinary team that is reinventing the menu at La Salsa which pioneered the fresh Mexican genre back in 1979.
Chef Clark is an expert on Mexican cuisine, the regional differences in tastes and flavors, and the many herbs and vegetables that make up these distinctive variations from State to State. The result is that La Salsa has been introducing a whole new series of menu items with unusual bold and exciting flavors.
We tasted several of these new items with Chef Clark personally guiding us through the experience. There is the new stuffed Fajita Quesadilla which comes with either marinated chicken or grilled sirloin steak. We also tried the new Fresca Platter which arrived with sour cream, guacamole, Salsa Mexicana and a Romaine salad.
Three new flavorful salsas and sauces have been introduced named Salsa Casera, Chile de Arbol originally from Jalisco and Michoacan and Ancho chile sauce. Seeking out these new recipes and sauces in Mexico with Chef Clark was Mike Liby, La Salsa chief operating officer.
A native of Arizona Jeff Clark grew up with southwestern dishes and then after culinary school has continued his interest in true Mexican cuisine with many trips to that country. On his exploration trips for La Salsa he met with Mexican chefs, restaurateurs and often with private families to learn about their own special recipes.
The La Salsa concept for its 100 plus restaurants spread across the U.S. is to bring new exciting entrees for the American consumer who is constantly seeking new foods.
Back to Table of Contents
align=middle src="squ_rnbw.gif">
Last Update:9/2/04
&copy 2004 Joe Hilbers All Rights Reserved.
Graphic Design by Impact Graphics