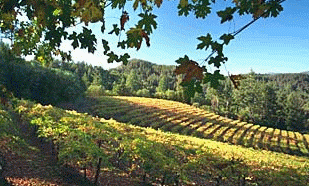 Santa Barbara Wine Country--Surly it represents the good life
.. By Joe Hilbers
There is no doubt the film about the Santa Barbara wine country created a new excitement not only for the scenic region but wine as well. So much so that countless visitors followed a map outlining the places shown in the film.
But if it is your desire to feel, act and be treated like a celebrity then may we suggest a stay at the Santa Ynez Inn. This is exactly the way we started our most recent visit to this vibrant area. In our present society 'spoil thyself' is the watchword and that is exactly what Santa Ynez Inn is all about.
Opulent, luxurious best describe our accommodations. The Inn offers 14 individually decorated rooms and suites. Our room came with picturesque balcony for wine sipping, a remote controlled gas flame fireplace, which was our particular delight, and a bathroom more spacious than our office. And we might add our office does not have a whirlpool bath either.
Amenities at the Inn include a full breakfast, ours was French Toast which came topped with fresh bananas and pecans frosted with whipping cream with a side of bacon rashers. All this served in a classic Victorian era dining room with picture windows and massive fireplace.
Also available for guests is the daily evening wine and hors d'oeuvres hour and later evening desserts at your pleasure. The Inn also offers Spa services and signature beauty treatments.
For this Writer beauty treatments must be considered a lost cause. Anyway we had to tear ourselves away from this kind of living to report once again on the phenomenal growth of Santa Barbara County vineyards and wineries.
Santa Ynez Inn is located at 3627 Sagunto Street in Santa Ynez. Telephone 805 688-5588, on the web at www.santaynezinn.com.
We started our recent wine tour just where the vintner does, in the vineyard. Long ago a respected winemaker told us "you cannot make good wine from inferior grapes". Fortunately vintners do not have that problem in the three appellations of Santa Barbara.
To find out all about growing grapes we met with Nicholas Miller, who with his father, Steve, operates Bien Nacido Vineyards in the Santa Maria Valley. Nicholas was my guide as we toured through 500 acres of vineyards. These provide fruit for many of the appellations outstanding wineries.
The Miller family, with Bien Nacido, is one of the pioneer grape growers in the valley with the first vines planted in the late 1960s. Now some twelve varietals are grown on the vineyards located at the head of the valley with some stretching to hillside benches on the flanks of surrounding mountains.
The Santa Maria Valley has achieved fame for its Burgundian varietals, chardonnay and pinot noir as well as pinot blanc and syrah. In essence Bien Nacido does custom farming for vintner clients. Some on contract, others on agreement for product from specific vineyard location. Our tour with Nicholas was in early Spring on a day that had been filled with glowering, mean spirited clouds that often produced showers. Much of the surrounding , beautifully green hillsides and mountains were shrouded in ever changing banks of mist that slithered over ridges and ravines. The vines were all showing their first leaves and buds to what in that Valley is traditionally a long growing season.
Pinot Grigio and viognier are two other varietals that do exceedingly well in the Valley. Also Nicholas pointed out some experimental sites for studying how other varietals will perform there. Bien Nacido, besides the 720 acres they have in the Valley, 500 in vines, also have vineyards in nearby San Luis Obispo County.
Nicholas told us how individual winemakers contribute input on how they want their selected vineyards or rows of vines treated, and do so quite zealously.
He also told of others, not quite so welcome, who also show distinct preferences. These are the deer from surrounding mountains. Nicholas told us, quite without explanation, that the deer will go through several vineyards to reach the plantings of Roussanne. This varietal from the south of France appears to be their favorite.
Ballard Canyon
Jeff and Alesin Rusack opened their winery in 1993 changing the name from Ballard Canyon Winery. Our interview at the winery was with John Falcone, winemaker and vice president of operations. Actually the Falcons are a team since his wife, Helen, is assistant winemaker.
This will be John's sixth harvest at Rusack. He came to Santa Barbara County after a most successful stint at Napa's Atlas Peak which earned its reputation pioneering Italian varietals like sangiovese for premium California wines. At Rusack the emphasis is on chardonnay, pinot noir and syrah. Barrel selection is important at Rusack and John uses mostly French oak but does prefer American oak for his syrahs.
The Rusack complex boosts a most scenic tasting room which is open daily from 11 a.m. to 5 p.m. Adjacent is a picnic area with tables nicely shaded with giant oaks for visitors to enjoy. Fee is $6 for tasting five wines, which often vary, and this including keeping the wine glass with logo.
We tasted several of the Rusack wines including a superior 2004 Sauvignon Blanc, a varietal that is a particular favorite of ours. And we rated highly the 2004 Barrel Select Reserve Chardonnay. John Falcone stays away from oak flavored chardonnay preferring the crisp, clean taste of the fruit which comes through very well in this vintage.
Rusack Pinot Nor comes from both Santa Maria Valley and Santa Rita vineyards. We thought the 2004 Santa Rita Reserve Pinot Noir an outstanding vintage with flavors exploding on the palate. The 2003 Syrah we tasted enjoyed 15 months in American oak barrels and had all the hearty body and smooth finish that has made this varietal so popular in recent years.
One of the flagship wines at Rusack is Anacapa. This is an unusual wine since the main varietal is Cabernet Franc in a blend with 13 per cent merlot and 12 per cent cabernet sauvignon.
Bottlings of cabernet franc as the principal varietal are indeed a rarity but this wine has enjoyed great success at Rusack for several years.. In marketing Rusack is now available in some major national markets including Boston, New York, Chicago and Hawaii. Rusack is located at 1819 Ballard Canyon Road. For more information call 805 688-1278.
Touch of New Orleans
Rideau Vineyards is the handiwork of a remarkable woman, Iris Rideau. Originally from New Orleans she purchased property in Santa Barbara County in 1996 that included the Alamo Pintado Adobe, built in 1884. One of her first acts was to restore the building. A winery and vineyards soon followed. A year later veteran Santa Barbara County winemaker Andres Ibarra came aboard. Previously with Fess Parker this will be his 26th harvest, all in Santa Barbara county.
The Adobe, handsomely restored, is now a County historical site and home to the roomy tasting room and gift shop. At Rideau Vineyard Andres concentrates on the Rhone varietals and offers some unusual vintages. There are three different labels with Iris for reserve wines and Siempre for special bottlings and wine club members.
Some interesting wines caught my eye and palate. One was the 2003 Tempranillo. This is a Spanish varietal used extensively in the Rioja and is found in most blends in that part of Spain.
It is a varietal not often seen in California. Andres' Iris vintage includes 82 per cent Tempranillo and 18 per cent Petite Sirah. Another rarer white wine in California is Roussanne, a native of Provence. Iris 2005 Roussanne is 100 per cent of the varietal and was made in stainless steel. Light and crisp it is a welcome addition to those who truly enjoy white wines. For the white wine enthusiast Andres also makes a 100 per cent Viognier. This varietal is a favorite with winemakers in the Rhone Valley. And it does very well in Santa Barbara, favoring a mild climate.
You don't have to spend much time in the tasting room to guess that Iris Rideau is from New Orleans. And some family names are used in the wines including Sagniappe Curvee and Chateau Duplantier. Both these wines are classic Rhone blends. For his 2004 Reserve Chardonnay Andres does give the wine some time on oak which is readily apparent in both aroma and palate.
Rideau Vineyards offers tasting at its historic Adobe most days with several tiers of tastings. For more information call 805 688-0717 or on the web at www. rideauvineyard.com
Back to Table of Contents..

Last Update:6/10/06
&copy 2006 Joe Hilbers All Rights Reserved.
Graphic Design by Impact Graphics