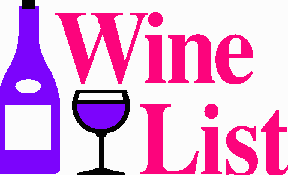 "Sauvignon Blanc is becoming increasingly popular with the american consumer"
by The Editor's Vineyard
Recent marketing reports show a marked increase in the production and sales of California Sauvignon Blanc. Certainly this native of Bordeaux has a famed past. Sauterne, a name now used mostly in an historical context, has always been produced there as the premier white wine of the district, made with Sauvignon Blanc and Semillon. In the Loire Valley it is called Sancerre.
It is also a well traveled varietal, not only doing well in California, but also in Chile, Australia and particularly New Zealand. The Aussies still like to blend their Sauvignon Blanc vintages with Semillon. Here in California it is a most versatile wine generally made in stainless steel and in the bottle offering crisp, clean, fruity flavors on the dry side. For this Writer it is a favorite wine in the kitchen. Added in preparing a host of different entrees it offers flavor without being in any way dominating. For the American consumer it is a happy choice in that there are so many brands producing this varietal. As remarkable is the excellent quality of many of them, all in the $10 range.
For the Gold
Winemaker Michael Donich can be proud of his Pinot Noir bottlings. His 2003 Laurier Vineyards Pinot Noir won a gold medal and Best of Class at the Sonoma County Harvest Fair. Also a Gold Medal winner at the same competition was his 2003 ForestVille Sonoma Reserve Pinot Noir. The Laurier bottling is from the Carneros appellation and sells for $15. The ForestVille from Sonoma County and priced at $16. Gone are the days when better California wines of this varietal often resulted in consumer sticker shock.
Always one to count a buck twice before spending it, our joy is great to discover just how many quality wines are now available in the $10 to $15 range. Trinchero has five varietals under their Family Selection label. These wines come from Trinchero Estate vineyards in Lake, Santa Barbara and Napa Counties. The 2002 Trinchero Family Selection Cabernet Sauvignon was made predominately from Lake county grapes. The wine has enjoyed 18 months in French and American oak and the result is full bodied aroma and flavors yet an underlying softness pleasing to the palate. At $11 a bottle get some.
Monterey county vineyards yielded most of the fruit for the Family Selection 2003 Merlot. One hundred per cent of the varietal the wine is loaded with fruit flavors that produce a rich, smooth finish. Ready to drink and enjoy.
Chef's Delight
Sauvignon Blanc has always been one of our favorite white wines both for sipping and in the kitchen. The Kendall - Jackson 2003 Sauvignon Blanc is very honest and true to the varietal. Winemaster Randy Ullom used fruit from five different counties for this vintage. The wine is crisp, a touch of spice on the palate and a full finish. We sipped this vintage while in the kitchen and rather resented the cupful we used in our Oso Bucco.
For his 2003 Vintner's Reserve Pinot Noir Randy again used grapes from several counties for the wine including Monterey, Mendocino, Napa and Santa Barbara. For aging the wine spent eight months in French oak with each county lot separated until the final blending. This bottling shows how quickly the quality of California pinot noir has improved. For $14 the wine shows hints of fruit along with smooth texture and a lasting finish.
The Shiraz grape shows best in a warmer climate much like its native Rhone Valley heritage. California's Central Valley has just the climate and this is where Winemaker Bob Stashak went for his 2003 Napa Ridge Shiraz. One of the nice things about $10 wines is that they can be liberally used both in the kitchen and the table. We added some of this rich red vintage with a touch of spice to the Chef's beef stew and enjoyed the rest when the entree reached the table.
Napa Valley is the appellation for the 2003 Napa Ridge Chardonnay. At 14.2 per cent alcohol this vintage serves equally well either as a cocktail wine or at table. Rich aromas of fruit greet the nose and soft textures to the palate. Priced at $12.
Elegant is the word for Canoe Ridge 2002 Merlot from Washington's Columbia River Valley. Lush fruit flavors mark this wine along with a remarkable nose and a soft, long lasting finish. The wine has enjoyed 20 months of mostly French oak aging and while ready to drink now should enjoy a long cellar life as well. We would love to enjoy a bottle of this wine again a few years hence. This could almost be called a meritage wine since with 75 per cent merlot there is 23 per cent cabernet sauvignon and two per cent cabernet franc. Bargain priced at $20.
Different in style but also a fine vintage of Merlot is the 2002 Dynamite Vineyard release. Winemaker Malcom Seibly used grapes from several North Coast regions including Carneros, the Hopland area of Mendocino and Russian River region of Sonoma County. After 15 months of French and American oak aging the wine offers a full aroma followed by rich intense flavors. Plush fruit and soft tannins, so typical of this varietal, are present here. Priced at $17.
When in the vicinity of San Luis Obispo a drive on Orcutt Road should be part of the agenda especially if you are interested in wine. This road takes one through the heart of the Edna Valley, home of several outstanding wineries and miles of vineyards. An added plus is a view of the Seven Sisters, the volcanic peaks that are so much a part of the region's scenery as well as the source of the volcanic soils where wine grapes do exceedingly well.
One of the oldest wineries in the area is Edna Valley Vineyard which has been producing California pinot noir for three decades. The Edna Valley 2003 Pinot Noir is 100 per cent of the varietal from its own vineyards. Winemaker Harry Hansen used French oak exclusively in the 10 months of barrel aging this wine has enjoyed. This wine is complex in flavors, hearty but soft on the palate and offers a long lasting finish. At $16 a wine anyone can afford for a little touch of luxury.
Back to Table of Contents..
Last Update:3/15/05
&copy 2005 Joe Hilbers All Rights Reserved.
Graphic Design by Impact Graphics