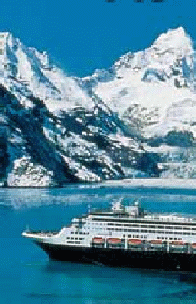 "There is no end to the excitement of an Alaskan Cruise"
.. By Jules & Terry Diamond
Our vacation began with a tall dark and handsome man named William walking back and forth on the Lido Deck saying " Whatever your wants or desires, we are here to take care of you. You are here to rest and enjoy."
It all started the prior day when we spent tourist time in Seattle. The weather was spectacular, and one could see forever. The view of Mt Rainier from the Space Needle was breathtaking. We then spent the afternoon at Pike's Place Market sampling fruits, sweets, and some of the best Fig-Balsamic vinegar we have ever drizzled over a crouton. The flowers were large, plentiful, and fresh. The fish were super-sized. The shopkeepers have fun with the tourists "tossing" salmons back and forth over our heads. We ended with a hot café au lait from the original Starbucks, walked to a nearby park to sit and sip our café. We enjoyed the view of the harbor looking for "our" ship Holland America's M/S Oosterdam which would take us on our R & R week to Alaska.
The next day on the Lido Deck, hearing William tell us our rooms were ready, and our luggage safely placed there, we were anxious to move like a herd of turtles to start our voyage. Our cabin steward was there to greet and help us unpack. He also checked on us later to be sure everything was adequate and to insure that we have enough closest space, blankets, hangers, towels, etc, etc. The pledge " to take care of us " had begun.
All hands were called on deck as we departed from Seattle. We needed to take part in the mandatory life jacket evacuation drill. Everyone was attentive and excited. This was a time to see our fellow travelers. Later that evening we met our dinner companions--all three traveling together from Yuma Arizona. They turned out to be very friendly and were equally ready for an exciting week ahead.
The first full day at sea was a time to familiarize ourselves with the activities. After which. we then settled down to watch one of the five ship board TV channels. Our cabin steward suggested a pitcher of hot cocoa to sip along with an old Spencer Tracy movie. Later that evening we decided to take in the Musical/Dance review and Captain Arjen Van Der Loo's champagne welcome. He took great pride in introducing his staff and crew. He appeared to be at ease as was his staff and crew. This gave the guests the feeling that everyone was happy to be on the M/S Oosterdam.
The Captain visited with us at a later date for cocktails in The Crow's Nest and told us he has loved the ocean since he was a child. He has sailed six world cruises for Holland American on four different ships. He spends his spare time at his home in Santa Rosa, California and enjoys cooking and wine tasting near his property. The Oosterdam is scheduled for renovation in 2010 and the Captain plans to master his computer and train for a marathon. He was very visual and accessible the entire cruise, always checking to insure the guests were happy and well cared for by his staff.
Early the next morning we watched our arrival into Juneau the capitol. Sitka was the capitol of Alaska from 1867 until 1912. The city of Juneau is nestled between Mt Juneau and Mt Roberts. This protected weather pattern, and the Mendenhall Glacier, help to keep Juneau's climate mild compared to the rest of Alaska, but at the same time make it accessible only by air or ship.
One of the tourist attractions is the Red Dog Saloon where the Exxon Valdez flag hangs and the crowds wait in line to enter the saloon. After visiting the saloon, we asked a shopkeeper where we could get lunch. We happened on a local hang out by walking down Gold Rush street until we found Tracy's Crab House. Tracy is a full time school teacher. For extra money she makes fresh crab rolls and crab bisque, an old family recipe, and sells these out of a trailer hooked up to the back of her SUV. This was most enjoyable as we sat at a picnic table under a Costco tarp talking to locals who had stopped for lunch. After lunch, on to the Mendenhall Glacier which is breathtaking. It was dedicated in 1962 and there are a variety of trails to hike for all levels of activity.
The next day we were in Yakutat Bay. The home of the Hubbard Glacier which stretches 76 miles to the sea. It is the only tidewater glacier in the United States. We were fortunate to witness two episodes of this glacier calving. For those unfamiliar with calving, it is when giant pieces of ice fall off the glacier into the sea. The noise is very loud and called white thunder. We viewed all these wonders from the bow of the ship. Our crew kept us warm with offers of hot cocoa, hot cider or pea soup, keeping us dry with umbrellas and blankets. They were so attentive and wanted to insure we did not miss this happening at the glacier.
The fifth day of our cruise was spent in Sitka which is known as "Alaska's Little Russia;" As we walked around town, you can see the Russian influence in the architecture and especially at the St. Michael's Cathedral with it's beautiful collection of gold and jeweled chalices and vases.
We happened into a local book store where we found a coffee bar in the back. This little house has a regular clientele who come for lunch for the homemade bean burritos. The store clerk had moved to Sitka from New Jersey 15 years before after taking an Alaska cruise and fell in love with the town, mild climate, and beauty of the region.
Along with the beauty of Alaska, we must focus on our M/S Oosterdam-home away from home. It is now mid trip. We feel we have been traveling for a relaxing non-specific amount of time. We re-caped the past few days that evening over a lovely glass of Washington State Merlot . We have had the best of dinner service Our waiter knows our every likes and dislikes. We have enjoyed a NY steak cooked to perfection, encrusted salmon that melts in your mouth, lamb and beef Wellington, fillet of sole and vegetarian quiche all of which would make the Food Network kitchen staff envious.
Ending the day in Sitka we had some fresh sushi in Sitka's one and only sushi restaurant. We wanted to keep it light since that night was the "waiter-staff" party. What a party. The dining room was decorated black and white touched with votive candle lighted tables. We all were given chef hats. The staff danced and sang their native Indonesian songs and other popular tunes. We all clapped, laughed, and ate our way right to the flaming Baked Alaska.
The Captain's party was later that same night. We met Captain Van der Loo and his officers. The Hotel manager, cruise director, and head nurse of the on board medical centre. They were all friendly and full of information regarding the M/S Oosterdam. The ship carries 1900 guests plus crew. Hotel manager Douglas Hernadez is responsible for all of the logistics . Cruise director 'JT' said he basically keeps everyone busy with as many as three dozen activities offered daily. Head Nurse Dawn comes from Houston Texas and has a staff of two Emergency Room Doctors, and two more Registered Nurses in her fully equipped state of the art medical centre. They can treat anything from lost medications to major illnesses.
Day six has us coming close to the end of this fabulous vacation. How sad, but let's not think about it but enjoy the day in Ketchikan,a city of 14,000 residents. Ketchikan is the fourth largest city in the state. It is known as the "first city" being established in 1887 when a salmon cannery was built at the mouth of the Ketchikan Creek. We had a tour of Ketchikan located on the southwest shore of Revillagigedo Island and witnessed the salmon jumping in the creek. We also saw the waterfront tourist shops and the Historic Creek Street district which was the red light section of Alaska from 1902 to 1954. These colorful houses on pilings above the creek numbered 30 "sporting houses" at that time. They are now being renovated to serve as shops and businesses.
Ketchikan was once known as the salmon capital of the world. Alaska is dedicated to sustaining their valuable salmon resource and enhances and protects it through Hatcheries such as the one in Juneau. In Juneau, we did tour and learn the life cycle of these fish at the Macaulay Salmon Hatchery. It is owned and operated by a private non-profit corporation founded in the 1970's and is well worth the side trip tour.
Our final day at sea was so beautiful as we arrived on schedule to Victoria B.C. We decided to stay on board and enjoy a "Spa" day. then a quiet romantic dinner in the Pinnacle Grill, a reservation only dinning room with the very best of foods wines champagnes, service and specials of Sterling Silver Beef and Fresh Fish. We reflected over our timeless week and all the people, places and beauty of nature we had been allowed to meet and witness. We agreed Alaska will stay with us forever.
Back to Table of Contents..

Last Update:3/1/09
&copy 2009 Joe Hilbers All Rights Reserved.
Graphic Design by Impact Graphics