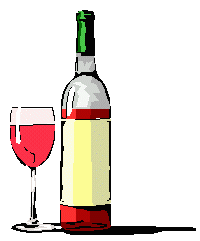 Camarillo--Sheila's Place combines excellent cuisine and fine wines
By Jeanne Bartlett
If you are looking for a restaurant that has spectacular ambience, friendly owners and staff, and a great selection of wines, Sheila's Place in Camarillo is the one for you. When you walk in you probably will be greeted by either Bertha or Pablo Medina, and it will be a warm welcome. The restaurant is configured in a deep rectangle: the long bar on your right going way back, a single set of tables of the left, spaced a comfortable distance apart to enjoy the conversation at your table.
The walls are lined with so many artifacts it will take a while to examine them all. If you are looking for wine, it is all around you – lining the walls in wine racks interspersed with wine barrels, a fireplace, and even a vintage, red London telephone booth. Looking to your right, you will see a great collection of paintings by a Cuban artist and figurines representing a variety of musicians and their instruments. What an eclectic display!
Pablo and Bertha learned the restaurant business from the ground up at the Las Posas Country Club, Pablo with 17 years experience, 10 years for Bertha. Pablo worked his way up within that setting and found he had a love of the business and a vision of the restaurant he wanted. Supported by Bertha, they purchased Sheila's Place and followed that dream.
Sheila's Place received the Wines of Excellence Award at the 35th Annual Banquet of the Southern California Restaurant Writers. It was the only restaurant so honored in Camarillo and one of only 16 in Southern California. Pablo features five or six wines by the glass and the vintages change each week. There are more than 330 wines to choose from. The great part is, if you want to try a wine he will pour it for you and if you have another choice, there is different wine glass to use. That is first-class treatment.
My friend and I visited Sheila's Place for lunch and it was so special, I brought my daughter back to try the dinner menu another day. For lunch I would have liked to start with the House Pear Salad. It sounded exceptional with baby greens, Port wine infused vinaigrette dressing, candied pecans, poached pears and blue cheese crumbles. You could even add chicken or salmon. I knew that would be enough for a whole lunch, as would the Seared Ahi Salad. Instead, I chose an entrée: Pan Seared Alaska Halibut. The succulent fish was topped with a tomato and white wine butter sauce, shredded parmesan cheese and was accompanied with sliced Yukon potatoes and sautéed haricot vert. It makes me hungry just thinking about it! There were four other entrees, including Chicken Pasta Toscana, plus specials of the day.
My friend opted for a pizza, and it looked as if it had come from a little café in Italy. It was a simple Mediterranean Olive Pizza, with gobs of melting Mozzarella cheese, sliced mixed black and green olives, and a light Napolitano sauce.
When Diana and I returned for dinner there were the same wonderful salads, but it was the appetizers that caught our eyes. Choosing from nine great-sounding starters was fun, and we settled on Louisiana Crab Cakes served on baby mixed greens and drizzled with a Creole sauce. What a great choice. The crab cakes arrived hot and tempting in their presentation and were as delicious as they looked. Fortunately, I had room for an outstanding entrée of Roasted Australian Rack of Lamb. It was served with a potato gratin, grilled asparagus and finished with a rosemary balsamic sauce and mint vinaigrette. Diana gave me a generous taste of her Salmon wrapped in Puff Pastry, which was stuffed with spinach, feta cheese, roasted peppers and served over sautéed spinach. That would make a treat for a return dinner. There is always room for dessert, especially when you hear chocolate on chocolate cake topped with a Kahlua and toffee topping and a raspberry coulis. Just ask for two forks and enjoy one more delight!
Sheila's Place is located at 330 N. Lantana Street, Suite 32, Camarillo. The Café is open from 11:30 a.m. to 10.00 p.m., Monday thru Thursday. Friday's hours are 11:30 a.m. to 11:30 p.m., Saturday 4:00 p.m. to 11:30 p.m. It is closed Sunday but available for private events. Lunches are priced from $8.95 to $17.95, dinner served for $8.95 to $29.95. There is free off-street parking. Telephone: 805.987.9800.
Back to Table of Contents..
Last Update:9/15/09
&copy 2009 Joe Hilbers All Rights Reserved.
Graphic Design by Impact Graphics