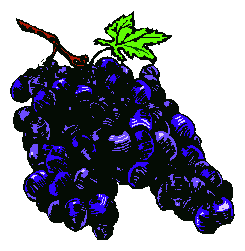 "California winemakers producing varietals like Sangiovese and Shiraz"

"By the Editor's Vineyard"
The release of new varietals by California winemakers has been an exciting adventure in this decade. A leader in this new direction has been Atlas Peak Vineyards.
Grape cuttings from Italy followed the immigrants from that country who founded many of California's first vineyards. But it has only been in recent years that some growers and winemakers have returned to producing wines from such classic varietals
With the spectacular popularity of Merlot other softer red wines seemed ready for consumer popularity. Such a wine is Sangiovese. In its native Tuscany it is the primary grape used in Chianti. Atlas Peak got a head start when it planted this grape in Napa in 1986.
We recently tasted the 1996 Atlas Peak Sangiovese and it was a love affair from the first sip. This is a wine that will make you forget Merlot for awhile. A fragrant bouquet and rich soft flavors make this an exceptional vintage.
We also tasted the 1995 Atlas Peak Cabernet Sauvignon. Winemaker John Falcone blended this wine with seven per cent Petit Verdot and seven per cent Merlot. Twenty months of barrel aging has removed enough tannins to make this a superior bottle of wine. It has so much body that it will have a long cellar life. We would like to try this vintage again six or seven years from now.
Bonterra Vineyards was started with the concept of using only organically grown grapes grown in Mendocino County. Resulting vintages have proven it to be a wise decision.
As these vineyards have matured so has the quality of the wines produced increased.
We recently tasted the newest releases of Bonterra including a 1996 Cabernet Sauvignon, 1996 Merlot and 1997 chardonnay. First and foremost we must say that these wines represent a real bargain in the marketplace. All are priced under $15.
As a wine writer we are always being asked to name good wines at reasonable prices. These three vintages fit that description perfectly.
The Cabernet Sauvignon includes 10 per cent Syrah which has added a soft finish to an otherwise hearty full-flavored wine.
Bonterra Winemaker Robert Blue shows exceptional blending skills in his wines and the Chardonnay is proof positive of this. This vintage has five per cent Pinot Blanc which adds to its flavors and elegance on the palate. The six months of aging in new American oak barrels comes through in both aroma and taste.
The 1996 Merlot is a first for Bonterra. Winemaker Blue has the advantage of selecting his barrels from Mendocino Cooperage. He uses his French and American oak barrels very well in aging Bonterra wines. If Merlot is your red wine of choice then you will like this vintage.
In my wine cellar some of the most highly prized older California red wines have the Clos Du Bois label. The reserve cabernet sauvignons and single vineyard meritage wines, vintages from the late 1980s and early 1990s, have shown quality that can only be compared to French first growths of comparable years.
Winemaker Margaret Davenport has continued this wonderful tradition as shown with the release of the 1996 Alexander Valley Cabernet Sauvignon. Priced under $20 this vintage is a bargain if you like a full bodied wine rich in aroma and flavors and so very true to the varietal. No blending here, a 100 per cent cabernet sauvignon that can be enjoyed now--but for a real treat just wait a few years.
We started out this article talking about new wines from new varietals. Clos Du Bois has just released a 1996 Alexander Valley Shiraz. Shiraz was popularized by the Australians and has contributed greatly to the Aussie reputation of premium quality.
This Clos Du Bois vintage is a gold medal winner. Lush best describes this wine with its fruity flavors and a smoothness that lingers on the palate. Here again is a wine with longevity.
Dennis Johns is a Napa Valley winemaker who keeps a low profile while making outstanding wines. He is now completing two decades as winemaker for St. Clement Vineyards of St. Helena with the emphasis always being on producing exceptional vintages in rather small quantities.
We recently had the opportunity of tasting two of his new releases--a 1996 Napa Valley Merlot and an Estate Carneros Vineyard 1997 Chardonnay.
The aim at St. Clement has always been to produce European style classic varietals. This certainly describes the Abbott's Vineyard chardonnay which offers all the character of a traditional white Burgundy.
This wine enjoyed seven months in new Burgundian barrels and has that creamy taste one expects of superior chardonnay. The wood does not mask the complex flavors of fruit either in aroma or taste.
The 1996 Merlot sets a high standard for this increasingly popular varietal. This vintage includes 20 per cent cabernet sauvignon and five per cent cabernet franc. The wine had 14 months in newer French and Hungarian oak barrels. It is a wine that will definitely improve with more time in the bottle.
This vintage has spice in both aroma and flavor but with that smoothness that makes merlot so popular with today's drinkers.
Both the St. Clement chardonnary and merlot are in the premium range both in quality and price.
In a departure from its Napa Valley roots, St. Clements is also producing wine from the Yakima Valley in Washington State.
A 1996 Washington Merlot has been released by Winemaker Dennis Johns using American and French oak cooperage.
Back to Table of Contents..
Last Update:3/21/99
&copy 1999 Joe Hilbers All Rights Reserved.
Graphic Design by Impact Graphics