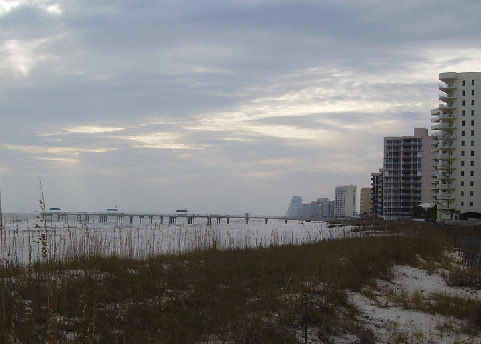 "Alambama's Gulf Shores--Its white sands are once again pristine"
by the Editor
Alabama's Gulf Shores is a most precious possession. It stretches for thirty two miles and consists of pristine wide, white sand beaches, some fronted by rows of high rise condominiums.
In 2009 Gulf Shores and Orange Beach had 4.6 million visitors that spent 2.3 billion dollars. For these visitors the Gulf Coast means many things and they come from near and far. The numbers are interesting and tell the story. Thirty per cent are from nearby southern states but forty per cent come from the Midwest while the remaining thirty per cent are from the State enjoying "their" coast.
So when the news of the 2010 oil spill occurred just before the beginning of the tourist season it was devastating for locals and visitors alike. The Gulf Shores and Orange Beach Tourism Bureau was overwhelmed by the large number of inquiring from all over the U.S. Many visitors own or rent condos and the Gulf Coast is their 'second home'. For others vacation on the Gulf Coast is a family tradition.
As Kim Chapman, public relations manager for the bureau, explained to our group of Writers it was essential to answer these questions honestly and accurately as to what degree of impact the oil spill would have on this coast. So news was offered to every possible media on a daily basis. As it turned out the spill did reach the gulf coast but in just scattered locations. At no time were the beaches closed and this message had to be told.
June 2010 was the month with the largest impact with July 2010 also showing signs of spill. However efforts for cleanup started immediately and were largely effective. For tourists it was a personal decision on whether to stay with original vacation plans or not. As it turned out there was a significant decline in tourist visits this year.
We arrived in November to learn about this and the current state of events. It was this Writer's first visit to Alabama's Gulf Coast and we were awed by the extent of development and just how much the region has to offer. To our eyes and later as we walked along the shore there was no evidence of oil, only the natural beauty of the pastel white sands.
However as we watched from our beachside condo we could see crews still at work. The Gulf Coast did receive a grant from British Petroleum for cleanup. While no oil appears on the surface of the sand small goblets were churned by surf, wind and tide a few feet below. This was the cleanup we watched each morning. When it is completed in January 2011 these last remnants of oil will be gone from all 32 miles of Gulf Coast.
With the effects of the spill now clearly over we set about to enjoy some of the many activities this seaside jewel has to offer.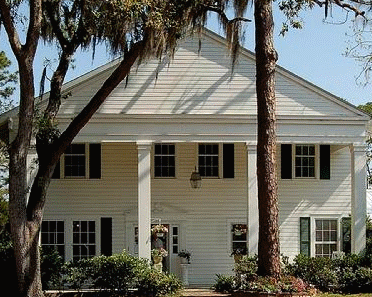 Since we took up oil painting as a hobby art galleries and centers have taken on a new interest for us. So one of our first calls was to the Orange Beach Arts Center located on the shores of Wolf Bay. Here Wanda Price, Coordinator, met us and explained the role of the Art Center in the community. It is housed in the oldest still standing building in Orange Beach and originally was its first hotel in the 1800s. Today it has been transformed to a gallery for local artists.
Most pleasing for many visitors and locals as well is 'The Hot Shop" where people can watch Master Glass Maker Sam Cornman produce glass objects into works of art.. Sam also gives lessons on blowing glass and allows visitors to actually make a glass ball under his supervision.
The Orange Beach Indian and Sea Museum is located in an old school house that has a history of its own. It was the first school in a community where water was still the best means of transportation and this year is celebrating a 100th anniversary. We were greeted by Gail Graham Walker who is imminently qualified for her position as Curator since she has lived her whole life in the community. Her family history is linked back to her great grandfather who arrived at the Gulf Shores from Ireland with the idea of growing citrus and fruit trees in the area. And linked also to the local Indians since this family patriarch married the daughter of the local Indian Chief.
Artifacts of all the local tribes are exhibited here. The tribes are Shawnee, Seminole and Chactaw. There is a fine collection of arrowheads and spear points on display. The Museum also looks at the Shores fishing heritage with exhibits of early outboard motors, fishing reels and lures.
We thoroughly enjoyed our brief visit with Gail who was just wonderful sharing her thorough knowledge of the Shores.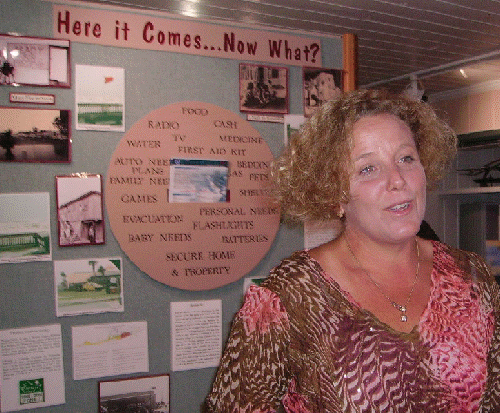 Our visit to the Gulf Shores Museum was equally rewarding. We listened to Christie Shannon with wonder as she explained how Hurricanes have played such a large role in the community through the years. This is thoroughly covered in the museum with one exhibit showing how hurricanes are tracked while another lists the hurricanes of 2010, their names and where each originated and traveled.
We watched with fascination a movie entitled "Hurricanes Unleashed" which illustrated the destruction that occurred on the Shores from Hurricane Ivan in 2004. The fury of the waves as they rushed ashore was vividly captured on film and the carnage that resulted.
Other exhibits tell the story of Mobile Bay bar pilots through the years. Also the history of light houses in that area. There are also photo exhibits of the early settlers in the Shores who were truly pioneers since transportation was mainly by water. And again the huge role fishing played in the first years of settlement.
The Gulf Coast is host to scores of various special events each year. While we were there the Frank Brown International Songwriter's Festival was taking place. This was the 26th annual event which offers music lovers the opportunity to meet and listen to the artists. A large number of the restaurants and clubs on the Shores take part in this event each year.
The places and artists we enjoyed will be told in a separate story on Shores restaurants and our culinary experiences in the next issue of Vittles.
One of the biggest events of the year is the annual Shrimp Festival which takes place each October. This is a four day event which attracts some 250,000 visitors. It is a showcase for local restaurants and their chefs as well as scores of events featuring music, arts and crafts. There are 39 food vendors as well. Proceeds of this event support the Shores Visitors Bureau as well as many charities. One school raised $40,000 just selling bottled water. This was all explained to us by Ron Cutter, who is chairman of the Festival.
With nine golf courses the Shores is a mecca for those pursuing this maddening sport. We visited the Kiva Dunes Golf Club which offers golfers complete packages with adjacent condos and opportunities for rounds of play at five nearby courses. We chatted some with Duncan Millar, PGA, and Executive Director of Golf Gulf Shores.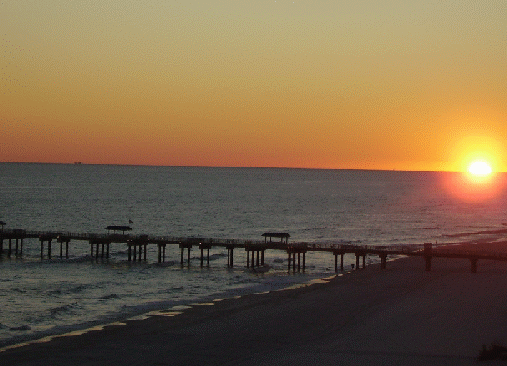 Alabama's Gulf Shores is in our experience truly one of a kind. Blessed with an unbroken stretch of 32 miles of wide white sand beaches and a mellow year round climate it has evolved into a playground for millions of people in every season. And it is so readily accessible by either land, sea or air. Its diversity is such in accommodations, food and recreation that there is something for every size pocket book, large or small and the emphasis has always been for a family atmosphere.
In future issues of vittles we will tell of our accommodations, dining experiences and visit to historic Fort Morgan. There will also be stories on the Shores by Vittles Staffer Jeanne Bartlett.
For more information on Gulf Shores & Orange Beach call 251 974-4625, gulfshores.com or orangebeach.com.
Back to Table of Contents..
Last Update:11/30/10
&copy 2010 Joe Hilbers All Rights Reserved.
Graphic Design by Impact Graphics