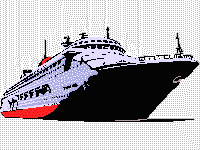 San Diego--The 'Silver Wind' takes luxury crusing to a new level"

By Joe Hilbers
The occasion was to mark the 500th cruise ship to dock in San Diego. But what it proved to be was a remarkable opportunity to visit the Silversea Cruises 'Silver Wind'. Silversea Cruise ships, there are four in number, enjoy the reputation of being the 'creme du creme' in cruise ship travel.
The emphasis here is on pampered luxury which our short stay aboard certainly proved not to be an understatement. Unlike almost all other cruise lines Silversea's fares are inclusive including bar tabs, gratuities, spa time, etc.
On the 'Silver Wind' every stateroom has either a view window or balcony. Its passengers, slightly less than 300 in number, are quite frankly affluent adults. It is not designed for families with small children. Formal and dress up dining is the norm here.
On receiving its award as the 500th cruise ship in San Diego the 'Silver Wind' hosted harbor officials and members of the media to a tour and luncheon aboard ship.
Presentation and remarks by harbor commissioners and the Ship's Captain took place in the Aft lounge while we onlookers sipped French champagne. The timing was excellent as it all took place on a sparkling Spring day with a wonderful view of San Diego's embarcardero and skyline.
With the presentations concluded we adjourned to the Ship's gourmet intimate dining room. Here in a impressive array of white linen and sparkling glassware we had the chance to enjoy the remarkable talents of both the culinary and serving staff.
Our five course luncheon opened with Amuse Bouche served with a 2002 Bourchard Maconnais Pouilly Fuisse. Next came a marbled Foie Gras Terrine with fresh apple chutney. followed by an authentic Gazpacho soup. With the roast veal loin with Mediterranean Cous Cous and Basil sauce Banfi 2001 Col di Sasso Sangiovese was poured.
Our dessert was a Rosemary Creme Brulee with olive oil ice cream with Petits Fours 'Girasol'.
As charming as our surroundings and lunch was Vivienne Grouse who has a dream job of acting as Hostess and Consultant aboard the 'Silver Wind'. A lass from Dublin Vivienne proved most entertaining at our table with tales of her remarkable career in the travel industry that has taken her all over the world. Her accomplishments including being fluent in six languages.
From San Diego the 'Silver Wind' was enroute to the Bahamas and then on to Genoa, Italy. At our table we plotted on possible ways to stow aboard but finally our responsibility to the readers of Vittles prevailed and with a Bon Voyage to Viviennie and the 'Silver Wind' returned to the real world and In-n-Out Burger.
Back to Table of Contents..
Last Update:6/15/04
&copy 2004 Joe Hilbers All Rights Reserved.
Graphic Design by Impact Graphics