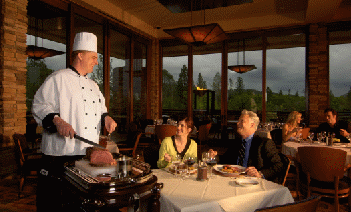 Tuolumne County--The Seven Sisters Restaurant at the Black Oak Casino led the way to some outstanding dining on a visit to Sierra's Mother Lode Country"
By The Editor

On our most recent visit to the Mother Lode country we once again discovered some interesting restaurants and tasty cuisine.
Memorable is the only way to describe our dinner at the Seven Sisters, the premier restaurant of the Black Oak Casino. The restaurant occupies the top floor of the new building with both indoor and patio seating. From both inside and out there are views of the surrounding forest covered hills.
To direct both the newly opened Seven Sisters as well as the other food outlets of the Casino Ed Wickman came aboard six months ago as Executive Chef. Ed brought a fine culinary career to his new position. Originally from Boston he has been chef at outstanding hotels and restaurants on both coasts including the Hyatt Hotel in La Jolla.
After meeting with Ed Wickman personally he suggested we sample a few of both his cold and hot appetizers. These included a tempura artichoke bottom with a Ponzu dipping sauce, sugercane skewered vension, Ahi tuna seared rare with cucumber, avocado and Diakon. Also a Dungeness crab salad encased in cucumber with a ginger-citrus dressing.
Our entrees included the Monkfish and Day boat scallops wrapped in Pancetta and Rosemary skewered, char-broiled and served with a tequila-lime vinaigrette. My dining partner selected the prawn scampi sauteed with garlic and butter and splashed with Ironstone chardonnay and finished with lemon and parsley.
The menu shows a full selection of steaks but on this menu there is something to please all. The Seven Sisters is a restaurant that ranks with the very best in San Francisco and Los Angeles both is the quality and selection of the cuisine but also in the well trained serving staff.
We did not believe we could but yet did try a few of the desserts which are all made on premises as are the selection of breads. We tasted the house made cheese cake drizzled with a choice of sauce as well as the flourless chocolate cake to name just two.
Black Oak Casino at Tuolumne Rancheria is owned and operated by the Tuolumne Band of Me-Wuk Indians. The Seven Sisters name comes from the tribe's folklore that the Sisters represent the good things of life. The Seven Sisters is open for dinner only and closed on Monday and Tuesday.
In Sonora we found some interesting dining as well. One day we did lunch at Melodie's that is located adjacent to the Sonora Inn. Melodie's uses music as its theme and the decor is old 45 and 33 LP records both on the walls and on the tables. Owner chef Melodie Fergusion entitles her menu "These are a few of my favorite things". This menu shows imagination with selections like Sweet Caroline pulled pork with an authentic Carolina sauce.
We selected the hickory smoked brisket that arrived on a huge white roll with caramelized onions and a smoky bourbon BBQ sauce and a heaping side of potato salad as well. Cooking brisket is an art and Melodie smokes hers for 16 hours. We told our server, Linda Gregory, who is restaurant manager, that it was the best brisket we had tasted in some years.
My dining partner selected the coconut shrimp which arrived as five jumbo prawns dipped in tempura batter and rolled in sweet coconut and served with a spicy orange marmalade.
Melodie's is a full service restaurant with some unusual selections like a Flat Iron Steak salad or Caramelized St. Louis ribs. It is located at 160 S. Washington Street in Sonora and is open from 11 a.m. to 2:30 p.m. for lunch and 5 to 9 p.m. for dinner. Closed for dinner Monday and Tuesday evenings.
Another evening cocktails and dinner were at Josephine's Bar and Washington Street Steak House which was the height of convenience since they are located directly across the street from the Historic Gunn House Hotel where I was staying.
We met first at Josephine's which is a separate bar and lounge but part of the Steak House for cocktails and wine. Then used the inside entrance to the restaurant to go to our waiting booth. Washington Street Steak House is relatively new in Sonora but became almost instantly a great favorite with local folk.
And the reasons are plain. This is a downhome styled restaurant with a full range of steaks but also long time favorites like sauteed liver with onion and bacon or broiled pork loin chops.
There is also a selection of seafoods. Here your dinner selection comes with choice of soup or salad, baked, stuffed or french fried potato or rice pilaf and vegetable of the day. No one goes away hungry here.
Our waiter, Dennis Acree, is something of a legend in Sonora as being the very best. For my two dining partners he produced a combo plate that included the filet mignon steak and coconut prawns. I selected the baby back pork ribs which arrived as a huge rack and came with an excellent dipping sauce.
Besides the menu selection this restaurant features three daily specials, a soup of the day and a dessert of the day. Josephine's and Washington Street Steak House are located at 287 S. Washington Street in Sonora. The restaurant is open for dinner Wednesday through Saturday, closed on Sunday.
Back to Table of Contents..
Last Update:9/15/05
&copy 2005 Joe Hilbers All Rights Reserved.
Graphic Design by Impact Graphics