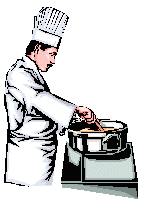 "Pasadena--Culinary Facility and Students make the Five Sixty-One Restaurant unique
If you have been dissatisfied with the service and attitude of your waiter at a recent dining experience perhaps you should visit the Five Sixty-One Restaurant at 561 E., Green Street in Pasadena. For here you will find motivated, ambitious, young people eager to please, both in the kitchen and dining room. The reason is that with a few exceptions, the staff are all students at the California School of Culinary Arts.
To find out more about this unique restaurant the Writer interviewed Andrew Grani who acts both as evening manager as well as class instructor. Grani is a graduate of the Cal Poly Culinary Arts department and his classes cover the three basic programs of the school--culinary arts, hotel and restaurant hospitality and baking, pastry.
Planning the menus at the restaurant, which shows a Contemporary cuisine, is Executive Chef and Instructor Eric Osley. This restaurant has a constant turnover of staff with students switching roles every three weeks. However they are all serious students with definite plans to devote their futures to some part of the food industry. Even those training to be chefs are expected to take a turn as serving staff.
Executive Chef Oslay changes the regular menu every 12 weeks but on Thursday and Friday evenings there is a tasting menu which matches the foods to the wines. Also all the students take a six week wine course so they are familiar with varietals and vintages. The restaurant has 70 wines on its list as well as a full service bar and again students learn about spirits and mixing cocktails from a full time bartender.
We enjoyed two dining experiences at Five Sixty-One Restaurant. On entering the first thing to meet the eye are rows of white linen tables gleaming with glistening glass and silver ware. The walls are decorated with painting by local artists and these also change seasonally. It is rather startling at first entry to see some ten or eleven chefs in white standing in the exhibition kitchen. This is one instance when many chefs do make for an outstanding dining experience. >P>Each of our dinners opened with a Amuse Bouche, one time an oyster, the second a clam each presented with fruit and veggie. This was followed by Seared Diver Scallops with avocado, grapefruit and mizuna as the appetizer. One evening our entree was the Filet Mignon grilled over Rosemary embers, heirloom tomato blockes with a potato-fennel pave and a veal-balsamic reduction. The second evening we tried the grilled lamb loin in a herbed gremolate Marinade with baby eggplant with ratatouille and roasted tomato risotto.
Our dessert was warm chocolate cake with Bing cherry confit. Five different breads are served. All the breads and pastries are made on premise.
Seafood entrees include Coriander-cumin crusted Ahi Tuna with lentils and pancetta with artichoke a la grecque and pocket bread or pan seared Soup de mer--mussels, clams and lobster with a Pistou broth saffron speaetzle and baguette wisps and summer herbs.
The Five Sixty-One serves both luncheon and dinner and daytime manager is David Brungord with Chef Instructor David Edens. The lunch menu changes slightly with dishes like a grilled hanger steak with baby Shitake mushrooms and Pommes Aligot or cornmeal crusted soft shell crabs with field lettuces salad with green goddess dressing and olive bread croutons.
The California School of Culinary Arts has a student body of about 1500 with a 16 month Le Cordon Bleu chef program. For other students it is a one year course with a AUS degree upon graduation.
The Five Sixty-One Restaurant opened to immediate success in 2000. It is open Monday through Friday for luncheon from 11:30 a.m. to 1:30 pm. and dinner from 5:30 p.m. to 8:30 p.m. Last year the Five Sixty-One Restaurant received a Gold Award from the Southern California Restaurant Writers for its overall excellence.
Adjacent to the restaurant is the School Cafe, also operated by the School and manned by students. It shows lighter fare and is open for breakfast, lunch and dinner with take out pastries and sandwiches throughout the day. For reservations at the Five Sixty-One call 626 405-1561 or 888 900-2433.
Back to Table of Contents..
Last Update:9/1/06
&copy 2006 Joe Hilbers All Rights Reserved.
Graphic Design by Impact Graphics