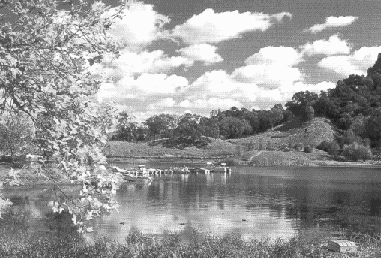 San Luis Obispo County--Parks offer a host of sports activities
.. By The Editor
On our recent trip to San Luis Opispo we spent one day surveying outdoor recreational activities that have been provided by the County of San Luis Obispo Parks Service. And they offer something for just about everyone. Our first stop was Santa Margarita Lake which is just about a half hour drive east of Highway 101 past the community of Santa Margarita. The drive itself was rewarding with some of the largest California oaks this Writer has ever seen spotted in meadows and rolling hills. This is ranching country with a few vineyards completing the rural scene.
Santa Margarita Lake has 22 miles of shoreline and 46 campsites. Besides the fishing and boating there are seven hiking trails rated from easy to strenuous. For fishermen there are both big and small mouth bass, striped bass, catfish, crappie, trout and bluegill.
Even among locals the Lake is considered something of a well kept secret. However the County has in place an efficient reservation system so both individual and group campers can reserve their favorite site in advance. The number is 805 788-2397. This number can also be used to learn more about its recreational facilities.
If you wish to combine camping with golf there is El Chorro Regional Park. This Park offers camping within walking distance to adjacent Dairy Creek County Golf Course. It also offers something for all ages. There is a children's playground, hiking trails and the San Luis Obispo County Botanical Garden.
The Gardens are filled with plants from five Mediterranean regions. There are also collections of flora and fauna, in addition to the Mediterranean, from Chile, Australia and South Africa. To find out more about the Gardens call 805 546-3501.
Another big advantage offered by El Chorro Regional Park is that it is ideally located to explore the City of San Luis Obispo as well as the surrounding countryside. The Park is just about midway between San Luis Obispo and Morro Bay on Highway 1. All the attractions of the surrounding cities, Hearst Castle as well as the wine country, are easy day trips from the Park.
El Chorro has forty five full-hookup campsites and l8 campsites without hookups. There is also large areas for day use. The Dairy Creek County Golf Course has complete facilities including pro shop, restaurant and driving range. We should add that the Dairy Creek public course is one of three operated by San Luis Opispo County. The other two include Morro Bay and Chalk Mountain. There are special rates for both juniors and seniors.
Lopez Lake Recreation area is located east of Arroyo Grande well marked with signs. It has several campgrounds with some campsites offering complete hookups for motor homes and trailers. Just while checking the campgrounds we saw groups of wild turkeys and other wild game is much in evidence.
The Lake itself is extensive with two arms and both areas of the Lake have no wake zones for fishermen awaiting their catch of bass, catfish, crappie and bluegill. The Lopez recreation area has an extensive trail system, some for foot and horse and some include mountain biking as well.
Lopez Lake has just about other type of facility for the camper. There are primitive camps, others with full hookup with water, sewer and electricity as well as group camps and extensive day areas for picnics.
From Arroyo Grande enroute to Lopez Lake you pass Biddle Regional Park with its huge sycamore trees and complete facilities for picnic and group activities. Biddle Regional Park was the site of the recently held Harvest Celebration which we reported on in a recent issue of Vittles.
If you do visit Lopez Lake you might consider taking Orcutt Road if you are returning to San Luis Obispo. This will take you through mile after mile of vineyards and the home of several well known wineries as well. It also offers views of the famous 'Seven Sisters' the volcanic peaks that are so much a part of the County scene.
For undeveloped oceanside beauty it is difficult to top Montana De Oro State Park. This is easily reached either from the City of San Luis Obispo or from Highway One. The Park has limited camping and picnic facilities but offers wondrous views of the rugged ocean front. It is a great place for photographers, fisherfolk and especially surfers since it has a famous surfing break called Hazards.
The beauty of the San Luis Obispo countryside is legendary. But also important to remembers is that all the places described in this story are only a short drive of an hour or so from San Luis Obispo or any one of the other five cities in the region. On a trip to the Central Coast you have the best of two worlds, luxury lodgings, exciting cuisines, shopping but then only minutes away a countryside that, in places, has changed little from the time of the first Padre explorers.
The San Luis Obispo Chamber of Commerce has all the material and information you will need for a trip to the Central Coast. Telephone 805 781-2670, Fax 805 543-1255, on the web at www.visitslo.com.
Back to Table of Contents..

Last Update:3/10/04
&copy 2004 Joe Hilbers All Rights Reserved.
Graphic Design by Impact Graphics