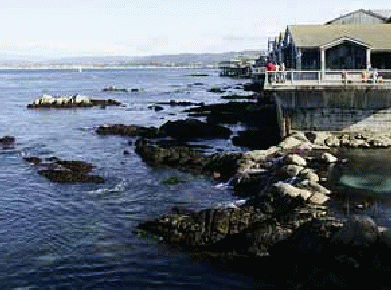 "Monterey--At Monterey Aquarium's 'Cooking for Solutions' event we looked toward the future."
.. By Joe Hilbers
The Monterey Aquarium is always an exciting place to visit but never more so than when we attended the Cooking for Solutions event which is held here each year.
At this three day seminar top Academicians, business leaders and culinary experts portrayed in a series of panel discussions ways to confront the global crisis in sustainability of resources and climate change. Like so many times in our history this event proved that people, in many walks of life, have been far ahead of national government in confronting these problems and yes coming up with possible solutions.
Efforts to conserve and protect the marine environment has been the mission of the Monterey Aquarium since the day it was founded twenty four years ago. Under the leadership of Julie Packard, executive director, the Monterey Aquarium hasworked for conservation of the oceans, eco sustainability of species, both land and sea, and a continuing program with the food and culinary industries to take part in the effort to move food production and preparation into new eco friendly areas.
In the panel discussions we were treated to success stories on new approaches to raising foods without hormones or other pharmaceutical products.
We learned how Dan O'Brien and Jill Maguire have brought the American Bison back to the great plains of South Dakota and how Chef-Owner Michel Nischan has made a big impact in Connecticut by reviving Farmers Markets with support to local growers.
California's wine industry, from the vineyard to the finished product, has been at the forefront in moving toward organic farming practices in the vineyard and moving to solar power and water and paper recycling at the winery.
Many conclusions were reached in the Panel discussions which suggest what the future requires. Consumer awareness of environmental, social and economic issues will increase with additional public pressure on not only climate change but most immediately food safety. From source to retail store all levels will experience increased scrutiny on source, content and safety of food.
The move to organic food products, while still small, will increase at an expanded rate as farmers see how such methods could increase profitability.
Climate change is already here but the studies of what this will create in many areas is still an unknown. For instance no one can predict what climate change will do to ocean eco systems. Government, which until now has been quiescent on climate change and its effects on both economic and social issues, will change from follower to leader, forced by public opinion. The public will demand that such issues as environmental and climate control problems become a national priority.
Emphasis on buying local produce and products will increase dramatically to lower distribution costs. Workable programs to encourage the small farm will increase like 'tried and true' Farmers Markets.
The fate of the oceans and its huge number of species will depend on what happens on the land to limit pollutants, toxic chemicals and pharmaceutical products from reaching the sea.
The nation's restaurants and chefs can make a significant contribution in changing some existing practices and customs by promoting what foods to eat that promise future sustainability. A return to eating seasonal available foods will dramatically reduce transportation costs and can become a larger economic issue. A return to local production of food will dramatically increase responsibility for both quality and safety. There will be increased emphasis on how the foods we eat relate to health.
Restaurants are and will become active players in changing habits and choices in food as gathering places for people promoting new ideas. Restaurants and chefs are already promoters of local farmers and locally grown produce since they can readily identify the source and can meet their special demands and requests.
The Panel discussions included "How to deal with demand for popular seafoods like Shrimp, Salmon and Tuna"; How the Wine Industry is Going Green"; Climate Change and the Implications for Food Systems and Farming"; Environmental Change and the Future of Food"; and Sourcing and Supporting Sustainable Farming and Seafood."
Our dining and tasting experiences at Cooking for Solutions were extensive. At the Aquarium one evening there was a well named "Gala" event where top chefs from around the nation presented original samplers, while a host of premium wineries served up their finest vintages for tasting. Needless to say this was a well attended event, certainly an understatement. As we slithered through throngs of people we rather envied the fish casually loafing along in their own secure environment.
One evening we dined at the Monterey Plaza Hotel. Here chef stations showed tasties like thin sliced Tri tip on an equally thin browned potato cake; another with sushi, giant prawns and fresh oysters on the half shell and a third with a chef preparing an elegant but simple pasta sauce with white wine, fresh asparagus and tomatoes with touches of onion and garlic. Adjacent to the dining room was the veranda where we watched a showy sunset with changing colors on cloud and the waters of Monterey Bay while sipping a Fetzer Mendocino chardonnay.
After this dramatic floor show we moved to a generous dessert table which we sampled most modestly after our earlier forays to the chefs stations.
We also enjoyed a very special breakfast at this elegant seaside hotel. Served buffet style it included huge platters of fresh fruits, an array of breakfast styled pastries and then scrambled eggs, a spinach quiche, potatoes, sausage and bacon.
On our visit to Earthbound Farms in nearby Carmel Valley our elegant luncheon showed the flavors of fresh organic grown produce in several unique salads as well as sliced tenderloin beef and basted free range chicken. All served al fresco surrounded by greenery and for us in the shade of a towering redwood tree.
We tried to document the wines we sampled at these events but soon gave up on this project. One evening we concentrated on tasting all white wines. The next evening all red wines.
The large number of wineries present made tasting a very selective affair. Some we list here thanks to the few notes we actually took. These included Bonterra Vineyards, Fetzer Vineyards, Ceago Vinegardens, Frey, Cuvaison Estate, Benziger Family Winery and the Lodi-Woodbridge Winegrape Commission.
Also Trinchero Family Estates, The Hess Collection, McIntyre and Storrs Winery.
In the next issue of Vittles we will explore what's new at The Monterey Aquarium and places we visited.
Back to Table of Contents..

Last Update:6/10/08
&copy 2008 Joe Hilbers All Rights Reserved.
Graphic Design by Impact Graphics