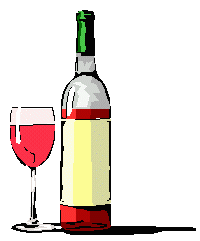 "Temecula--Elegant South Coast Resort hosts Vintners Gold Dinner and Auction
The Editor's Vineyard
The Gold Dinner and Auction, an annual event sponsored by the Temecula Valley Winegrowers Association, has always been an elegant affair. But never more than this year's dinner which took place at Jim Carter's South Coast Winery Resort & Spa.
The dinner traditionally showcases the best wines of its members but this year also demonstrated the culinary skills of South Coast Resort's Executive Chef Alssandro Serni.
The Gold Dinner is a 'dressup' affair and a record heat wave, thunderstorm and cloudburst was no barrier to ladies and gentlemen in elegant attire. Completing the picture was the table settings complete with flower arrangement and an array of glittering glassware and dinner service.
Once again Mario Martinoli, chef and radio personality, acted as auctioneer. Others on the program included Ron McMullin of Stuart Cellars, this year's Event Chairman, and Ray Falkner of Falkner Winery as Fundraiser Chairman.
South Coast Chef Serni showed a menu that opened with chilled butter poached lobster with red grapefruit and fennel salad. Then a salad of red Romaine and Frisee with Kalamta olive crusted goat cheese. After a refreshing Lemon Sorbet the entree of grilled prime beef tenderloin with Portobellini mushroom, asparagus and candied shallots,.
Before dinner the reception included Thornton Brut Sparkling wine followed by ten wines, each of a different varietal and each by a different Temecula vintner. The wines served with dinner were Leonesse 2005 Pinot Grigio and Maurice Carre 2005 Sauvignon Blanc, With salad Falkner 2004 Riesling and Hart 2004 Syrah Rose. With the entree Palumbo 2004 Cabernet Sauvignon, South Coast 2004 Rolling Hills Syrah, Wilson Creek 2004 Mourvedre.
With the duet of dessert--Chocolate Rivera and Tuscany Panno Cotta were served Callaway 2003 Sweet Nancy and Stuart Cellars 2002 Vintage Zinfandel Port. This dessert was by Chef Jorge Alvarado of Stuart Cellars.
Of note was a specially created vintage for the occasion called 2004 "A Solatio". This is a Bordeaux blend of Merlot, Cabernet Sauvignon, Cabernet Franc, Petite Verdot and Malbec which was blended by Thornton winemakers Don Reha and Jay Weseloh. This vintage designed to show the talents of both growers and vintners in the Temecula Valley.
The City of Temecula is growing so fast it appears to be in constant turmoil and never more so on a day of triple digit temperatures.
However we had the perfect oasis. This was Temecula Creek Inn which is beautifully situated on a hillside surrounded by woodland and golf course. We thought it the perfect escape from Casino traffic, etc. and a refuge of serenity and tranquillity. The Inn has a southwestern decor and ambiance that carries through from the restaurant to the guest rooms.
Our room had a wonderful view of the golf course and then beyond to the valley and the distant mountains.
We had a private balcony and in-room honor bar completely stocked with refreshments including spirits and wine. We will remember the satisfaction of lying in bed and watching the dawn and then the sun first peeking over the distant mountains in a fire of color. The Temet Grill at the Inn serves breakfast, lunch and dinner. And on Sundays a dazzling buffet from 10 a.m. to 2 p.m. We, of course had to try the buffet, and settled on the eggs Benedict along with some rashers of bacon and a blueberry bagel. Passing up made to order omelets or the seafood items took some will power on our part.
A look at the Temet dinner menu shows items like Sesame Soy Crusted Rare Ahi or Marinated Colorado Lamb Chops or Cast Iron Skillet Atlantic salmon.
The Temecula Creek Inn is located at 44501 Rainbow Canyon Road in Temecula nicely tucked away from local traffic. For more information call 951 694-1000 or on the web at www.jcresorts.com. Honest Vintages
We admire Winemaster Randy Ullom of Kendall-Jackson for the honesty that always shows in his vintages. As often as not, as with the 2005 Kendall-Jackson Vintner's Reserve Chardonnay, Randy has the luxury of selecting grapes from vineyards either owned or controlled by the winery. The 2005 Chardonnay is from vineyards in Monterey, Santa Barbara and Mendocino and like earlier vintages has three months of sur lie aging and barrel fermentation. All of which explains that it is the best selling chardonnay nationwide. Randy's chardonnays always have the signature of creamy texture, a hint of buttery toast and generous fruit in both aroma and palate.
As with the chardonnay Winemaster Ullom has ranged wide for the grapes in the 2005 Vintner's Reserve Sauvignon Blanc. Here he has used grapes mostly from Lake County, long famed for the quality of it sauvignon blanc. San Luis Obispo was the other source for the grapes. This vintage of Sauvignon Blanc varies from the norm in two ways. Small amounts of semillon and chardonnay have been added to the blend and Randy allows a small percentage of the vintage to be exposed to new oak.
This varietal has always been one of this Writer's favorites and this bottling offers all the crispness, freshness of flavors and pleasant finish to meet expectations. Modest pricing is also a feature not to be ignored here with the chardonnay at $12 and the sauvignon blanc at $11.
The Vintner's Reserve 2003 Cabernet Sauvignon has been made with grapes from Sonoma, Napa and Mendocino counties. This is an excellent vintage with soft tannins and full open flavors and a lasting finish. Perhaps the small amounts of cabernet franc and merlot that have been added account for its smooth texture.
Back to Table of Contents..
Last Update:9/10/06
&copy 2006 Joe Hilbers All Rights Reserved.
Graphic Design by Impact Graphics