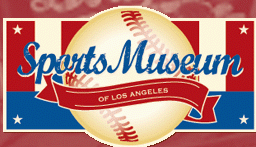 "Los Angeles--A new museum offers visitors a look at sports memorabilia"
.
One man's lifelong fascination with sports memorabilia has resulted in a new museum for the City of Los Angeles. Gary Cypres, financier and businessman, over a period of 25 years established one of the best collections of sports memorabilia in the U.S. Now this collection has been gathered into a museum with 30 galleries devoted to baseball, football, tennis, golf, boxing and other sports.
The Sports Museum of Los Angeles opened to the general public on November 28th with some 32,000 square feet and over ten thousand pieces, many one of a kind. >P>There is one gallery devoted to the early beginnings of baseball in the mid 1800s displaying how the game developed over the years. The legendary Babe Ruth, who did so much to make baseball the national pastime in the 1920s, has a full gallery including movies and videos made during his playing years.
Gary Cypres, born and raised in New York City in close proximity to Yankee Stadium, admits to being a lifelong fan of the team that, through the years, included Babe Ruth, Joe DiMaggio and Lou Gehrig. There are small, perfectly scaled exhibits of Yankee Stadium, Ebbitts Field and other historic ball parks.
A Hall of Fame gallery depicts photos of many of baseball's most famous players, with their lifetime statistics. There are also a large collection of movie posters heralding films with sports themes.
The Sports Museum is at 1900 S. Main Street and open Wednesday thru Sunday from 10 a.m. to 6 p.m. There is parking on premise as well in surrounding public lots. Admission is $17.50 for adults, $14 for seniors and students and $11 for children. For more information call 888 540-8223, on the web at www.sportsmuseumla.com.
Back to Table of Contents..
Last Update:12/15/08
&copy 2008 Joe Hilbers All Rights Reserved.
Graphic Design by Impact Graphics