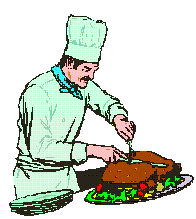 Los Angeles--Downtown Palm Restaurant offers fine dining with a casual decor and fun atmosphere

by the Editor
The Downtown Palm Restaurant has proven to be a popular addition to that area of Los Angeles that has come alive with excitement created by the Staples Center. Only two and one half years old it has become a meeting place for the political and entertainment elite of the City.
Located in a historic building on the corner of Flower and 11th Streets the walls of the Downtown Palm are decorated with hundreds of caricatures of Los Angeles' politicians and celebrities. They have been a part of the restaurant chain's tradition since its founding in New York seventy eight years ago.
The Downtown Palm is a steak house and quickly achieved fame for the quality of its prime beef, the large portions and the friendly, most efficient service staff. This Writer's recent evening at the restaurant showed all these ingredients for success.
We talked with our Waiter Roger who is now in his third Palm Restaurant moving west as expansion of the chain has taken place. At his suggestion we opened with a crab cake. It is one of the popular choices on the menu and we discovered why with its rich crab flavor unmasked with countless condiments and ingredients as is the case in many restaurants. With the crab cake we had to pass on any of the nine salads on the menu with choice of five different dressings.
This was only after we relaxed with a Kettle One Vodka over the rocks. Downtown Palm has a full service cocktail lounge which is very popular both for luncheon and dinner. The wine list is outstanding with over 200 selections, heavy with California vintages but with a special selection of fine Italian labels as well.
Since Palm is famous for its prime steaks we decided this is what our entree should be. The only difficulty was selecting one to fit our rather anemic appetite. Certainly an 18 ounce New York or 24 ounce Rib-Eye was out of the question. We settled on the 10 ounce Filet Mignon which also can be ordered as 16 ounces. Even with the 10 ounce filet which was done to perfection we had some packaged for lunch the following day. A three pound Nova Scotia lobster is also a tempting item on the menu.
Vegetables and potatoes are served family style for two and we selected the creamed spinach. Again we took some of it home with us. We noted cottage fries on the list, a style of potato not often seen on today's menus and we vowed to try them on another visit.
The original Palm was opened in New York in 1926 by two Italian immigrants, John Ganzi and Pio Bozzi, as an Italian restaurant. Now grandchildren of the founders operate the chain, Wally Ganzi and Bruce Bozzi.
True to its roots the Downtown Palm menu still offers Italian specialties. There are five veal creations as well as traditional linguine with either red or white clam sauce. And we noted Calamari Fritti and Melon and Prosciutto on the appetizer menu as well.
We were warned to save room for the desserts which are shown on a large tray by a member of the serving staff. All were tempting but we chose a dish of fresh blackberries, raspberries and strawberries with whipping cream served on the side. We confess to adding cream to the berries rather liberally.
The Downtown Palm located at 1100 South Flower Street is open for luncheon Monday through Friday and for dinner seven nights a week. It is a large restaurant with seating for 400 and offers upstairs private dining rooms as well. However reservations are a good idea especially if there is an event at the nearby Staples Center. Call 213 763-4600. There is validated parking.
Back to Table of Contents..
Last Update:12/2/04
&copy 2004 Joe Hilbers All Rights Reserved.
Graphic Design by Impact Graphics