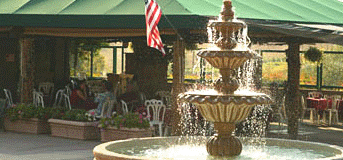 "Temecula--Thornton's Winery Cafe Champagne lives up to its reputation for excellence"

by the Editor
Vineyard inspired in the way Chef Liam Griffin describes his cuisine at the Cafe Champagne, located at Thornton Winery in Temecula.
Cafe Champagne has enjoyed a long run as one of the best dining restaurants in the Temecula wine country for almost two decades and it is a consistent Gold Award winner by the Southern California Restaurant Writers.
Credit for this consistent excellence must go to Sally Thornton who has showered tender loving care on the restaurant for most of its existence.
Chef Griffin's vineyard inspired cuisine is as innovative as it is contemporary. Both appetizers and entree items move from the traditional with personal touches. The restaurant has always been able to combine a French countryside elegance with contemporary cuisine and excellent service and a flair for matching the food to Thornton vintages.
Chef Liam Griffin is a graduate of the California Culinary Academy and came to Cafe Champagne after some years at Hotel Argent in San Francisco.
Our dining experience showed the Chef's skills with three most original entrees. Our appetizer was Calamari served crispy in a Bruit-Dill Beurre Blanc. Our entrees include a caramelized salmon with forbidden rice, asparagus in a champagne butter bell red pepper sauce. This Writer had one of the day's specialties--an eight ounce filet mignon served with goat cheese, browned red potatoes and asparagus. Another entree was a variation of the classic Cobb Salad served with chucks of filet mignon.
At Cafe Champagne visitors have the choice of inside or patio dining. For those who visit the Tasting Room, adjacent is the Cafe Lounge where the same country french ambiance prevails and there is a menu of appetizers that can be enjoyed with purchased Thornton sparkling and still wines.
Every item on the menu offes a suggested pairing wine. Order the Calamari as an appetizer and the suggested wine is a glass of Thornton Blanc De Noir champagne. With the Spinach salad the suggested wine is Thornton 2005 Sangiovese Rose. Thornton 2005 Chardonnay is the wine suggested with grilled sea bass.
As can be expected the wine list is so extensive that it provides excellent reading material over lunch or dinner. Two pages are devoted to the Thornton wines that have received awards in wine competitions. Other California wines are featured by region as well.
We had the opportunity to talk with Don Reha, Thornton's veteran winemaker, about the listed wines. Early on Thornton Winery achieved a reputation for making outstanding California champagne using the traditional French 'methode champenoise' process.
Today there is a five years en tirage, Thornton Brut Reserve. Other bottlings include Thornton Brut, 18 months en tirage and Thornton Blanc de Noir, made from Pinot Noir grapes, and 30 months en tirage. There is a full range of still wines with classic varietals including Chardonnay, Sauvignon Blanc, Viognier and Moscato among the whites. Reds include Sangiovese Rose, a Rhone styled blend called Cote Red, a cabernet-merlot blend, as well as a Syrah and Sangiovese.
Looking over Chef Griffin's menu there are appetizers like warm Brie wrapped in Puff Pastry, Crab Cake and Mozzarella stuffed tomato.
Dinner entrees include classics like Filet Mignon and Rib-Eye steak but also the unusual like an Osso Bucco styled Pork, a Fennel Crusted Ahi and a Cioppino prepared with a Thornton champagne sauce. Others to catch the eye include a Coriander Crusted rack of lamb served with a dried fruit-pine nut Couscous or Mushroom dusted scallops dusted with Porcini powder and served with cold Soba noodle salad.
A most popular entree at lunch are the Kobe beef burgers which come in various forms and add-ons like Gorgonzola or Gouda cheese or grilled onions or mushrooms. For veggie lovers there is the Portobello mushroom and Eggplant Parmesan sandwich served with a red pepper Aioli, or for hearty eaters veal scallopini served with Angel Hair pasta. On Sundays and special holidays a brunch is featured. Brunch entrees include Thornton's over-stuffed omelet with crab and shrimp, classic Eggs Benedict or Florentine or an open faced grilled salmon club.
Cafe Champagne, located at Thornton Winery, 32575 Rancho California Road in Temecula, is open for lunch and dinner seven days a week. There is both inside and outdoor patio dining and ample free parking. Telephone 951 699-0099, on the web at wwwthorntonwine.com.
Back to Table of Contents..
Last Update:12/1/07
&copy 2007 Joe Hilbers All Rights Reserved.
Graphic Design by Impact Graphics