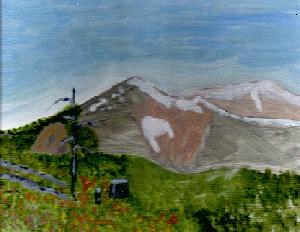 ---
"Summer picnics must include wine' By The Editor's Vineyard
We did not neglect some interesting day trips this Spring and Summer. One of our favorites is Rose Valley hidden away off Highway 33 north of Ojai. This peaceful spot offers both a small fishing lake as well as a forest service campground. It was a lazy day of watching other fisherfolk and then leisurely enjoying a long lunch under a California oak tree in the campground. Actually we were rushing the season some since it was a cool day so we decided our wine should be a red and so choose a 2006 Forest Glen 2006 Merlot. Winemaker Ed Moody calls this the brand's flagship wine and we agreed. The wine was finely textured on the palate, yet smooth and with ever so soft tannins. Value here for a superior wine at $11.
Another trip was to the Arthur Ripley State Preserve in the Antelope Valley. This preserve offers an area that looks just as the first white men saw it. Most of the Valley has been farmed at one time or another over the past 100 years so that only in a few places like this Ripley Preserve can the original flora and fauna still be seen and enjoyed. At the time of our visit the Blue Sage was in full bloom offering a dazzling display.. We had lunch there in splendid isolation This day our wine was the 2007 Coastal Ridge Chardonnay. With a price tag of $7.50 this proved to be a good buy. The wine offered a smooth richness on the palate and a nice finish. Winemaker Bob Stashak kept the alcohol on this chardonnay at 12.9 per cent. Blue Ridge in the San Gabriel range has been one of our refuges for decades. Here we have skied, hiked, camped and wandered in happy times. Most recently we fled from the San Fernando Valley on a hot summer day for the Angeles Crest highway and in one short hour was in a pine forest with brilliant skies and cool mountain breezes.
Guppy Campground on Blue Ridge seemed just right for a picnic and scenic views. Since we were at Blue Ridge a bottle of 2007 Napa Ridge Napa Valley Sauvignon Blanc seemed most appropriate. Still nicely chilled the wine offered aroma and a crispness that was perfect with our sandwiches and the Brie cheese that was our dessert. For a Napa Valley appellation wine we considered the Sauvignon Blanc a bargain with a $12 price tag. After lunch we discovered some Indian Paint Brush and Lupines as we meandered along the Ridge reminiscing on other times on skis or afoot and pondering how all those years had disappeared just like the snows. The above illustration is an oil painting of Blue Ridge in Angeles National Forest with Pine Mountain and Mount Baldy in the background painted by the Editor.

Back to Table of Contents..
Last Update:9/10/09
&copy 2009 Joe Hilbers All Rights Reserved.
Graphic Design by Impact Graphics