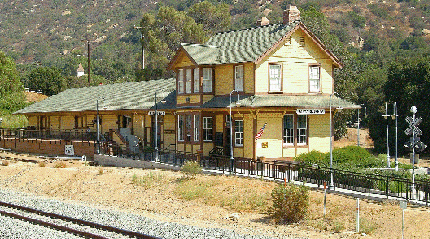 "Santa Susana--Here is a railroad depot that depicts an earlier era"
by The Editor
An idea of what Southern California railroads were like one hundred years ago can be viewed just over the hill from the San Fernando Valley. Tucked into an idyllic wood shaded lane is the Santa Susana railroad Historical Society with its earlier era depot serving as a museum and a fascinating model railroad that in miniature travels from Los Angeles to Portland, Oregon. Here is a place to warm the heart of any railroad buff or those just interested in a look of California history.
The Historical Society is made up of a group of dedicated people, all volunteers, who have worked long years in restoring this 1903 Depot, gathering the displayed furniture and equipment that was a part of every railroad depot. All this started in the 1980s and the HO model railroad is the work of more than a full decade.
The Depot, Museum and Model Railroad is located adjacent to Santa Susana Park at 6503 Katherine Road in Simi Valley. It is open, free of charge but donations accepted, to the public on Saturdays and Sundays from 1 p.m. to 4 p.m. For information call 805 526-0371.
This museum gives one a true prospective on just how important railroads were in the development and economic health of towns and communities before the automobile became a reality. The Depot still sits adjacent to the busy Coast line tracks of Union Pacific Railroad and Metro Link. In its early days it was an important Southern Pacific rail point serving the early growth of Simi Valley.
The Model Railroad is a delight for all ages but especially children. In miniature the Simi Valley can be viewed as it looked in the 1950s. The waiting room and ticket of the original Depot once again looks as it did when it was in full operation. The volunteer staff has done a remarkable job of gathering memorabilia and artifacts of a century past.
To enjoy either beautiful Oak Knolls Park with its stately trees and recreational opportunities or the Depot Museum and Model Railroad access from the 118 Simi Valley Freeway is the Kuehner offramp to Old Santa Susana Pass Road, then to Katherine Road. On the web at www.santasusanadepot.org.
Back to Table of Contents..
Last Update:9/15/09
&copy 2009 Joe Hilbers All Rights Reserved.
Graphic Design by Impact Graphics