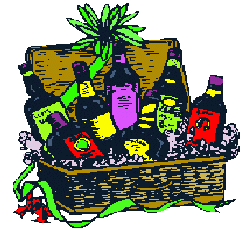 Syrah, Pinot Gris, new blends, new imports all add to new pleasures for wine drinkers"
.. By The Editor's Vineyard
It isn't often that the consumer has the opportunity to experience award winning wines are reasonable prices but that is the case with two vintages under the Montevina label from Trinchero Family Estates.
Two wines from Amador County received high marks indeed at the recent L.A. County Fair Wine Competition. Montevina 1998 Syrah was runner up as Best of Show award at the Fair competition--it sells for $18 a bottle, the winner was a $100 a bottle Napa Valley cabernet.
The Syrah grape, native to the northern Rhone Valley in France, has adopted exceedingly well to the Sierra foothill country in California. The Montevina vintage has all the richness of this varietal and hints of additional greatness with additional bottle aging.
Zinfandel, that granddaddy of California varietals, has recently received new converts among wine drinkers. The Montevina 1998 Amador vintage should bring even more converts into the fold. We found this wine to be hearty, rich in flavors and aroma and wonderful with a large assortment of entrees and foods. And at $10 a bottle real value to the consumer.
In the ultra premium category the Trinchero Family has released the third vintage of its Founder's Estate brand produced in honor of the late Mario Trinchero. The first two vintages received acclaim both in the U.S. and Europe.
Both the 1998 Chardonnay and 1997 Cabernet Sauvignon are special event wines and priced accordingly. Both vintages are from Napa Valley grapes. Winemaker Derek Holstein has produced a wondrous chardonnay loaded with flavors and creamy to the palate and displays its months in new Alliers oak.
The cabernet sauvignon is a wine ready to be enjoyed now but should create ohs and ahs after resting in the bottle for several years. Both vintages come in stunning packages as well to complete the total dedication to exceptional quality.
McPherson Wines from the Goulburn Valley region of Australia has released four 1999 vintages (remember Down Under the harvest starts in February of any given year). The McPherson 1999 Shiraz, the varietal that has made Australian wines famous, is gentle and youthful in its character and very pleasing as a food wine. At $8 a bottle the price is as gentle as the wine.
McPherson, which is distributed by Brown-Forman in the U.S., also has two unusual blends in the marketplace. One is a 1999 Semillon Chardonnay with 60 per cent semillon and 40 per cent chardonnay. Light and pleasant this wine was untouched by oak and for our taste a very good picnic wine, properly chilled perfect after a day spent in outdoor living.
Also from McPherson is a shiraz cabernet vintage, a blend of 60 per cent shiraz and 40 per cent cabernet sauvignon. At $8 a bottle this is an exceptional 'every day' wine, not in anyway dominant but with fine flavors both in aroma and taste.
The world of wine is ever expanding. The Hogue Cellars from Washington State with David Forsyth as winemaker continues to produce exceptional vintages and very consumer friendly prices.
We recently shared a bottle of Hogue 1999 Pinot Gris with two friends while breaking bread over some Italian delicacies. (The Pinot Gris grape is known as Pinot Grigio in Italy). The grape has now become of the showcase varietals of Washington State. We found the wine crisp with a hint of fruit flavors but none of the bitterness sometimes found in this varietal. At $10 a fine buy for lunch or salad fare and it certainly was enjoyed with our Italian pastas. In fact if a second bottle had been available we would have drank it too.
Winemaker Forsyth took a lot of care with his 1997 Barrel Select Cabernet Sauvignon. It has enjoyed 15 months of American oak aging and then blended with 14 per cent merlot, five per cent lemberger, two per cent cabernet fanc and one per cent syrah. The result is a pleasing vintage with a nice balance of flavors and texture. At $15 a very good bottle of wine.
Clos Du Bois continues to excel in the market place with vintages that enjoy a reputation for superior quality and modest pricing. The 1999 Barrel Fermented Sonoma Chardonnay represents this philosophy very well. Winemaker Margaret Davenport calls this a wonderful food wine. We won't disagree but we shared a bottle of this vintage over some good conversation on a recent camping trip. It was smooth and crisp on the palate and with that hint of oak so welcome in a cocktail wine. Priced under $15 and representing exceptional value.
Canyon Road Winery has consistently produced drinkable wines in the 'fighting varietal' category meaning that they are generally priced below $10. This includes the newly released 1999 Canyon Road Chardonnay. An everyday priced wine, priced at $8, it has a subtle nose of fruit and soft flavors making it an acceptable companion with many foods and a welcome addition to otherwise ordinary meals.
Add the Bel Arbor Vineyards label to those consumers searching for well made, well packaged wines priced for everyday drinking pleasure. The 1999 Bel Arbor Cabernet Sauvignon is a good table wine with a soft aroma and finish. A nice upgrade from jug wines.
The 1999 Bel Arbor Merlot has six per cent Sangiovese blended in for additional body and flavor. Fruit flavors can still be found in this dry red wine with that softness in aroma and finish that has made this varietal such a success story with the American consumer. The Bel Arbor 1999 Chardonnay shows a good amount of true flavors of this varietal. Don't expect any oak flavors in this vintage but it will go well with a host of light appetizers and fish and chicken dishes.
All three of these Bel Arbor vintages are priced well below $10.
Back to Table of Contents..

Last Update:9/10/00
&copy 2000 Joe Hilbers All Rights Reserved.
Graphic Design by Impact Graphics