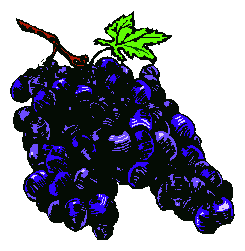 "Hollywood--Writers honor Renaissance and its talented Sommelier"
The Editor
Our most recent visit to the Renaissance Restaurant located in Hollywood's Manor Hotel was special since Gerald Marini of the restaurant had just been honored as 'Sommelier of the Year' by the Southern California Restaurant Writers. It all happened at the recent Awards Dinner of the Restaurant Writers held at the Disneyland Hotel with some 400 restaurateurs present.
Originally from Provence where his family were grape growers for wine producers, Gerald learned about wines early in life and then attended the Ecole Hoteliere in Toulon for three years. He came to California in 1987 and has held management positions in several outstanding restaurants before joining Renaissance in 1994.
We already were acquainted with Gerald Marini since he has originated one of the best new ideas for winemaker dinners that we have encountered. At the Renaissance the monthly wine dinners are spread over two evenings with no fixed time of arrival for guests and the wines of an entire region or country are featured. Mr. Marini and Chef Phil Christodoulou combine their considerable talents to match the wines to the food.
This interesting departure from the traditional is possible for the Renaissance since it has one of the best wine lists in West Los Angeles. There are some 300 labels and fourteen pages of vintages listed by both region and country.
On our visit the wines of France's Loire Valley were featured. These included an Bouvit Brut sparkling Chenin Blanc, a Marc Bredif 2003 Chinon and a 2003 Bredif Vouvray. We thought the sparkling Chenin Blanc very pleasing and a wonderful wine to have with our first course which was an Antipasto platter with game pate, cured ham and Brie on Croute.
We had a choice of seafood Ragout or Salade Composee and chose the Ragout to go with the Vouvray. Our entree was the Venison Civet, a stew with turned winter vegetables in a Loire Valley wine broth. The other entree choice was the Chilean seal bass mousse melded with shrimp, with vegetable tower.
As usual the pastry chef came through with one of his outstanding desserts, this time a Fleur de Pomme.
These gourmet wine dinners are held at the Renaissance on Thursdays and Fridays, generally the last week of the month. Another interesting feature is that diners who do not want to participate in the wine dinners are also welcome those evenings.
As the dining room for the Manor Hotel the Renaissance is open for breakfast, lunch and dinner seven days a week. It is located at 5930 Franklin Avenue in the heart of Hollywood. Call 323 960-3222 for reservations which are recommended for the popular wine dinners.
Back to Table of Contents..
Last Update:4/1/06
&copy 2006 Joe Hilbers All Rights Reserved.
Graphic Design by Impact Graphics