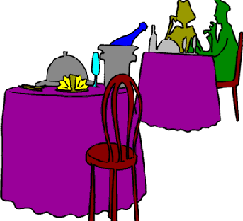 "West Los Angeles--Old World cuisine and decor are joined at Tanino Ristorante & Bar"
.
When my dining partner and I entered Tanino Ristorante & Bar in Westwood Village, both for the first time, we arrived at the same conclusion. Once upon a time, a long time ago, we had both lived in San Francisco and we were immediately reminded of some classic restaurants we remembered in that city.
Tanino has that same timeless Old World decor with mirrored walls framed with dark paneled wood. The only thing that set Tanino apart from some Bay City restaurants we remembered was the outside dining patio. In San Francisco outside dining is reserved for polar bears.
Actually Tanino's decor is based on a famous landmark in Florence, Italy, Pitti Palace.
Once comfortably seated we leisurely studied Owner-Chef Tanino Drago's cuisine which reflects his Sicilian childhood. He had this Writer's attention here since I grew up on southern Italian cooking.
My dining partner opened with a glass of Barola while I lingered over a vodka on the rocks. The main floor of the restaurant is nicely divided into two rooms. One side with a full service bar and casual dining, the second slightly more formal.
From a long list of Antipasti Freddi my partner selected the Insalata di patate viola e pesce spada which arrived as a Peruvian potato and swordfish salad, and most colorful too with the sliced pink Peruvian potatoes. With the salad arrived hot freshly baked Italian hard crusted bread with the usual extra virgin olive oil and wine vinegar for dipping.
Other signature appetizers include an artichoke salad with aged pecorino cheese or homemade tortellini in a broth of pheasant and black truffles or ahi tuna carpaccio with red beets.
My entree was one of the daily specials, Monkfish tournedos surrounding a mound of fresh spinach with nice touches of garlic. My partner ordered the Linguini with scallops, shrimp. calamari, clams and mussels in a light spicy tomato sauce. Other tempting entrees I pondered was the lamb shank ossobuco which Chef Drago reported was just out of the pot, or the roasted quail stuffed with black tuscan kale on a bed of polenta.
My dining partner wavered between the homemade wide fettuccini with lamb ragu or the home made ravioli stuffed with duck liver in a port wine truffle sauce before finally settling on the Linguini ai frutti di mare.
As good as the ambiance and cuisine was the service. No doubt that Tanino Drago has a well trained, attentive staff in His restaurant. The wine list is extensive filled with vintages from all parts of Italy including a nice list from his native Sicily. California wines are also well represented.
Tanino Ristorante is located at 1043 Westwood Blvd., in Westwood Village. The restaurant is open for luncheon Monday through Friday and dinner Monday through Sunday with valet parking. Tanino is a popular restaurant so reservations can be helpful at busy times, 310 208-0444.
Back to Table of Contents

Last Update:9/2/04
&copy 2004 Joe Hilbers All Rights Reserved.
Graphic Design by Impact Graphics