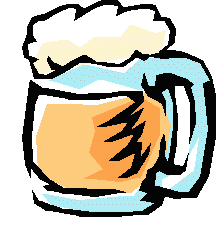 Brea--Taps creates fine brews and cuisine in a casual atmosphere"
.. By Joe Hilbers
On premise breweries, retail restaurants and bars that make their own unique beers, have captured a large base of customers in almost every state of the union in the past quarter century. And as a result now account for a significant amount of total brewing sales in the nation.
Which serves as introduction to Taps Fish house & Brewery located at 101 E. Imperial Highway in Brea. We were there, along with 44 other members of the Academy of Culinary Professionals, for an evening of fine dining as well as a short education on the art of brewing.
It is always a pleasure to meet someone who truly knows his profession and takes joy in it. Such a person is Victor Novak, brewmaster at Taps, who took us through a tasting of some of the eight brews featured at Taps each month. Brewmaster Novak has been with Taps since it opened three and one-half years ago to instant success. He explained that his goal has always been to produce beers very much in the European style and to this end imports his yeasts and much of his ingredients as well.
After the Brewmaster's presentation we settled down to an outstanding dinner that proved that Taps can be regarded seriously for fine cuisine as well as its brews. Our dinner opened with lump crab and shrimp ceviche and smoked salmon canapes for appetizers. Then king crab leg and scallop salad sauteed atop micro greens and with a fennel citrus vinaigrette. Having moved on from the brews our wine with this course was a 2001 Kunde 'Magnolia Lane' Sonoma Valley Sauvignon Blanc.
Next came the cinnamon smoked duck breast accompanied by roasted butternut squash risotto and finished in an apricot-orange confit. A truly exceptional pinot noir served with this course was the 2000 Au Bon Climat 'La Bauge Au-dessus' from the Santa Maria valley.
Our dessert was a chocolate creme brulee with apple raisin crisp and fresh raspberries. Our wine was an excellent late harvest Semillion, 1997 Chateau Ste Michelle from Washington's Columbia Valley.
In a casual atmosphere and contemporary old world decor Taps shows a very large and varied menu with seafood from the Oyster Bar and then moving on to tacos, pizzas and pastas as well as serious entrees like medallions of Monkfish or sake marinated Chilean sea bass or choice of five different beef steaks as well as barrel rolled pork chop or bbqed breast of chicken.
Taps is owned by a brother-sister team, Joe and Michele Manzella. Our hosts included Chris Snyder, general manager, Brady Sherard, assistant G.M. and Chef Christopher Maggetti and a very talented and efficient staff.
In the course of a year Brewmaster Victor Novak will make some 35 different beers with eight featured at any one time. There is also a full service bar, big screen television for sporting events and a schedule that includes almost nightly special events including favorites like a Blues Fest on Thursdays and New Orleans Jazz brunch extravaganza on Sundays.
Taps, at the corner of Imperial Hwy and Brea Blvd., is open for lunch Monday through Saturday from 11:30 a.m. to 4 p.m. and dinner nightly from 4 p.m. to 11 p.m. There is both valet and free off street parking. Reservations at 714 257-0101, on the web at www.tapsbrea.com.
Back to Table of Contents..

Last Update:6/21/03
&copy 2003 Joe Hilbers All Rights Reserved.
Graphic Design by Impact Graphics