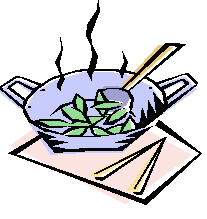 "Anaheim--Wang Tcheng pleases with both elegant decor and an innovative Chinese cuisine"

By The Editor
.
Does heredity play a role in the making of a good restaurateur? Well it certainly must be is a factor in the success of the Wang Family. For years we have considered the Golden Dragon one of the best Chinese restaurants in Southern California.
Now another generation is adding to the fame of the family with the opening of Wang Tcheng in Anaheim by Penny and Lance Wang. Penny is the daughter of Yuau-Der and Chi-Yun Wang who have operated the Golden Dragon in Costa Mesa sine 1975. When Penny left school she became a fashion designer but then moved back into the restaurant business when she and her husband, Lance Wang, opened Lucky Pearl Restaurant in Anaheim Hills 15 years ago and still a success.
The newly opened Wang Tcheng is a showplace and its decor and ambiance proves that Penny still retains her talent as a fashion designer. What was once a chain restaurant has been transformed into an elegant dining establishment with a modern oriental styled decor and an ambiance which offers a warm, relaxing and serene scene for the diner.
Upon entering the restaurant one is greeted by a welcoming floor to ceiling golden Buddha an a chic full service bar and lounge. Wang Tcheng is a spacious restaurant offering both booths and tables all spaced for comfortable conversational style dining. There are also three private dining rooms, two accommodating parties of 20 people and one large room designed to hold up to 70 equipped with electronic equipment generally used for business events.
The menu under Chef Lance offers both classics of Chinese cuisine as well as house specialities. The menu is large and varied and with some unique dishes like grilled beef rib or Happy Family, a mix of seafoof and vegetables. Our dining experience opened with the War Wonton soup, one of five soups listed on the menu. Next arrived a Chinese style fried Calamari. Chinese dumplings, sometimes called pot stickers or dimsum, are made on premise. We tried the pork and vegetable dumpling and was well pleased.
Our orders of Mongolian Beef and Szechwin shrimp next arrived, the shrimp spicy served with mixed stir fried vegetables. With this a most tasty fried rice with chopped beef. Careful attention to detail shows everywhere here. The service staff is elegantly attired in orange shirts, black slacks with black tie to match and one is always greeted with a smile here.
Wang Tcheng (we understand Tcheng translates to Number one or outstanding) is located at 1199 N. Euclid Street in Anaheim with free off street parking. The restaurant is open daily from 11 a.m. to 10 p.m. with luncheon served Monday thru Friday from 11 a.m. to 2 :30 p.m. Telephone 714 778-9988, on the web at wwwwangtcheng.com.
Back to Table of Contents..
Last Update:9/15/08
&copy 2008 Joe Hilbers All Rights Reserved.
Graphic Design by Impact Graphics