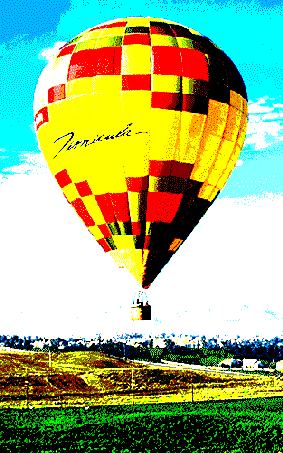 Temecula--Now a popular playground with gaming, balloning, fine dining, wine tours and outdoor recreation
by Joe Hilbers
If you live in Southern California and have not been to Temecula recently then plan a trip to the region. Over the decades we have watched as the Temecula Valley became a major wine appellation and a large urban center.
What we did not realize was along with Pechanga Resort and Casino, Temecula now has a world class destination resort as well. The Resort includes 522 guest rooms and suites, three restaurants for fine dining, a block square Casino and with something for everyone. There is the 1,200 seat Pechanga Showroom which features shows and acts by top name entertainers; a 3,000 seat Ballroom that hosts, among other events, live championship boxing matches and nightly live entertainment in the Casino Cabaret.
In its Southwestern decor and architecture the hotel and casino show remembrance of the Pechanga Indian tribe. These Indian influences show in the stunning natural rockwork, decor as well as the live California Oak in the lobby which was long the symbol of the Pechanga people.
As a major resort Pechanga compares very favorably with many of Las Vegas's finest hotels and casinos. The Hotel is nicely separated from the Casino even though only steps away, and also offers 40,000 square feet of ballroom and convention facilities.
On our recent visit we used Pechanga as headquarters as we visited wineries and winemakers on Temecula's 'Wine Road' and explored Old Town Temecula. Founded in 1859 Old Town has returned to its roots with an appealing western motif and many visitor oriented businesses and restaurants with classic old western town fronts.
It is also the scene of a whole series of events each year with the Bluegrass Music Festival to be held March 20 and 21. The Bluegrass Festival will feature a lineup of 12 bands over two days. It will be traditional Appalachian Bluegrass and hybridized country/bluegrass bands with all entertainment free.
In April, Old Town will have a youth Jazz Festival on April 17. And in May on the 22nd and 23rd it will be Western Days with Old West gunfighters and costumed characters roaming the streets.
One of the highlights each year is the Temecula Valley Balloon & Wine Festival now in its 21st year. It will take place June 4, 5 and 6th. It traditionally takes place at nearby Lake Skinner Recreational Area. Besides launching of colorful hot air balloons the event features top musical entertainment both Saturday and Sunday.
Old Town Temecula has over 100 antique stores, boutiques and curio shops as well as restaurants serving everything from Texas style BBQ to Chimichangas and southwestern foods.
In building Pechanga Resort the attention to detail is to be seen everywhere. Pechanga Cafe is the casual place for breakfast, lunch or dinner but we noted at breakfast the tables have natural wood tops; with colorful autumn leaves laid beneath a plastic overlay. We thought it a nice touch.
The rooms of the principal restaurants are just steps away from the Casino but enjoy their own distinct ambiance and decor and with the quiet and serenity of fine dining houses
The Pechanga Resort opened to instant success. So much so, that there is already a huge expansion underway including an enclosed parking garage and additional casino and restaurant development . One year old the Casino's popular buffet served its one millionth customer just one week before our visit. Also on the planning board is an 18 hole golf course.
Perhaps much of the instant success of Pechanga is due to the professional staff. In our discussions or casual conversation with staff members, either managers or serving staff, we found they were people with a good deal of experience often with major restaurants or other hotels.
Each late afternoon we would go up to the Eagle's Nest atop the Hotel and over a cocktail or brew talk with the barmen and women and we found that many had worked at top Las Vegas hotels at some point in their career. Like the rest of the hotel, the Eagle's Nest is special both in its stunning decor of smooth natural pebble rock columns and its views of both mountain and valley.
As we prepared to leave the Pechanga Resort from our room we watched two balloons slowly rise above the world of us ordinary folk. They were taking advantage of the cool crisp winter morning air as they rose above the Temecula Valley. Having some air time in balloons ourselves we watched that early morning scene with some envy.
Interstate 15 takes you to Temecula and Highway 79 and Pechanga Blvd., to the Resort. For more information check out www.pechanga.com and for Old Town www.temecula.org.
In the next issue of Vittles we will review Pechanga's best restaurants and also tell of the exciting changes taking place in the Temecula Wine Country.
Wine Country Event
Tickets are now available for the Temecula Valley Winegrowers Associations New Release Weekend scheduled for Saturday, April 24 and Sunday, April 25, 2004, from 10:00 AM to 4:30 PM. Guests have an opportunity to visit 18 wineries during this event
On Saturday and Sunday, guests may visit up to 18 Temecula wineries one time each over the two day period. Ticket holders will enjoy spring- time in Wine Country as they graze their way through wine country enjoying spectacular wines paired with wine friendly foods, with a focus on new, limited and reserve wines. This event is sure to stir mind, body and soul and is appropriate for all levels of wine appreciation.
Tickets are $70.00 per person and may be purchased with check or credit card. Designated driver tickets are available for $50.00 per person. Tickets are by reservation only and may be obtained by calling (800) 801-WINE or going on line at www.temeculawines.org.
Ticket holders will begin their day at one of two check-in points, Thornton or Ponte Winery and will receive a souvenir wine glass, special event bag and a program describing the wines and foods being featured at the event.
Back to Table of Contents..
Last Update:3/10/04
&copy 2004 Joe Hilbers All Rights Reserved.
Graphic Design by Impact Graphics