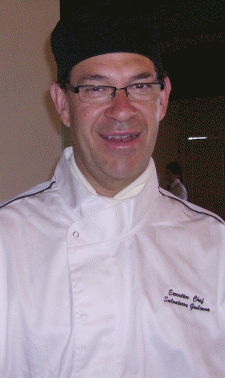 "Temecula--Temet Grill shows talents of Chef Salvatore Guileano"
by The Editor
We were impressed with Salvatore Guileano, both as a person and executive chef at the Temet Grill, restaurant for the Temecula Creek Inn. To the Inn Chef Salvatore brings a whole lifetime of experience since his family owned a restaurant in Connecticut during his years as a teenager.
In California he owned his own restaurant in Escondido before joining the prestigious Rancho Bernardo. Then moved to the Temecula Inn five years ago. The Temet Grill serves breakfast, lunch and dinner seven days a week. The dinner menu we would call contemporary. At the Temet Grill Chef Salvatore has emphasized some seafood dishes and currently his Pan Seared Halibut with Burnt butter Noisette is the best selling item on the menu. Despite his Italian heritage his menu shows only influences of Italian cookery.
However for our group of Writers Chef Salvatore did treat us to a diner which he called the Best of Italy and indeed it was with Antipasti for openers, then a Shrimps Fra Diavalo and an entree of tenderloin of beef Braeiole stuffed with Proscuitta Fontina cheese and oven roasted tomatoes.
Personally on hand to present the wines at this memorable dinner was Robert Ronzini, proprietor of Robert Renzoni Vineyards. While newcomers to Temecula Valley, the family purchased vineyards in 2006. However the family has a tradition of winemaking that started in Italy in 1886. In the U. S. the family settled in Buffalo, New York where Robert's grandfather and father established a wine and spirits importing and wholesale firm.
Our Renzoni wines at the dinner included a 2007 Pinot Grigio from Paso Robles, then a Temecula 2008 Chardonnay. Next a 2007 Sangiovese which we thought exceptional and then learned that indeed it is Renzoni's best selling varietal. Robert Renzoni Vineyards are located on the De Portola Wine Road in Temecula. On the web at bobertrenzonivineyards.com.
Temet Grill is located at Temecula Creek Inn, 44501 Rainbow Canyon Road Temecula. Phone 951 694-1000, web temeculacreekinn.com.
Back to Table of Contents..
Last Update:6/29/10
&copy 2010 Joe Hilbers All Rights Reserved.
Graphic Design by Impact Graphics