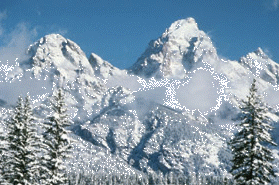 "Wyoming--Majestic beauty best describes the Tetons"

By The Editor
.
The sheer majesty and beauty of Teton National Park brings people back again and again. At least that is the way it has been with this writer. It has been 50 years since I got my first view of that mighty wall of mountains. That time it was winter and all was in a glistening blanket of white.
Besides the awesome setting there are activities in the Park to please almost anyone. One of our all time favorites was a float trip down the Snake River in the Park. Here the Snake flows gently and serenely through beautiful groves of pine and aspen. Other times it curls through ancient glacier moraines now flattened and covered with sage brush. Almost always those august mountains are in view.
As in so many of our National Parks all to many visitors are content to view all from their vehicle and then move on. And this is a truly a pity since much of the Park must be seen either on foot or horseback.
We're not much for horses so we have used foot power in our many explorations the float trip being the one exception.
Our Journal describes some of these hikes complete with knapsack and adventurous spirit. I quote:
"Today we drove a dirt road to Two Ocean Lake. The Lake is surrounded by lush mountain meadows with copses of white barked aspen whose leaves trembled in the slight breeze coming across the lake. The day was warm but we decided to take the trail that rims the Lake. Except for one Park Ranger lecturing a small group we met no one. Since the trail was often surrounded by berry bushes we got out the bear bell. Here and there we broke through the deep woods of pine to see the Lake glimmering in the sunlight. We saw many families of ducks, Canada geese, a diving Osprey. Two swans sailed majestically across the lake toward us putting on an elegant show."
On most of our trips to the Tetons we have camped at Coulter Bay on Jackson Lake. Here the National Park Service has very large campground, always well maintained. Adjacent there is a general store and a Park Visitors Center. For all kinds of information on what to do and what to see the Visitors Center is the place to start. Among its many attractions is a movie theatre showing difference aspects of the Park. On the web at www.nps.gov/teton/.
All the campsites are within easy walking distance of the shore of Jackson Lake where there is a picnic area. From this viewpoint the mountains appear to rise directly from the Lake.
One day we started our hike at Coulter Bay Campground. The Journal tells the tale. "We took the Heron Pond and Swan Lake trail from Bay Marina. It was three miles but Dad misread one sign so we walked an extra mile, a half mile to a lovely meadow and the same distance back to regain the right trail. Noted that autumn flowers are now in bloom. We saw a doe, a family of Canadian Geese, Herons at Heron Pond and a pair of Swans at Swan Lake, all as advertised. Met only a few other hikers, more ducks than people."
For us no matter how busy the day had been we would stroll out to the shores of Coulter Bay to look at the mountains and watch shadows and silhouettes constantly change as clouds formed, moved on and then to reappear once again. Some evenings there would be thunderheads and the sound of the thunder would roll through the canyons with resounding booms and following echoes.
The western approach to the Tetons is Jackson Hole, Wyoming which offers almost every service and activity if you prefer sidewalks to hiking trails. Learn more at www.jacksonholenet.com
Departing Teton National Park to the east you can either go north to Yellowstone National Park, only an hour drive away, or east on Highway 26 which takes you over Towogee Pass to Dubois and then to Lander or Riverton.
Back to Table of Contents

Last Update:6/1/01
&copy 2001 Joe Hilbers All Rights Reserved.
Graphic Design by Impact Graphics