"South Texas--a place of exciting cuisines" by Joe Hilbers
.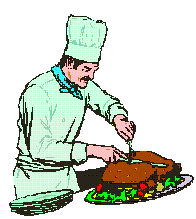 Our dining experiences in south Texas showed us that the cuisine is as up to date as this month's calendar. We had an on site demonstration of this when we visited St. Philips Community College in San Antonio to see first hand their Culinary Arts Department. St. Phillips Community College has 9,000 students and also features associate degrees in hotel and restaurant management.
Our hosts that morning included Mary Kunz, chairperson for Department of tourism, hospitality and culinary arts, and William Thornton, chef and professor for Culinary Arts.
And on hand to work with the students were three of the City's best known chefs.
They included Ric Gonzalez of Presidio Cafe on the River Walk; Jay McCarthy of the Riverwalk Inn and Mark Bliss, owner-chef of Silo, one of the City's newest upscale restaurants.
All three chefs have worked in south Texas for many years and it was interesting to learn how southwestern cuisine has moved on to a fusion that combines the best of the region with cuisines of the Caribbean and Asia. Innovative cuisine is the order of the late 1990s and nowhere more so than in south Texas.
Dinners we attended and restaurants we visited demonstrated this time and again. One day we dined at The Fig Tree, located in historic La Villita on the River Walk, and a fine dining house for almost two decades. The Chef, Tan Nguyen, is Vietnamese, and his menu contemporary continental. Here we were served a half avocado stuffed with lobster, crab and shrimp, followed by grilled salmon with a delicate dill sauce surrounded by baby veggies including the Peruvian purple potato. Our dessert a chocolate cheese cake also made by the Chef.
With Steven Michaud as manager the Fog Tree offers elegance in decor and service and one of the best wine lists in the City.
We will long remember our dinner at the Southwest Craft Center. Located in a 19th century building that was once a Catholic Girls School, it is an oasis of stately buildings and exquisite gardens in the heart of the City.
Our dinner was catered by Marriott which besides operating two of the City's major hotels caters dinners for hundreds and often thousands of people at special events.
Marriott executive chef Dennis Gavagan and James Tripi, chef de cuisine, presented a six course dinner that evening that included artichoke heart with fennel and roasted loin of Texas venison marinated in vintage port, juniper berry and star anise.
Served in what was once the Chapel complete with stained glass windows and choir loft and accompanied by a Harpist other courses included a Japanese Miso broth with mini Jonah crab dumplings and a Panzanella salad with baby lettuce, sourdough bread capers and rich confit of duck.
The Southwest Crafts Center which provides classes in all the arts, for children and adults, is one more example how caring San Antonio citizens have closed ranks to protect the region's heritage, culture and historic buildings.
Scott Cohen, executive chef at La Mansion del Rio Hotel, the City's only four star hostelry, showed the accomplishments of his cuisine and staff at a luncheon served in the courtyard to the strains of classical guitar.
La Mansion del Rio is a hotel whose graceful architecture was created in the last century when it was a private college. It has true Spanish-Mediterranean elegance. When the College expanded to another location one its former students bought the property and created the unique hostelry that now exists.
The restaurant in the Hotel is called Las Canarias and here the Chef has created a menu that is part Texas and Continental entrees that display his French training in Provence.
One morning we had breakfast at Mi Tierra across from the Old Farmers Market, an historic site in San Antonio. Now 50 years old Mi Tierra is a familiar story in America. A man leaves his home and family to find new opportunity in a foreign land. Pete Cortez never went to a restaurant management school but he knew what the ingredients for success in a restaurant were good people, the best quality in meats and vegetables, fair prices, good service and the ability to make and retain customers.
Fifty years later Mi Tierra is still a family business with the sons, David, George and Rubin, following the traditions set by the Father. Mi Tierra is open 24 hours a day, 365 days a year and is now one of the cornerstones for the current effort to revitalize an Hispanic area with a rich tradition.
In Corpus Christi we found the cuisine equally as good but much more traditional and easy to categorize.
We really enjoyed the downhome feel of Kingsville and its newest restauurant, the Wild Horse Desert Saloon Cafe. In the evenings they have music and sometimes cowboy yarns. We were there for a breakfast that included fresh made bisquits and speckled gravy so you see what we mean.
We will long remember our dinner at the Grandview Restaurant and Bar at the Marina Grand Hotel in Corpus Christi. Chef Jaime Magana showed us a menu that balanced continental pasta dishes and meat entrees with touches of the Carribbean with dishes like a Yucatan style banana leaf Snapper with crab stuffing. All this with a wonderful view of Corpus Christi Bay and music by Pianist Rocky Arnold.
You don't want to go to south Texas without trying the classic Mexican fare--fajitas, tacos, enchiladas, nachos, cerverza and margaritas. We had all of the above plus some great Mariachi Classico by Roger Vera, Roland Hernandez and Noe Ramos and their fellow musicans at Pepe's in Corpus Christi.
The Republic of Texas Bar & Grill atop the Omni Bayfront Hotel serves truly traditional southwestern cuisine. With managers Jeffery Allbright and Casey Richmer as hosts we were treated to as good a steak as we can ever remember. It was served with whole roasted peppers on the side which timid us left untouched.
For seafood The Lighthouse overlooking the Marina at Corpus Christi Bay is outstanding. Ed Vanegas and his staff showed us a luncheon menu of selected seafoods both for appetizers and entrees which mixed the traditional with a southwestern flair. And the diner will long remember the decor and the view of a sparkling Corpus Christi Bay.
Back to Table of Contents..
Last Update:6/1/98
&copy 1998 Joe Hilbers All Rights Reserved.
Graphic Design by Impact Graphics